Delhi: Australia coach Andrew McDonald has defended the team's preparation for the series in India, as the visitors were dealt another setback as they aim to avert a second whitewash in 10 years on these shores.
The Australians will take several days off in Delhi this week to freshen up mentally after a challenging first two Tests, where they have been beaten twice inside three days.
Several players had intended to hit the nets on Monday, but there is nowhere for them to train.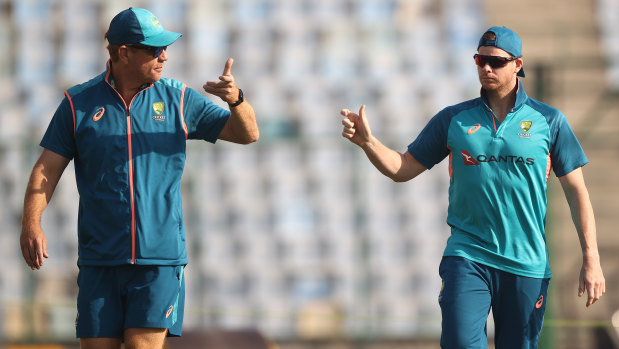 Under pressure: Australia coach Andrew McDonald and vice-captain Steve Smith.Credit:Getty Images
Questions have been raised over the team's preparation after another poor performance with the bat cost them a shot at what would have been a memorable series-levelling victory.
In 2017, the team had a 10-day training camp in Dubai before arriving in India for a tour game and hitting the ground running with a crushing victory in Pune. This time, they had a shorter camp in Bangalore and did not play a warm-up match, as part of a plan to have players fresher at the end of the series.
"I still wouldn't have changed what we did leading in, there's no doubt about that," McDonald said on Monday.
"I think they had really good preparation in Bangalore, so that's not any excuses. We sit here right now – I think at the end of day two, if you said our preparation was good, you'd probably have a different slant on it, but within an hour then people start to critique what happened in the past.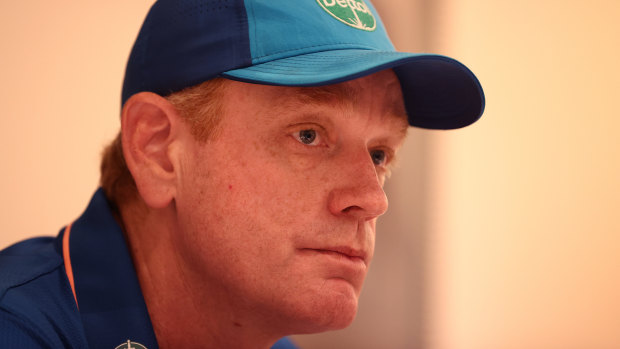 Serious questions are being asked of the preparation of Andrew McDonald's Test side.Credit:Getty Images
"I think, at that point in time, that the preparation was really good and the way we're going about our work was good. I don't think that had a great bearing on what happened in that hour, we were prepared for that as well as we could have been, and we failed under the examination of India."
There has been a marked shift in Australia's approach with the bat. Six years ago, there was a focus among batters to trust their defence. The talk this tour has been for players to be brave and proactive, but it edged into recklessness when the visitors lost 8-28 to blow a golden chance of victory.
Six players lost their wicket to the sweep shot on a track playing low, including Steve Smith, who rarely plays the stroke. The proactive approached worked in periods, but there was no stopping India once the wickets started falling.
"We aren't saying that one's got your name on it … we are saying the wicket and surface was bearable for periods of time where it is not the case," McDonald said.
"Will a ball do something different off the surface? Of course it will, and that is an element of luck – hoping that ball will go past the edge or scunge down and roll past the backward point for a couple of runs.
"I'm not saying the conditions were diabolical by any stretch of the imagination – if you apply the method over a period of time, as we saw with Uz [Khawaja] and Pete Handscomb they did it totally differently.
"Everyone is going to have a different way of doing it and what we need to do is be clear on what works for the individual, and it is clear that some went away from the method they usually use, and you know who they are."
A week ago, McDonald had put forward a different line of thinking after the big loss in Nagpur.
"If you stand still and look to defend for long periods of time against that quality spin line-up, you've got pretty much a ball with a number on it and, unfortunately, we weren't able to get into the method that we wanted to apply," McDonald said last week.
"We saw very little sweeping, which is something that we valued leading in as well. So we'll review why that was the case."
News, results and expert analysis from the weekend of sport sent every Monday. Sign up for our Sport newsletter.
Most Viewed in Sport
From our partners
Source: Read Full Article