Save articles for later
Add articles to your saved list and come back to them any time.
Fresh from retaining the Ashes, Pat Cummins believes the sporting rivalry between Australia and England is as strong as ever ahead of the Matildas' World Cup semi-final.
It comes as David Warner sledged the Old Enemy before the fixture, where bragging rights will be up for grabs.
Cummins arrived back in Sydney this week after helping Australia to victory in the World Test Championship final before a thrilling Ashes series that ended in a 2-2 draw.
The Australian captain watched the Matildas' quarter-final on a plane and found himself riding the rollercoaster of emotions during the penalty shootout.
"In terms of my career, it's [the rivalry] is as strong as I can remember," Cummins told reporters at a Cricket Australia partnership announcement with HCLTech.
"People go on Instagram or Facebook or WhatsApp and just seem to be pestering their English or Aussie mates. It seems like the banter is at an all-time high.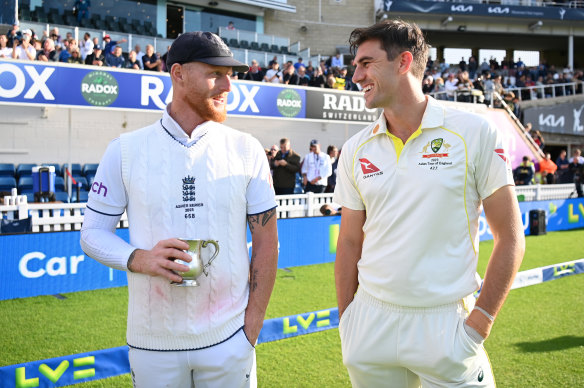 Ben Stokes and Pat Cummins after the final day of this year's Ashes series in the UK. Credit: Getty
"There's nothing more satisfying as an Aussie than getting one up on our English mates. I'm sure the Matildas will go out and kill it.
"I was actually on a flight and, fortunately, they had it [available on the screens]. I was there with my headphones on, cheering. I was nervous. I was screaming out. It was great."
Warner, who featured in the recent Ashes series, has also thrown a barb at England before the big game.
In the fifth Test at the Oval, England's cricketers asked umpires for the ball to be changed and received one much newer than they had been bowling with.
Warner and Usman Khawaja said afterwards they thought the new ball moved much more than the old one. Australia were then bowled out for 334, just 49 runs shy of England's total.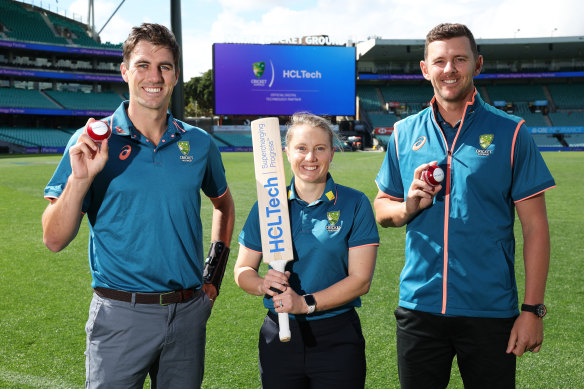 Pat Cummins, Alyssa Healy and Josh Hazlewood pose during a media opportunity announcing the confirmation of a new partnership between Cricket Australia and HCLTech. Credit: Getty
"An early good luck to the @TheMatildas," Warner tweeted to his 2.7 million followers on Tuesday. "Just keep an eye out in case the Poms ask to change the ball."
Australian and English cricketers did not have a post-series drink at the Oval after the final Test, in part due to the home side taking longer than expected to finish a number of presentations in their dressing room.
Cummins said it was disappointing.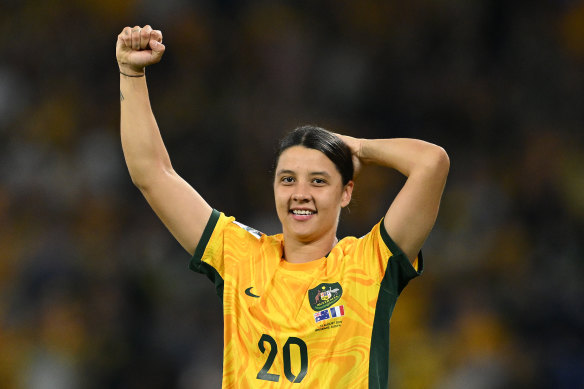 Matildas star Sam Kerr. Credit: Getty
"It would have been nice to have a beer with them," Cummins said. "After a great Ashes, it would have been good. Not to be. I think they had a fair few meetings on in their change room and we hung around for a bit. But we had a pretty good night."
Meanwhile, Alyssa Healy said she was in awe at just how much the Matildas had captivated the nation.
The Matildas will play in front of a full house at Stadium Australia on Wednesday night, however, the Australian women's cricket team are poised to keep their record for the highest crowd attendance at an Australian female sporting event.
A total of 86,174 fans descended on the MCG in March 2020 to watch Australia beat India in the Women's T20 World Cup final.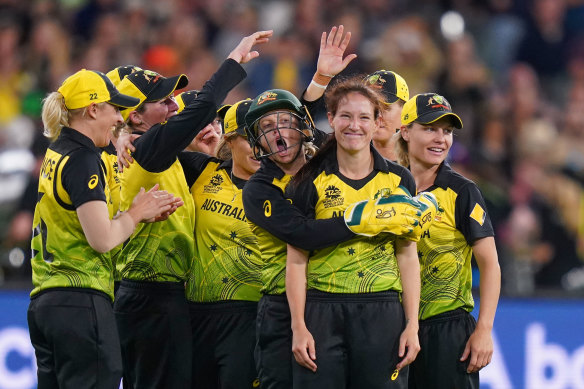 Australia in the T20 World Cup final in 2020. Credit: AAP
"If they played at the MCG and broke the record, then it makes us think about what we're going to do next," Healy said. "I'd happily hand over that record if it's going to drive cricket to do something new.
"You look at the Netball World Cup [final when Australia beat England], there was a bit of spice in that fixture. For all of us watching, it's been amazing.
"The fact there's not a lot of spice in it, I'm disappointed. Maybe something will come out. It's two really great football teams.
"As a young girl who grew up playing soccer, it brings a smile to my face that these girls are doing something amazing."
Cummins is still recovering from a minor wrist injury but hopes to be right in "a few weeks" ahead of the men's 50-over World Cup that begins in October.
Asked if he was satisfied with a 2-2 Ashes series scoreline, Cummins replied: "Satisfied to retain the urn, but of course – and England are probably the same – you always look back at those little moments and wish they maybe were a little different.
"Overall, to come back winning the World Test Championship and retain the Ashes, I think we can be pretty proud of that."
"Playing six Test matches in two months is busy. [It was] different to what we'd experienced before. You go and play in India, and you're thrown up different problems that you have to try and solve. Same over there in England.
"The wickets were quite flat. Batters going at higher strike rates, more white ball problems you had to try and solve … it felt more like a one-dayer than Test matches at different times. Which was great. Really enjoyed it."
Sports news, results and expert commentary. Sign up for our Sport newsletter.
Most Viewed in Sport
From our partners
Source: Read Full Article