England captain Joe Root is pleading with his players to rally around their COVID-stricken coaches, in a clear sign the visitors are scraping the bottom of the barrell for ideas to turn around their miserable Ashes campaign.
The glass half-full approach used after the Gabba smash-up did not work, nor did the reading of the riot act and the swinging of the axe leading over Christmas. Now, they are being urged to use the plight of their seemingly condemned coaches as a motivating factor to avoid another heavy defeat in Sydney.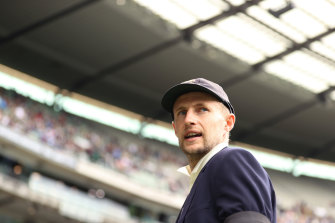 England Test captain Joe Root is pleading for his players to lift for their coaches.Credit:Getty Images
As any football fan will know, the words "adversity" and "galvanise" seldom bode well for a sporting team – and England's case is no exception.
With the urn gone, the best Root's men can hope for is to avoid becoming the third touring Ashes team in the past 15 years to be whitewashed. Asked how this could be achieved, Root could offer no solution other than to not repeat their mistakes.
The spread of the virus through their camp has decimated their coaching ranks. As they trained at the SCG on Monday, coach Chris Silverwood and three of his staff were in a hotel room almost 900 kilometres away in Melbourne.
Highlighting their staff shortage, a padded-up Jonny Bairstow on Monday delivered throwdowns to his captain, who returned the favour. This job is normally performed by batting coach Graham Thorpe, who was busy servicing a neighbouring net. Not even the most pessimistic of English cricket fans could have foreseen such a scenario days out from a dead rubber fourth Test.
Occasionally, the fresh voice that comes from a coach sacking can spark a mini revival. Few expect Silverwood's absence here to have the same effect, even if he is set to be made the scapegoat for their failure this series.
"With the amount of coaches we have had missing, it has made things disjointed and challenging, but it is a chance to come together and work together," Root said.
"Human beings work together and help each other, and we tried to prepare as well as we can do and stand up in a bit of adversity, and we must use that in a positive way when we get out on the field.
"We are all feeling for the guys sat there in isolation and desperately wanting to help us turn things around and put in better performances. We have an opportunity to do that. Whether it is the same voice or different it doesn't matter.
"We have to put in better performances and see that as an opportunity. Don't see that as a heavy burden but a chance to make big Test runs as a batter or take wickets with ball in hand and walk away from this trip with something."
It's debatable if any English player has enhanced his reputation this series. Their bowlers have toiled manfully at times, let down by a batting line-up as bad as any they have sent to Australia in the past 35 years. They have been shown what they need to do by the Australians, but lack the technique and temperament to do it.
"We can dwell on what has happened but we need to take opportunities as they present themselves now and move forward as a team, prove we're learning from the experiences we have faced on this trip," Root said.
"That is the biggest challenge for us. Can we make sure we are showing improvement and able to stand up to that pressure and put performances in on this stage after a couple of difficult defeats? It can be the making of a side and that is the approach we have to take."
Sports news, results and expert commentary. Sign up for our Sport newsletter.
Most Viewed in Sport
From our partners
Source: Read Full Article