Nagpur: India's curators have added insult to injury to Australia with what could be read as a cheeky act of gamesmanship that has reinforced the challenges of touring life for the visitors.
Ground staff at VCA Stadium scuppered Australia's training plans for centre-wicket practice on what would have been a fourth-day Test pitch by watering the track just hours after granting them permission to use it. They also watered the nets, forcing Australia to cancel an impromptu training session on Sunday.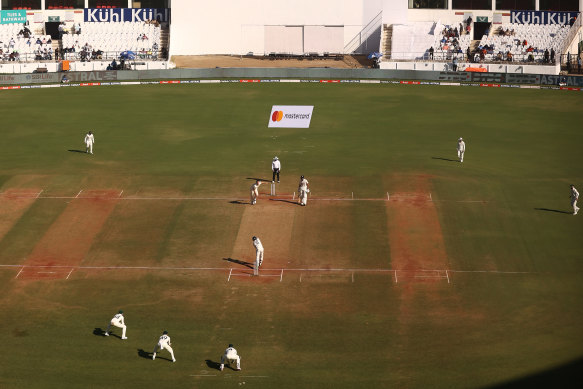 The Australians found India too good in the first Test.Credit:Getty Images
A source in the Australian camp said the team had put in the request to the state association straight after the innings and 132-run defeat, which they believed had been accepted.
Either the message did not make it to the ground staff or it was ignored, as ground staff spent the late afternoon watering the Test strip and applying dirt to the practice wickets at the side of the square.
The moisture on the track rendered it unsuitable for Australia's purposes of training on a worn pitch. With no tour game before the series, the Australians are yet to adjust to the vastly different conditions in India and are searching for every opportunity for a hit before the second Test starting Friday in Delhi.
The Nagpur curators answered their country's call by producing a controversial made-to-order spin-friendly pitch on which Australia's batters were comprehensively outplayed by India's spin masters.
The pitch, though, posed fewer issues for India's batters, who amassed 400 with a century from Rohit Sharma and half-centuries to Ravindra Jadeja and Axar Patel, while Australian veteran Nathan Lyon had little impact compared to his rival tweakers.
While there is some bemusement in the squad, these are the sorts of nuisances Australia know will come their way in their bid to regain the Border-Gavaskar Trophy.
They are not the first Australian side to have had the rug pulled under them. On a previous tour, the Australians had organised with ground staff for a net session for leg-spinner Stuart MacGill.
But upon seeing the nets being set up, an indignant senior official of the state association ordered the immediate dismantling of the net, saying it was not their job to make life easier for Australia.
Skipper Pat Cummins spoke of the need for his team to expect the unexpected in order to mentally cope with the unpredictability of touring life in India.
"Embracing the chaos – these series always throw up different challenges on the field or off the field, and embracing it is what makes these tours so special," Cummins said.
Sports news, results and expert commentary. Sign up for our Sport newsletter.
Most Viewed in Sport
From our partners
Source: Read Full Article