Key posts
Stumps: Cummins' carnage sets up unlikely victory
Wicket: A Pat Cummins pearler ends Zondo's stay
Wicket: Hazlewood gets the breakthrough
Tea: South Africa steady again after mini collapse
Wicket: Lyon castles Erwee
Wicket: Hazlewood has Elgar caught behind
Australia send South Africa in and leave Khawaja stranded
Song poll: Weekend ditties
Analysis: Hazlewood issues timely reminder – he's very, very good
During the latter days of his maddeningly truncated Test career, Bruce Reid seemed always to be either taking bags of wickets or missing through injury.
In fact, in his last nine Tests, spread across three years, Reid scooped 51 wickets at 18.58, striking every 43 balls. Nineteen wickets came in the final two Tests he was able to complete, 11 months apart. In this period virtually every over from Reid was a privilege to watch.
Thirty-one years on, and 31-year-old Josh Hazlewood has developed a similarly frustrating niche. Since the end of the 2019 Ashes series, Hazlewood has played just 11 of Australia's 24 Tests, in between hamstring and side issues.
When he has played, Hazlewood's combination of height, subtle movement and snappy pace have proven almost as challenging as Reid's once did: 34 wickets at 23.52 while conceding just 2.41 runs per over. When he hasn't, Australia have worked their options.
Jhye Richardson, Michael Neser, and most notably Scott Boland, have all offered moments of quality. But it was hard not to enjoy the sight of Hazlewood, fit and in fine rhythm, asking fiendish questions of a rattled South African top order at the SCG.
In an opening spell of 6-1-11-1 from the Paddington End, Hazlewood created three and a bit chances, torturing the Proteas' captain Dean Elgar as his teammates had done in Brisbane and Melbourne.
Full story from Daniel Brettig here.
The soft signal furore – what is it good for?
Test cricket's "soft signal" is in the spotlight again after Steve Smith's spectacular attempt at a slips catch on day four of the third Test was adjudged not out, a decision that was slammed by several former international players.
In the fifth over of South Africa's first innings at the SCG, Josh Hazlewood found the outside edge of Dean Elgar's bat with the South African captain on six.
Smith saw the ball fly his way and dived low to his right to take what appeared to be one of the greatest catches of his career.
On-field umpires gave it not out – in other words, a soft signal – but sent the decision upstairs to third umpire Richard Kettleborough.
After a long deliberation, of more than three minutes, Kettleborough stayed with the on-field decision. He felt a bit of the ball had nicked the grass despite Smith looking like he got his fingers under it.
There were different views on whether Smith got some of his hand under the ball. The rules have changed to give the third umpire more power to overturn the preliminary on-field decision, but the question of whether a soft signal is needed has been raised.
To Kettleborough's credit, at least he was consistent. Marnus Labuschagne was given a similar reprieve when he edged Marco Jansen to Simon Harmer on day one.
Had Kettleborough sent Elgar packing and not Labuschagne, the tourists would have been unimpressed.
Full story from Tom Decent here.
Stumps: Cummins' carnage sets up unlikely victory
South Africa hang on by the skin of their teeth against some truly elite bowling in favourable conditions. Marco Jansen and Simon Harmer showing more bottle than some of the recognised batters ahead of them in the order.
Josh Hazlewood finishing off the day and Nathan Lyon drew an appeal with every ball he bowled these last 15 minutes. And it wasn't just Marnus either. He'll be key tomorrow as well, deserved another scalp this session.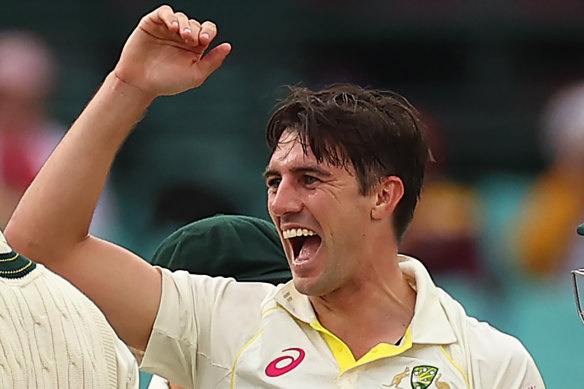 Cummins celebrates his third wicket of the day.Credit:Getty
But after Hazlewood's key breakthrough to claim Temba Bavuma, it was all Captain Pat – with a brutal spell of 2-14 that has Australia every chance of jagging what would be a special win.
South Africa: 6-149: Jansen 10*, Harmer 6*
Wicket: Cummins gets another
There's no stopping the skipper. Back over the wicket to Verreynne and draws him into a false shot. Straight to Steve Smith at second slip. Like shelling peas.
Australia circling like nothing else now, Marnus chirping away under his lid at short leg and Nathan Lyon jagging the bottom of Jansen's bat. Almost plays on.
Hazlewood now returns to the attack with three overs left. Cummins' six over spell yielded 2-14.
South Africa: 6-143: Jansen 9*, Harmer 1*
Pat Cummins is on a tear as Lyon orders DRS review
You know it's good when the crowd is clapping a fast bowler into the crease. Pat Cummins looks like jagging a wicket with every ball. He's got poor old Marco Jansen ducking and weaving, when he can see the ball that is.
Kyle Verreynne too almost offering a popped catch to gully as he struggles with a short ball that over. Eight overs left in the day and South Africa weren't happy when Zondo was dismissed – a bit of consternation about the light.
Can't really blame them, who would want to be on the other end of this spell?
And now at the other end, an LBW appeal with Jansen not offering a shot to Lyon. Paul Reiffel turned it down. Replays show the ball hitting the stumps, but only just. Not enough to overturn the original decision, but enough to retain the review. Game on.
South Africa: 5-133: Verreynne 18* Jansen 0*
Wicket: A Pat Cummins pearler ends Zondo's stay
A ripping Pat Cummins yorker has Zondo given out LBW!
He's called on DRS to try and save his skin here. Cracking delivery from around the wicket. No bat on it and Zondo is on his way for 39 – his highest Test score.
Looked very out, it's hitting bang on middle stump, maybe the hope was it had pitched outside leg?
No chance of that though, fantastic bowling. Another full ball to finish the over draws another very promising LBW shout against Marco Jansen, just pitching outside leg.
South Africa: 5-130: Verreynne 18* Jansen 0*
Watch: South Africa's risks almost land Lyon a wicket
This ball's 45 overs old and reverse swinging, Pat Cummins into the attack to take advantage. The pacemen looking very threatening.
Nathan Lyon is bowling better than his figures, and the four sixes South Africa have clubbed, suggest. Case in point, Zondo's latest lofted pull shot into the deep that has Matt Renshaw sprawling for a ball that falls a metre short.
Very next ball, Verreynne gives it the kitchen sink as he pulls very straight through midwicket. Ashton Agar at full flight to get a hand to it. He can't hang onto what would've been an absolute screamer.
South Africa: 4-121: Zondo 37* Verreynne 10*
Gallery: This SCG crowd, they're a colourful bunch
Watch: Zondo clears the rope, twice!
Khaya Zondo, taking a leaf out of Bavuma's book by taking on Nathan Lyon twice in two overs. And taking him twice over the rope with calculated risks.
Big pull shots on both occasions, the first backward of square and the second in front, that one travelled 83 metres into the Brewongle Stand.
Fractionally short from Lyon both balls, but Zondo could have easily blocked them out too. Good positive play that will give Australia's main tweaker something to think about.
Next over Hazlewood's banged in short ball has Zondo swinging with relish and little control, just wide of Alex Carey.
South Africa: 4-111: Zondo 31* Verreynne 6*
Wicket: Hazlewood gets the breakthrough
Josh Hazlewood, how were we talking about him missing out when fully fit?
He's drawn the edge from Bavuma with a bit of tail in from a length ball, Alex Carey has his third catch of the innings and South Africa's best-looking batter is on his way.
Replays show some reverse swing under grey skies with the ball 39 overs old and Hazlewood sporting very nice figures of 2-11. Wicket maiden for the big man.
South Africa: 4-85: Zondo 5* Verreynne 0*
Most Viewed in Sport
Source: Read Full Article