Reflecting on more than a decade as one of the world's leading fast bowlers, temporary Melbourne Star Trent Boult still marvels at a New Zealand accomplishment so remarkable that he does not think it will ever be repeated.
It was their triumph over India in the inaugural world Test championship in Southampton 18 months ago. "For us even to get to that stage as a Test-playing nation of however many people (five million), playing probably only eight Tests a year – if that," Boult mused.
Trent Boult in action for the Melbourne Stars.Credit:Getty Images
"To get two years of results to get into the final, and then beat India – 1.4 billion people – will never happen again. I think that's one of the proudest achievements any New Zealander could have, when you look at the sheer size of it."
That victory was the pinnacle of a long period of admirable over-achievement by New Zealand cricket in all formats, coinciding with the estimable careers of left-right new-ball combination Boult and Tim Southee and batsman nonpareil Kane Williamson.
But a time has come. After nearly two years of COVID- and cricket-enforced isolation from his family, Boult recently began to re-shape his career, forgoing his Cricket NZ contract and accepting an offer to play T20 in the UAE and then to augment it with a stint with the Stars. Veterans Martin Guptill (Melbourne Renegades) and Colin De Grandhomme (Adelaide Strikers) followed suit. On Tuesday night, the Stars and Renegades meet in the Melbourne derby at the MCG.
Meanwhile, Southee has succeeded Williamson as captain of the Test team, which has slipped down the rankings. Presently, it is toiling away in Pakistan.
Trent Boult as a Melbourne Star.Credit:Wayne Taylor
Boult, 33, said he had no regrets. "I'm incredibly proud of what I've achieved in the Test arena," he said. "But I've got three young kids and I look at my career as a length of string. I feel like I'm at the later end of that piece of string."
Though not formally retired from international cricket, and not having renounced his long-standing ambition to play in this year's one-day World Cup in India, Boult said his eyes were wide open. "I've chosen to go into two other leagues around the busiest time in the New Zealand cricket summer," he said. "I do understand that the decision to give back my contract obviously is going to open the door for other people."
Boult could see others taking his freelancer's path. Elsewhere in the world, they already have. "It might be common for guys at a certain point of their careers," he said. "I think if kids who have played a year of international cricket are choosing to do it over international cricket, that might be a worry.
"There's not a heck of a lot of cricketers in New Zealand. There's not a lot of people!"
Trent Boult bowls in the 2021 world Test championship final in Southampton.Credit:Getty
Indeed, New Zealand cricket is like the country, making much from few, who all know each other. Boult has known Southee since he was 14. "New Zealand is such a small place and it is quite common to go through your career with someone who's just down the road," Boult said. "I've known Kane [Williamson] since I was eight. We lived about a kilometre apart from each other."
This homeliness has several effects. One is humility. Boult said he still thinks of cricket as the game he played in the backyard with his older brother Jono, who also became a first-class player. "It's just a step further onto an international stage with a few shining lights and a couple of cameras," he said.
Another is respect, for opponents and the game. An excess of aggression has never been his style anyway. "I'm just over six foot and about 80kg. I'm not that intimidating, I wouldn't imagine," he said. "But that's not really something that New Zealand cricket speaks about. We try to play the game in the right spirit: be competitive on the field and be the first guys to have a drink and a catch-up afterwards.
"I don't think it's just because I'm at the other end of my career and there's no point sledging me!"
Trent Boult in the 2019 World Cup final at Lord's.Credit:AP
He's gratified to think that the Black Caps' way seems to have become the default for world cricket now. Familiarity has bred fraternity.
But there are downsides to New Zealand cricket's Lilliputian status. One is the talent pool. "Every kid, or 97 per cent of them, want to be an All Black. They want to be Dan Carter, Richie McCaw," he said. "There'll be two-three per cent that want to be a cricketer, and probably two of those three per cent want to be Kane, a batter.
"But there'll be a couple that want to swing the ball around like Southee-Boult or bowl fast like Lockie Ferguson. You've got to try to encourage those kids to take up the job that I've loved doing."
Role models matter. His were Wasim Akram, Brett Lee, Glenn McGrath, Chaminda Vaas and Shane Bond, and he pinches himself still to recall that he ended up opening the bowling in the IPL with Dale Steyn, another idol. Wasim and Vaas were the coaches.
Another challenge is resources. "There's nothing like this in New Zealand," Boult said, gazing around Cricket Victoria's lavish Junction Oval headquarters. "I walked into the rooms upstairs and there are four physios treating four different players. I don't think New Zealand even has a full-time physio."
"I walked into the rooms upstairs and there are four physios treating four different players. I don't think New Zealand even has a full-time physio."
Somehow, though, the Black Caps have gotten the job done in Boult's time, winning the Test championship and playing in multiple white-ball finals. Boult said he could not really explain these outsized performances, except as the product of immutable collective belief. "Find a way is our way," he said.
Lost finals rankle still. The 2019 one-day final at Lord's, which the Black Caps somehow lost without losing, hurts particularly. Boult declared at the time that he wanted to be back in 2023 and has his fingers crossed that his changed status does not complicate it. "I want to be there to have another crack and I hope that is still the case," he said. "It's still a wee way away."
But good memories crowd in. "Your first wicket is always your favourite," he said. His was Mike Hussey in Hobart, and he recently autographed an image of it with Hussey. But there have been 316 more Test wickets and 260 more in international white-ball cricket. "There's been lots of Test wins," he said. "Any Test win overseas is a highlight."
Trent Boult gets the edge, Tim Southee takes the catch. The pair get England's Jofra Archer in Mount Maunganui.Credit:Getty Images
Boult knows first-hand that Australia in Australia is hard. As he arrived, the West Indies were departing with their tails between their legs. Since, he has watched South Africa flounder. He is loath to comment on the evidently widening gulf in Test cricket, preferring to see a bigger picture.
"The West Indies are a team you don't want to play in white-ball cricket because you don't know what you're going to get," he said, remembering a quarter-final of the 2015 World Cup in Wellington when Guptill made 237 not out and New Zealand made 6/393. "It was a horrible game because we didn't actually know if we had enough. Gayle came out and got 80 off about 10 balls."
Boult bowled his 10 overs straight, and they did win.
He agreed that two days in Brisbane recently was too few for a Test match, but was not unhappy with pitches that meant bowlers were well in the game.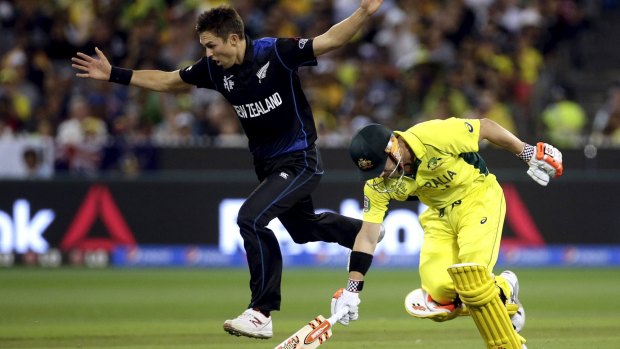 Trent Boult and Australia's David Warner during their 2015 World Cup final at the MCG.Credit:Reuters
"A lot of people think New Zealand is a really easy place to bowl. It seams around and swings all day," he said. "But all our grounds are rugby grounds, and if they're not green and grassy, they don't spin. So it's quite hard to get 20 wickets unless you bowl three days of bouncers basically like Neil Wagner does.
"You just want to see that balance between bat and ball and see the batter scrap through a really hard session and then get rewarded."
The Big Bash League was distantly both on Boult's radar and his TV. "It's a tournament that is pretty well followed back home," he said. "It's on at a good time when everyone is just going to bed. You tune in and see some pretty good cricket. I've always wanted to be here and have a crack."
It would not be him to treat his time as a short-term Star as merely meeting a contractual obligation.
"I actually said to my wife the other night, this is actually a good chance for me to learn," he said. "It's always been one of my biggest goals, to keep my career on an upward trend. To keep getting better, as cliched as it sounds. This was a good chance to take my game that little bit further."
Most Viewed in Sport
From our partners
Source: Read Full Article