Test cricket's "soft signal" is in the spotlight again after Steve Smith's spectacular attempt at a slips catch on day four of the third Test was adjudged not out, a decision that was slammed by several former international players.
In the fifth over of South Africa's first innings at the SCG, Josh Hazlewood found the outside edge of Dean Elgar's bat with the South African captain on six.
Smith saw the ball fly his way and dived low to his right to take what appeared to be one of the greatest catches of his career.
On-field umpires gave it not out – in other words, a soft signal – but sent the decision upstairs to third umpire Richard Kettleborough.
After a long deliberation, of more than three minutes, Kettleborough stayed with the on-field decision. He felt a bit of the ball had nicked the grass despite Smith looking like he got his fingers under it.
There were different views on whether Smith got some of his hand under the ball. The rules have changed to give the third umpire more power to overturn the preliminary on-field decision, but the question of whether a soft signal is needed has been raised.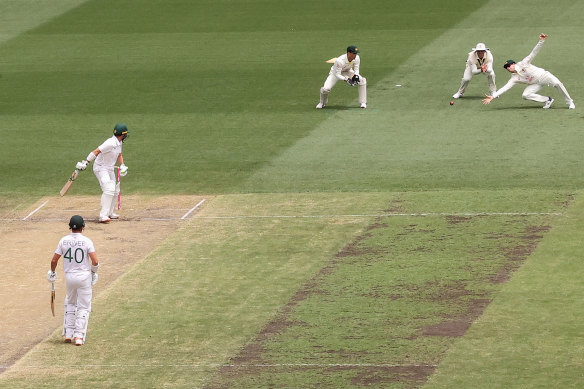 Steve Smith attempts to catch Dean Elgar.Credit:Getty
To Kettleborough's credit, at least he was consistent. Marnus Labuschagne was given a similar reprieve when he edged Marco Jansen to Simon Harmer on day one.
Had Kettleborough sent Elgar packing and not Labuschagne, the tourists would have been unimpressed.
When "not out" appeared on the big screen at the SCG, Labuschagne was seen sharing a joke with Elgar.
Former Australia batsman and NSW coach Phil Jaques was stunned in commentary for SEN.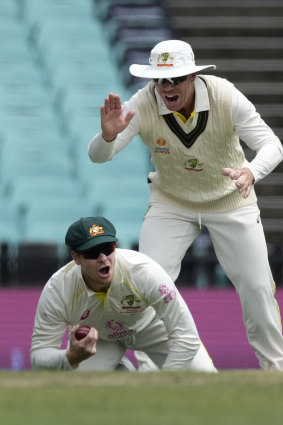 Steve Smith's controversial catch.Credit:AP
"I'm lost for words. Incredible. So bad," Jaques said. "His fingers are clearly under the ball. He's clearly scooped it up."
Former Kiwi international Ian Smith added: "That is out. I'm telling you that is out. It's the most incredible catch when you've been sitting in the dressing room for a day-and-a-half watching the rain fall. Phil Jaques and I are lost for words and in radio, that's a bad thing."
Labuschagne was asked about his views on the soft signal this week.
"The soft signal on field doesn't matter any more where before it did," Labuschagne said on Wednesday. "I don't know why the umpires still give a soft signal."
Australia star Megan Schutt and England skipper Ben Stokes both believe the soft signal needs to go.
"Unsure how that's not out?" Schutt tweeted. "Clear control with fingers under the ball? Soft signal rule needs to go."
Stokes also tweeted this week to his 1.2 million followers about the not out Labuschagne decision.
"Let the third umpire who has all the technology to make the decision when the on-field umpires send it upstairs," Stokes tweeted. "All the controversy is always around the soft signal given."
However, the decision didn't have a major bearing on the day, with Elgar departing for 15 after gloving a ball through to Alex Carey off Hazlewood. The Proteas leader has just 46 runs from five innings at an average of 9.2.
No South African top four batsman has made fewer runs than Elgar from five innings or more during a Test series in Australia.
The next worst in South African history is Elgar's opening partner Sarel Erwee, who has a paltry return of 70 runs at 14.
Sports news, results and expert commentary. Sign up for our Sport newsletter.
Most Viewed in Sport
From our partners
Source: Read Full Article