Key posts
Rain to start the day
Spidercam blow could have caused serious injury, says South African bowler
When should the Aussies declare?
Rain to start the day
The Bureau of Meteorology forecast a "medium" chance of rain and at 9.15am that became 100 per cent when a steady shower of rain began falling at the MCG.
The pitch was covered as it was threatening to rain from around 8.45am as a few drops fell around the area.
Now the question will be whether this rain delays the start of play at 10.30am or whether it stops and things can be cleaned up in time for the first ball.
A top temperature of 28 degrees has been forecast and we could have some thunderstorms.
We will keep you updated but, for now, we will wait on this downpour to finish.
Spidercam blow could have caused serious injury, says South African bowler
South African fast bowler Anrich Nortje says he could have suffered a serious injury when Spidercam knocked him to the ground while he was fielding during the second day of the second Test at the MCG on Tuesday.
"Definitely," Nortje said when asked whether he could have been badly hurt.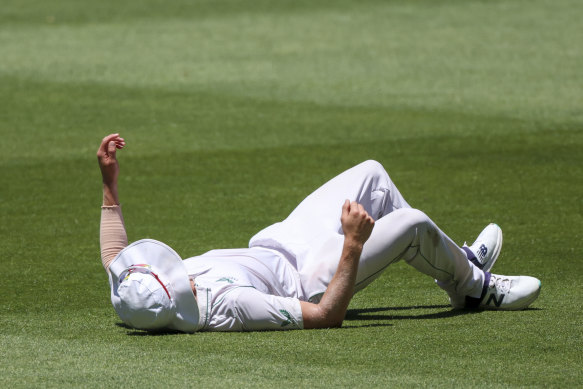 Anrich Nortje after he was hit by Spidercam.Credit:AP
"The one thing we've spoken about earlier is how low it is, and it probably shouldn't be … unless for interviews or something. I don't think it should be travelling at head height."
Nortje was hit on the upper-left side of his body and ended up flat on the ground, but got up straight away and was able to continue.
READ MORE HERE
When should the Aussies declare?
Good morning, Green out of test
G'day everyone. It's Roy Ward here along with Damien Ractliffe and I'll be tapping the keys from the MCG as Australia and South Africa resume on day three of the second test.
Travis Head resumes on 48 not out and Alex Carey is on nine not out as the home side adds to its 197-run lead on 3-386.
For those who missed yesterday's play, David Warner made 200 but had to retire due to exhaustion and cramps while Cameron Green also had to retire hurt after taking a fearful blow to his thumb from speedster Jason Nortje.
Play is due to restart at 10.30am and please feel free to comment on the blog at any time.
Enjoy the day to come.
Most Viewed in Sport
Source: Read Full Article