If it seems harsh on some level to say that Australia's Test team can get better by drawing more runs out of Steve Smith and Marnus Labuschagne over the next 12 months, then the assertion is certainly backed up by recent aggregates.
In 13 Tests between the start of COVID-19 and this Test, Labuschagne had compiled 944 runs at 42.9, with a pair of centuries. In the same period, Smith's tally had been 789 runs at 39.45 with only one hundred.
Steve Smith's hundred was the first he had made in the same innings as a Marnus Labuschagne century.Credit:Getty Images
Though they have retained lofty perches on the international batting rankings in the meantime, and in their own ways contributed to numerous Australian victories at home to England and away in Pakistan, Labuschagne and Smith expect more of themselves.
That much was clear in how crestfallen they were – or in Smith's case incandescent – at falling cheaply in the first Test, regardless of how difficult the Galle pitch was.
As Labuschagne admitted, those moments were not just about frustration at getting out at the time, but a buildup of underachievement stretching back more than two years now. "Both of us felt like we'd left some runs out there for the last few Tests," he said.
"I never feel like Steve's out of form. I never go jeez, he's not hitting the ball well. Getting that one today, I think is really going to open up the floodgates and you know, I think we could have a really big next how many, over 10 Tests we have next year. I think it's a nice relief to get the three figures.
"The boys said this morning when he rocked up to the ground, he was in the 'Smudge' headspace and he looked locked in."
It's a quirk of numbers that day one of the second Test was the first time Labuschagne and Smith had made centuries in the same Test innings. Not so long ago, in England in 2019, Labuschagne played supporting roles as Smith played the series of his life.
Back home later that same year, it was Labuschagne who led out against Pakistan and New Zealand, as Smith batting for time against bowling devised as much to keep him quiet as to dismiss him. Their most recent century stand, worth an even 100, was against India in Sydney in January 2021.
"It's usually one of us getting out and one getting a big score," Labuschagne said. "It was really nice to spend some time together there. We haven't batted together for a century partnership in a few Tests. I can't remember the last time.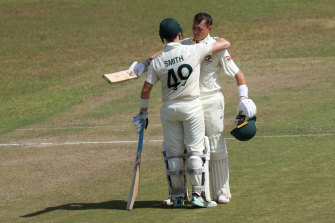 Marnus Labuschagne is congratulated by Steve Smith.Credit:Getty Images
"But it was nice to spend some time out there and build that partnership and do it together and talk through it while we're out there."
In a composed and confident team, the expectation from here is that Smith and Labuschagne will "lock in" as Marnus put it, peeling off runs more consistently provided the pitches back home are somewhat less green than the La Nina tracks of last summer's Ashes.
It certainly helped in Galle that they were playing something closer to conventional Test cricket on a pitch that played better than the strip cooked up for the opening match. As Labuschagne related, batting was deemed more about trusting the forward defence than hitting out before getting out.
"The forward defence is the one," he said when asked what was a 'safe' shot. "Last week's game I think that was the shot we talked about as being the toughest on that wicket was just defending because you felt like every time you were defending one was going to explode or beat your outside edge or take your outside edge.
"So that was the one shot you could play today and you could trust a little bit more. So you didn't need to put as much pressure on because you were just able to build an innings more regularly. Last week you had to be proactive, especially at the start of your inning, to get yourself in the game, put some pressure on the bowlers to get those freebies.
"I think a really good method is you prepare for the worst and then adjust if it's better. So you really work hard when you're training and when you're working on your skills. And then when you get out there you know hopefully like today we're obviously fortunate we won the toss and, and it was a really nice wicket and we were able to bat."
These levels of thinking go to another contention that does not stand up so well to scrutiny: Labuschagne's first overseas century proving much at all.
Thanks to COVID, this is just his second overseas tour since the 2019 Ashes where he performed so ably. In Pakistan earlier this year, Labuschagne got as far as 90.
This is all to say that while Australia can certainly gain more from their Nos. 3 and 4 batters in the next 12 months, there is no doubting their bona fides to do so.
News, results and expert analysis from the weekend of sport sent every Monday. Sign up for our Sport newsletter.
Most Viewed in Sport
From our partners
Source: Read Full Article