Save articles for later
Add articles to your saved list and come back to them any time.
Glenn Maxwell has been ruled out of Saturday's World Cup clash with England after suffering concussion falling off the back of a golf cart on Monday.
The injury is not considered serious, with Maxwell due to resume light training. He is likely to be replaced by Marcus Stoinis in a direct swap after the powerful allrounder's recovery from injury.
Coach Andrew McDonald said there was nothing untoward about the accident after a team golf tournament in Ahmedabad on Monday.
"Going from the club house to the team bus the guys were ferried on carts. Unfortunately he lost his grip on the way back to the team bus," said McDonald, who claimed a number of players jumped on the back of carts because there were not enough for everyone to be seated.
"He's been honest in terms of the information he's provided and that's ruled him out of the England game. He's doing well. He'll start some light exercise today and we feel it will be a relatively straightforward return to play."
Sidelined: Glenn Maxwell is out of Australia's match against England due to concussion.Credit: Getty
Maxwell's injury may require a batting order reshuffle and will weaken Australia bowling without his steady off-spin but it will allow Marnus Labuschagne to retain his place.
Labuschagne insisted the Australians had not changed their views on the legitimacy of Alex Carey stumping Jonny Bairstow when he wandered out of his crease during the second Ashes Test, but claimed the resurfacing of that dramatic moment during the tournament following a Bazball book launch and a Stuart Broad podcast would have no impact on Saturday's clash against struggling England at Ahmedabad.
Victory would give Australia five wins in a row and all but assure them of a semi-final place while defending champions England, with just one win, would be left stuck at the bottom of the table.
"I couldn't care less who we're playing, we really just want to beat England," Labuschagne said ahead of training on Wednesday evening. "I mean I can't imagine anything's going to come up with Johnny, it's dead and buried. It's something that we don't really talk about [but] I don't think anyone's view or thoughts have changed on the decision on what happened, and we just move on."
That Labuschagne is in India at all, let alone a regular member of Australia's World Cup team, marks a combination of opportunity and perseverance.
He was squeezed out of Australia's initial World Cup squad on the back of a belief that Australia couldn't have two accumulators (Steve Smith and Labuschagne) in the middle order when many of the games were likely to be played on flat wickets and small grounds which are ideal for big hitters.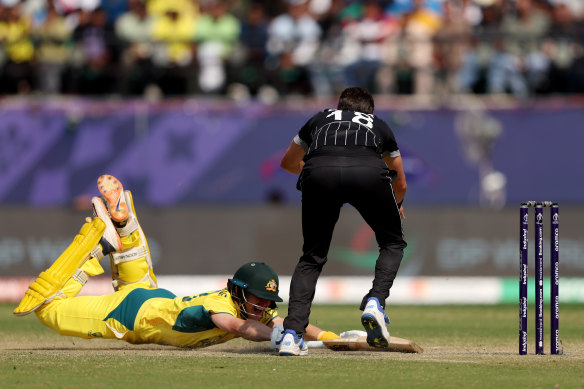 Marnus Labuschagne dives to complete a run against New Zealand.Credit: Getty
That was until Travis Head suffered a broken hand in South Africa just a fortnight out from when the players were due to be in India preparing for the tournament. Spinner Ashton Agar also suffered a calf strain, so instead of replacing him with another spinner the Australians kept Head in their squad in the hope he'd be fit for the back end of the tournament and took Labuschagne as batting back-up.
Labuschagne has played all six of Australia's games in the tournament, but his numbers still make him look the most expendable of the batters. He is fifth in Australia's averages with 34 and has the lowest strike rate of any batsman (77). But he's also one of just three players with more than 200 runs (201) behind the dynamic David Warner (413) and Mitch Marsh (225).
Most significantly, Labuschagne retained his place in the team ahead of allrounder Cameron Green when Head returned for the New Zealand game and scored 109 from 67 at the top of the order.
Labuschagne's luck looked as though it was about to run out with Stoinis looks set to return.
"I'm not a selector but I think … I've added a lot of value to the team, especially in the middle overs,"
Labuschagne scored 18 from 26 balls against New Zealand but at least his fielding adds an extra bow after his brilliant last over against New Zealand, when his desperate dive turned a four into two before he ran out the rampant Jimmy Neesham next ball.
Sports news, results and expert commentary. Sign up for our Sport newsletter.
Most Viewed in Sport
From our partners
Source: Read Full Article