As the nation's all-conquering women's cricket team were winning their way into a seventh successive Twenty20 World Cup final, Australian cricket was celebrating a major milestone with the next generation.
The sustained success of the women's national team and the Women's Big Bash League that underpins it coincides with the registration of five-year-old to 12-year-old female players crashing through the 20,000 mark for the first time.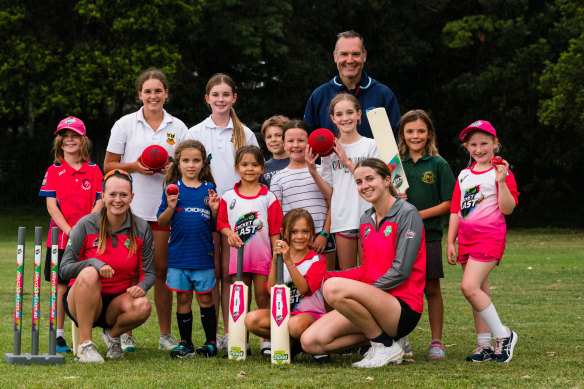 Peninsula Cricket Club all girls Woolworths Blast team are among the 20,000 registered female cricketers in Australia aged between five and 12.Credit:James Brickwood
Australia will meet South Africa in the final in Cape Town on Sunday night (starting at midnight AEDT).
Since 2010, there have been 10 women's 50-over or T20 World Cups. Australia have now made nine finals and can claim their eighth crown with a win against the host nation.
For former Australian captain and Hall of Famer Belinda Clark, the rise and rise of women's cricket is a world away from when she started playing the game as the only girl in the entire Newcastle competition.
Clark said current stars such as captain Meg Lanning, Alyssa Healy and Ellyse Perry would have been in a similar situation.
"It's highly likely that all three would have been the only girl in their team at club level, and so now you look at where we're at," Clark told the Herald and The Age. "Sure, girls can still play in mixed competitions, but they've also got an opportunity to play in all-girls competitions as well, and all-girls teams, which is a massive leap."
There is also a massive leap coming for Australia's elite players just days after the final when the inaugural Women's Premier League begins in India.
Player of the match Ashleigh Gardner (right) celebrates Australia's dramatic semi-final victory with Jess Jonassen and Meg Lanning.Credit:Getty
Ashleigh Gardner lived up to her life-changing $558,000 price tag as the most expensive Australian in the WPL and equal second most expensive overall with a player of the match performance in the semi-final, scoring 31 from 18 balls and claiming two wickets.
Clark believes that the WPL will do great things for elite women's cricket and make India into a powerhouse, as their men's team is proving to be as they head for a third successive Test series victory over Australia.
"The advantage to the players is twofold," Clark said of the WPL. "It's obviously financial, which is a good thing. And the stakes are raised again: there are private owners who have expectations and a broadcaster that's paid a lot of money for the tournament.
"I think any time that you're playing with pressure applied is helpful, so that's positive.
"From an Indian perspective, they have been hesitating to actually put these tournaments on. They've been running the invitational challenge for a couple of years.
"The fact that they got such a big impact from people that wanted clubs, the broadcasters that wanted to put it on television, I think that's given India confidence that they're on the right path.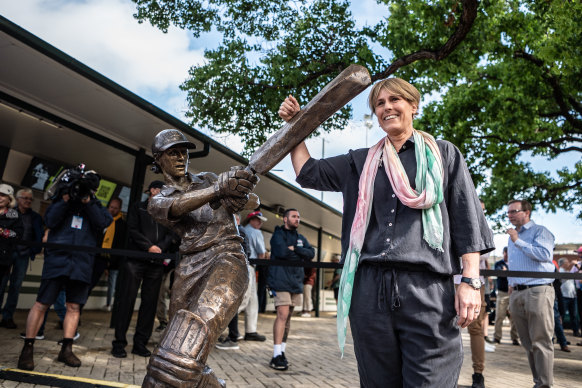 Belinda Clark at the unveiling of a statue in her honour at the SCG last monthCredit:Flavio Brancaleone
"And all those young [Indian] players are going to benefit enormously from that because before there wasn't a lot of Indian players who played in the WBBL, or The Hundred in England.
"That means those Indian players are primarily playing domestic cricket in India trying to get into the national team.
"Some have had to wait a long time to get exposure, and I think this competition is just going to accelerate their development.
"The younger players, they've already won the under-19 World Cup, so it [Indian women's cricket] will explode."
It's a far cry from when Clark led Australia to the 1997 World Cup title in India. When she and her Australian teammates arrived home they received a bill to help pay for the privilege.
Sports news, results and expert commentary. Sign up for our Sport newsletter.
Most Viewed in Sport
From our partners
Source: Read Full Article