Mitchell Starc has been there. The poor medical prognosis. The difficult phone calls and doctors' updates. The counting down from one conversation to the next, not quite knowing when the last will be. The impossibility of making cricket your sole focus. The yearning to be home.
When Starc fought his thoughts to play against India inside a COVID-19 bubble during the last summer of his father Paul's life, Pat Cummins was by his side as a teammate and close friend.
Three years on, Starc spoke with true empathy about how Cummins led Australia while his mother Maria was facing the return of her breast cancer, before ultimately flying home to be with her in palliative care last week.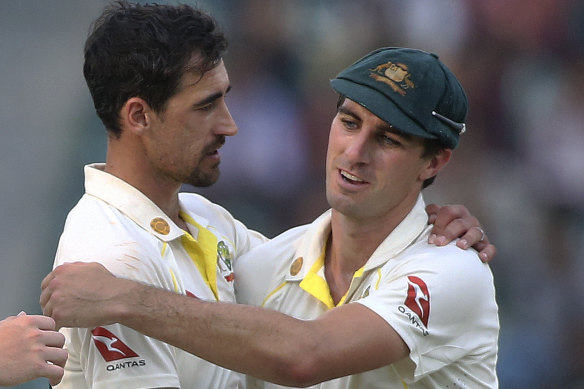 Mitchell Starc with Pat Cummins.Credit:AP
The season of 2020-21 was perhaps the toughest of Starc's career, as his father insisted he play on rather than staying at home during the closing months of Paul's own journey through cancer. He died in late February of that summer.
While Starc's father's illness was kept private during the Tests against India, he faced considerable criticism about his performances from those unaware of what he was going through. There was a similar ring to some of the critiques of Cummins during the Nagpur and Delhi Test matches, something Starc referred to as "noise".
"It's hard enough being in a COVID bubble in the same country, let alone being overseas and having to captain international cricket," Starc said in Indore ahead of the third Test.
"Pat's a very resilient and strong character and I'm sure he was going through some stuff silently. He's exactly where he needs to be now to give his love and support to his family around him. I can only imagine that it would have been incredibly hard being over here with obviously a lot of noise back home."
Cummins thanked England's Barmy Army supporter group on Monday for a tweeted video rendition of the song Maria, from West Side Story, in honour of his mother.
Over a long association through state and international ranks, Cummins and Starc have discussed all manner of things. But his experiences three years ago gave Starc the ability to speak from a position of knowledge.
"Having been through a similar situation recently, it's a hard place to be," he said. "Trying to get your head around playing international cricket and for him to captain at the same time when your mind might be back home or with your family.
"We're sons, partners, fathers first, people first, and cricketers second. He's got the complete support of the group. It's been tough to see him go through it from afar, so nice for him to get the opportunity to go home, be around the family, support the rest of his family and to go through that while not being overseas at the same time."
At Indore's Holkar Stadium, Starc bowled with speed and direction during Australia's main training session, including a spell to Cameron Green as each tested out their recovering fingers. Starc admitted he would not be 100 per cent clear of the finger tendon injury he suffered in Melbourne, but had played with pain plenty of times before.
"There's going to be a level of discomfort for a little while, but the ball is coming out quite nicely and I feel like I'm pretty much at full tilt," he said. "It wouldn't be the first Test match I've played in some sort of discomfort.
"It's more the discomfort of the joint being restricted having been in a splint for six weeks and still having to be in a splint for another couple of weeks yet. That's probably the only part – dealing with the discomfort of it
"If I only played when I was at 100 per cent I would have only played five or 10 Tests. I'm happy with where it's at and I've built up enough of a pain threshold to deal with that stuff over the last 10 or 12 years."
As for Cummins' stand in as captain, Steve Smith, Starc pointed to his successful two Tests in Adelaide over the past two years as a pointer to how things would work.
"It's going to be slightly different, but I think we've seen over the last sort of 12-18 months when he's stepped in, he's done a fantastic job again," Starc said. "A couple of Tests he had to do in Adelaide were really successful for the group. Hopefully it's another great week for our team to sort of bounce back from the last two weeks."
News, results and expert analysis from the weekend of sport sent every Monday. Sign up for our Sport newsletter.
Most Viewed in Sport
From our partners
Source: Read Full Article