If you have ever wondered what it is like to be in the middle during an Ashes Test, surrounded by chirping fielders, then the new Ben Stokes documentary on Amazon transports you to the crease.
The footage of Stokes' epic unbeaten 135 at Headingley in 2019 is run every northern hemisphere summer by Sky in the UK. It is on YouTube too. But the documentary, Phoenix from the Ashes, overlays audio from the stump microphone for the first time, letting the viewer listen to Australian sledges as they smell a victory that would ensure the retention of the Ashes after only three Tests.
Former England players say it is not the swearing that gets to you, it is the little digs with an element of truth that work away inside a batter's brain. England were set 359 to win after making 67 in the first innings. They secured the unlikely victory in dramatic fashion, with just one wicket to spare, thanks to Stokes' heroics.
We do not hear what the Australians say to every batter, but enough to give a flavour of the on-field tension.
Rory Burns
Sledge: "He won't talk now. He doesn't have his big boys around. How many runs until he starts talking? 20, 30?"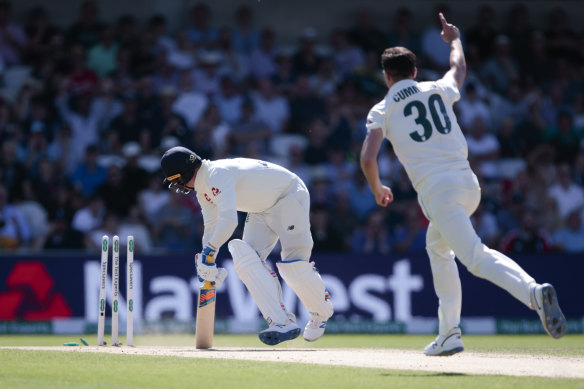 England opener Jason Roy is bowled by Pat Cummins towards the end of day three.Credit:AP
It could be Tim Paine making the comment. The Australians have picked up on Burns' sledging from slip but only when he has his fellow fielders for support. He obviously bats in his shell, ignoring sledges until he has a few runs on the board, hence the second comment.
Result: Burns edges Josh Hazlewood to slip for seven off 21 balls.
Jason Roy
Sledge: "Another bloke who likes a word when all his mates are around. Standing by himself down here? Very little."
Roy is seen by the Australians as another Englishman who likes a chat with numbers around him.
Result: Bowled by Pat Cummins for eight. Roy walks off and we hear him swearing at himself.
Josh Hazlewood celebrates taking the wicket of Joe Denly.Credit:AP
Joe Denly
Sledge: "He looks straight at the screen to see if he's on the screen."
The Australians suggest he is a vain, pretty boy and not up for the fight. Denly batted bravely, taking blows to the body and almost seeing England to the close.
Result: Bounced out by Hazlewood and caught behind for 50.
Ben Stokes
Sledge: "No worries Stokesy, I reckon you and me make a good combination bro."
Nathan Lyon to Stokes after he misses with a swing. Lyon suggests they are a good combo because he gets him out a lot.
Second sledge: "You OK Stokesy? Ah OK. Tough guy now eh?"
David Warner after Stokes is hit on the head, sending his side-clips flying.
Result: One of the greatest innings of all time. The sledging dies down as Stokes gets closer to victory.
Ben Stokes celebrates a remarkable England victory at Headingley in 2019.Credit:PA
Joe Root
Sledge: "Hey what was that? Another non-conversion by Rooty?"
It is Warner, making sure Root can hear him after he walks off. Warner had caught Root at slip off Lyon.
Result: Root out for 77, Warner picking up on the fact another 50 had not been converted to a century.
Jack Leach
Sledge: "He's got too much on his mind."
It was Warner, and Leach looks terrified as he walks out and wipes his glasses between balls.
Result: Probably the most famous one not out ever as he survives long enough for Stokes to seal victory.
Telegraph, London
Sports news, results and expert commentary. Sign up for our Sport newsletter.
Most Viewed in Sport
From our partners
Source: Read Full Article