Jai Hindley won't compete at the Tour de France this year but after becoming the first Australian to win the Giro d'Italia on Sunday, the yellow jersey, cycling's most coveted prize, is on his radar.
Hindley has joined Cadel Evans as the only Australian to have won a grand tour – a three-week race – and while his immediate focus is on recovery and a holiday with his girlfriend in Italy, future endeavours aren't far from his mind.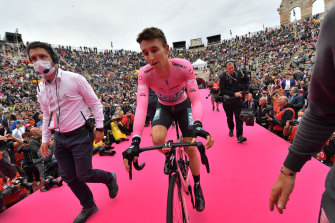 Jai Hindley rides to the podium in a packed Roman amphitheatre after becoming the first Australian to win the Giro d'Italia. Credit:LaPresse/AP
Speaking in a video press conference, Hindley, still in a daze from his historic triumph at the Giro and seeing his parents for the first time in more than two years, was matter of fact when asked if he could win the yellow jersey. Evans is currently the only Australian to have won the Tour since its inception in 1903.
"For sure, why not? I'll never say never. That would be the ultimate dream. I'm definitely not going to say it's not possible," he said, adding his next big goal would be to ride at the Tour.
"I've been a pro now for, this is my fifth year, and I've never ridden the Tour so that would be a huge step forward. Not necessarily riding for GC [general classification] but just riding the Tour I think is super special.
"I would love to do that maybe next year I don't know, but that would be pretty awesome."
Hindley has barely stopped since he crossed the finish line of the 21st and final stage of the Giro in Verona, where he made cycling and Australian sporting history, which, to him, was on par with seeing his mother and father.
The 26-year-old, who is from Perth, was previously unable to visit his parents because of Australia's border restrictions during the COVID-19 pandemic.
"The moment I crossed the line it was like I didn't really have time to do anything," he said.
"I didn't really have time to think or breathe, do anything, it was just like full gas interviews and then the presentation, and then we had a big party afterwards, which was also super nice.
"But, yeah, the highlight for me was, obviously winning the race was huge but to have my parents and my girlfriend there, my parents, especially who I hadn't seen for such a long time, that was really special."
Hindley is waiting for the magnitude of his win to sink in, but he never doubted his ability, or that of his Bora-hansgrohe team, even on the back of an illness and injury-marred 2021 season.
Hindley sealed victory at the Giro on Sunday, but it was his exploits in the Dolomites on the penultimate stage, where he in the final few kilometres of the final summit finish cracked then leader Richard Carapaz (Ineos Grenadiers) and blew the rest of the competition away, that was the difference.
"I was pretty nervous going into that second last stage because I knew you either had it or you didn't and whoever was going to be in the [leader's] jersey at the end of that day would most likely win the race," he said.
"I was also not feeling super great because it was stage 20, and you've been racing your bike for almost three weeks to that point, so everyone is really on their limit, and actually, I think when it gets to that point of the race it's almost more mentally than physically challenging.
"And mentally I was really ready to fight. We did that and it paid off."
Most Viewed in Sport
From our partners
Source: Read Full Article