Marnus Labuschagne feels dudded by bad light, the South Africans feel dudded by technology and fans were dudded by Test cricket's arcane insistence that the game can't be played under heavy cloud cover even when the floodlights are on.
"Definitely very frustrated," Labuschagne said after the umpires called bad light for the last time the moment he was out, caught behind for 79, to end a weather-marred first day of the third and final Test of the series at the SCG.
Australia were 2-147 at stumps with Usman Khawaja unbeaten on a rock-solid 54.
"Obviously, it always makes you very angry as a batter when you get out and then everyone walks with you off the field," Labuschagne said.
"It really makes you think … that specific ball was probably under the light meter, and you're getting out … very frustrating."
Labuschagne was dismissed by a magnificent delivery from South Africa's best fast bowler on this tour, Anrich Nortje (2-26), which kicked and left the right-hander.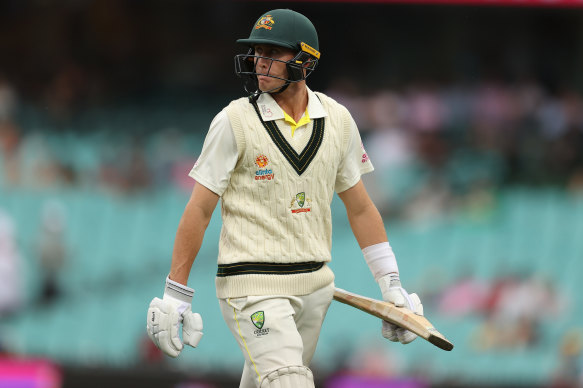 A dejected Marnus Labuschagne.Credit:Getty
For his part, Nortje and his teammates believe Labuschagne had been caught low at slip for 70, but the television umpire ruled part of the ball had touched the ground when Simon Harmer took it.
"All of us thought it was out. Simon was convinced it went straight in [his hands]," Nortje said. "When you look at the front on and if you look at the angles, it looks to us like fingers underneath it.
"Unfortunately, we didn't get that one. I think it would have been a big one at that stage. We were convinced."
Steve Waugh was one of many unimpressed by the delays, taking to Instagram to express his displeasure.
"Test cricket needs to realise there is a lot of competition out there and not using the lights when the players are off for bad light simply doesn't add up," the former Australia captain wrote. "Lots of unhappy spectators who can't understand the rationale and reason for no play. #commonsense #movewiththetimes @icc @cricketaustralia."
Before the weather took hold, Labuschagne edged a drive off Marco Jansen to Harmer to start the first debate.
The South Africans celebrated instantly but Labuschagne stood his ground, as he is entitled to do. Umpires Chris Gaffaney and Paul Reiffel conferred before engaging television umpire Richard Kettleborough and offering the "soft" signal, suggesting the onfield umpires thought it was out.
Multiple replays suggested the ball may have landed as Harmer gathered it. Kettleborough said, "the ball may be on the floor" and gave Labuschagne the benefit of the doubt.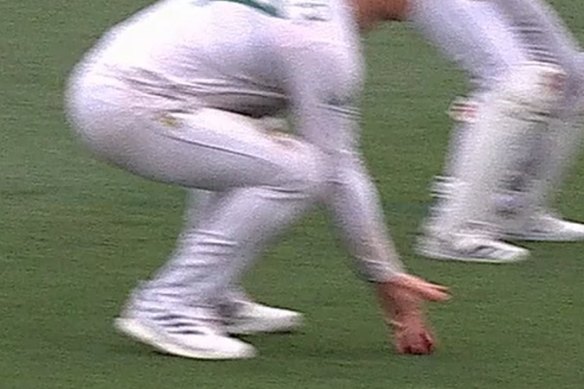 Simon Harmer claims a catch after a Marnus Labuschagne edge at the SCG.Credit:Seven News
However, former Australian umpire and International Cricket Council umpires' manager Simon Taufel believes Kettleborough may have been fooled by camera angles and the camber of the SCG into giving Labuschagne not out.
"That's where the foreshortening of the lens really becomes a little bit deceptive, when you look at it front-on," Taufel told Channel Seven.
Labuschagne claimed technology is now so good, players can think they have caught the ball when replays show otherwise.
"The easiest way to explain it is I nicked and I looked back and as soon as I saw the type of catch, regardless of if it was caught or not, with the technology that's come in … there's so many ones now that people are adamant they caught, and Simon said that, he said, 'I've caught that'.
"With the old rules of catching it because you felt like your fingers were under it, absolutely [it's out], but in the new footage those are so scrutinised because you see so many angles.
"That side-on angle makes it look really bad. And then you look at the front-on angle and you're like, 'Well, that actually looks pretty good'. But the old-school mentality of the benefit of the doubt goes to the batter … I think they've gone back to that rule."
South Africa captain Dean Elgar had a conversation with the umpires while the recalled Harmer, gully fieldsman Sarel Erwee and wicketkeeper Kyle Verreynne had what Labuschagne described as "a chat" with him.
On the way, Khawaja brought up 4000 Test runs in his 56th Test at an average of 46, which begs the question: why hasn't he played more?
Sports news, results and expert commentary. Sign up for our Sport newsletter.
Most Viewed in Sport
From our partners
Source: Read Full Article