Rainbow jerseys have proved divisive recently. But there is one field where a multi-coloured uniform is so highly prized by all its athletes, to wear the rainbow is regarded as the sport's highest honour: cycling.
The Union Cycliste Internationale (UCI) World Road Championships begin in Wollongong, south of Sydney, on Sunday and prestigious rainbow jerseys will be up for grabs in several categories across the span of a week, in time trials and road race events.
Since the tradition was introduced in 1927, cycling awards a rainbow jersey – bearing the colours of the Olympic rings – to the men's and women's world champions. For the next year, those champions wear the rainbow jersey when racing in the same discipline, so a time trial world champion wears it in all time trial races, a track rider in their event and a mountain biker in their event, and so on.
Those events may be few and far between, however. The rock-star world champions are the winners of the men's and women's elite road races, who then wear the rainbow jersey instead of their team's colours in nearly every stage of all professional races for a year (Only a race leader's jersey supersedes it). In a professional peleton of the world's best, the rainbow jersey wearer stands out as the king or queen of the pack.
Australia has only ever had one road race champion: Cadel Evans, who won in Mendrisio, Switzerland, in 2009.
Cadel Evans in the rainbow jersey in the 2010 Tour Down Under.Credit:AP
"The prestige to wear the rainbow jersey, anyone in cycling, if they want one jersey in the world, it is the rainbow jersey," Evans told the Herald and The Age.
"It is so special and the fact you get to wear it for a year, and it is so prestigious and such an honour, everyone wants to win the world championships for that honour.
"To wear that jersey, whether it is in the professional peleton or in group of cyclists in your local group ride or something, it is really special. It is something every cyclist dreams of in their career."
While a new world champion takes the rainbow jersey a year later, tradition allows past champions to wear rainbow rings on a sleeve and the collar for the rest of the riders' life.
"So I am going out riding this afternoon and I will have those stripes on my sleeve and it still means something to me to put that jersey on and think back to that day, and that year of wearing that jersey, and that's 13 years later," Evans said.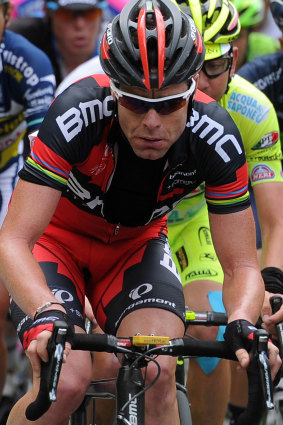 Cadel Evans in his team kit in 2014, with rainbow stripes on his sleeve.Credit:AP
Evans wasn't among the favourites to win in 2009, after earning a reputation as a highly talented GC rider who couldn't take the final step and win. He'd come close many times in mountain biking world championships, and had finished second in the Tour de France in 2007 and 2008. After an illness-affected 2009 Tour de France, where he'd finished 30th, most people expected the main contender of the Australian team at the world championships to be Simon Gerrans.
But after the Australian team worked to haul in a breakaway, Gerrans and Evans were both in the hunt. Evans, then 32, kept pushing and rode away from a stellar group of nine on the final climb of the almost seven-hour, 262.2km race. In proving he could win in a one-day event, the world title was a big step towards Evans winning the Tour de France two years later.
"2009 was a pretty bad year for me, and a lot of people around me in my trade team and my national team had lost faith in me as a bike rider," Evans said.
"So for me it was confirmation in my own belief in myself. That was the main thing for me. I was the same rider on the bike before and after, but after you win the jersey, it did change me just because you get treated differently as a world champion. You are considered differently in the world of cycling. My team changed their attitude towards me, that's for sure."
Famously, the rainbow jersey also carries a so-called curse. Many world champions have suffered terrible luck in their year in the famous jersey. Studies have even been carried out, and Evans agrees with the findings: the tough year following a world championship win is more due to the increased spotlight than a hex.
"It seems even more so in the last few years, it is like what happened at the race today, and the world champion was there and what did he or she do?" Evans said.
"So you really become the centre of attention. In the peleton you get treated a bit differently, sometimes you get complimented for the jersey and other times you get criticised for it. The way people treat you is what really changes, in the world of cycling."
Evans, who is an ambassador for the Wollongong UCI Road Championships, wore the rainbow jersey the last (and only) time Australia played host: in 2010 in Geelong. He was in a breakaway late but was overrun by the pack.
One Australian claimed victory that day – Michael Matthews in the under 23 road race – and he is not only still riding, Matthews is one of the leaders of the Australian team for the men's race on a demanding Wollongong course next Sunday.
"The course is well suited to Michael Matthews; it is the perfect course for him," Evans said.
"I don't want to put too much weight on his shoulders but I think it is going to be guys like Michael and a few other contenders, like Wout Van Aert, who is going to be the guy to beat at this world championships."
Van Aert, from Belgium, is favourite ahead of Tadej Pogacar (Sloevnia), Mathieu Van Der Poel (Netherlands), Remco Evenpoel (Belgium) and defending champion Julian Alaphillipe (France). Matthews sits behind them sixth, according to the bookies. Giro D'Italia winner Jai Hindley is Australia's other chance.
In the women's road race, Australia's Grace Brown is among the picks against defending champion Elisa Balsamo (Italy), Lotte Kopecky (Belgium), Annemiek van Vleuten (Netherlands), Elisa Longo Borghini (Italy) and Dutch great Marianne Vos, who would claim her fourth rainbow jersey with victory in Wollongong.
Australia has a strong women's team that could also yield success through Georgia Baker, Alex Manly or Amanda Spratt.
Most Viewed in Sport
From our partners
Source: Read Full Article