James Pattinson has revealed Australia's vice-captain Pat Cummins tried to get him to reconsider his Test retirement plans ahead of the Ashes summer, while also highlighting the careful management of the 28-year-old as a pointer to how fast bowlers should be handled.
At 31, there was an unmistakably rueful air to Pattinson as he reflected on how he was thrust into the Test team at 21. Then, largely through his own irresistible performances, he was used heavily in his first international season and then rushed back to bowl as soon as possible thereafter, despite his body still learning to cope.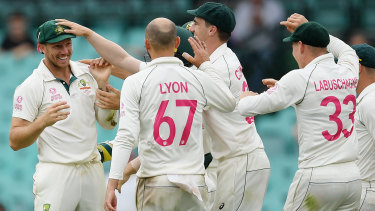 James Pattinson (left) and Pat Cummins (centre) are close mates with contrasting stories.Credit:AAP
By contrast, Cummins played one Test match at 18 and then waited another six years to play his second, a gap that has helped him mature into the most durable, as well as skilful, of Australian fast bowlers. The bond between the pair was clear in how Pattinson related their conversation before he announced his unavailability for the Ashes.
"I'm pretty close with Patty Cummins, I rang him before I was doing it and he said 'is there any way that I can convince you to stay'," Pattinson said. "It's nice to feel like you're missed – I'll be watching this Ashes closely and definitely be behind them 100 per cent.
"When I came in when I was 21, I'd played five first-class games. I was put in a position where I was a bit ahead of my body being thrown into the Test arena at that stage and doing well, I went from not playing to almost being the lead bowler within four or five Test matches. So that was the hardest thing, and my body wasn't ready for that…it probably has contributed to my back being the way it is and having to go and get surgery.
"They've changed the way they manage players a little bit with Patty Cummins, who came on to the scene and then played a lot of one day cricket, so he built his resilience up through playing one day cricket, still getting that intensity. The way they've handled Pat Cummins is the blueprint of how you handle your bowlers now."
In 2017, Pattinson resorted to radical back surgery in New Zealand to try to squeeze another few years out of his career, and while he returned to the Test team for the 2019 Ashes and the following summer, he was unable to command a consistent place. Added to the mounting pain of simply bowling and training enough to be fit for international cricket's exacting standard, it all became too much.
"The way they've handled Pat Cummins is the blueprint of how you handle your bowlers now."
"It's a relief in some way because I've only ever known trying to play cricket for Australia since I was 20," he said. "So I've always had that weight on my shoulders of trying to get back and playing Test cricket, and after a while the injuries and stuff have taken its toll.
"There were days after bowling indoors, the next day I could hardly walk, could hardly pick up my kid when I got home and stuff. That was basically the difference between going 100 per cent all the time and working through the gears, and I think at Test cricket it's hard to do that because you've got the radar on you all the time, and you're needing to bowl like that for 40 to 50 overs."
While a story out of the UK overnight had suggested Pattinson might play as a local for Nottinghamshire, due to his British passport, and technically be able to try to qualify for England. But he was adamant about only ever playing Tests for one Ashes combatant.
"I won't be playing for England, that's for sure," he said.
"I've signed as an overseas player with Nottingham, so I'll go over there and play as an overseas, come back here next year and play in the Big Bash and then see what it's like, see whether my body can handle playing cricket all-year round, and I'm going to continue to play for Victoria."
Sports news, results and expert commentary. Sign up for our Sport newsletter.
Most Viewed in Sport
From our partners
Source: Read Full Article