Australia delivered the vast victory their Twenty20 World Cup campaign sorely needed, eclipsing Ireland by 42 runs at the Gabba and closing the gap on England's net run rate in the race for the semi-finals.
But the captain Aaron Finch and middle order hitter Tim David each suffered hamstring complaints to further complicate what has already been a challenging few weeks for the Australian selectors. Cameron Green and Steve Smith are the reserve batting options in the squad.
There were a few hiccups in an Australian tally of 5-179 that started slowly, found substance through Finch (63, 44 balls) and Marcus Stoinis (35, 25 balls) then petered out again, before the host nation's bowlers shattered Ireland's top order.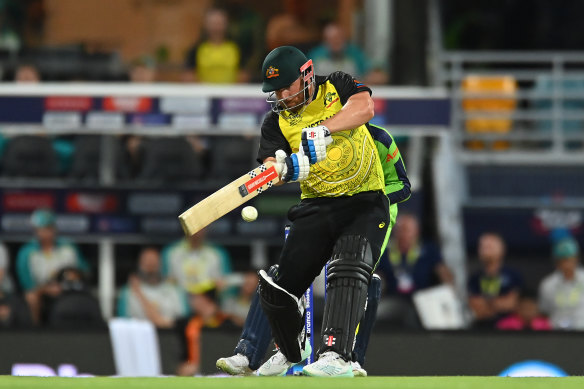 Aaron Finch in action. Credit:Getty
Mitchell Starc (2-43) had his trademark inswinger back in harness, going through the defences of Curtis Campher and George Dockrell like a ghost through a wall. Frustratingly for Starc and the Australians, the remainder of his spell was far more wayward and expensive.
Pat Cummins (2-28), again claiming the new ball ahead of Starc, fizzed an in-ducker of his own past Ireland's captain Andy Balbirnie. Glenn Maxwell's two wickets in an over vindicated his introduction by Finch in the power play, and Adam Zampa (2-19) returned to the team with typical parsimony.
George Dockrell of Ireland is clean bowled by Mitchell Starc. Credit:Getty
From 5-25, the Irish limped to 137 thanks to an outstanding rearguard by the 26-year-old wicketkeeper Lorcan Tucker (71, 48 balls). Australia's win saw their net run rate climb from -1.555 to -0.304, much closer to England's 0.239.
That essentially means that England must beat New Zealand and Sri Lanka by significantly bigger margins than Australia can defeat Afghanistan in Adelaide on Friday night if they are to stay ahead in the group standings.
Finch, though, was notably restricted in his movement in the field after tweaking his hamstring while batting. David, similarly, spent time off the field being attended to by the team physio. Stoinis also spent time off the field, meaning three substitutes were required for a time.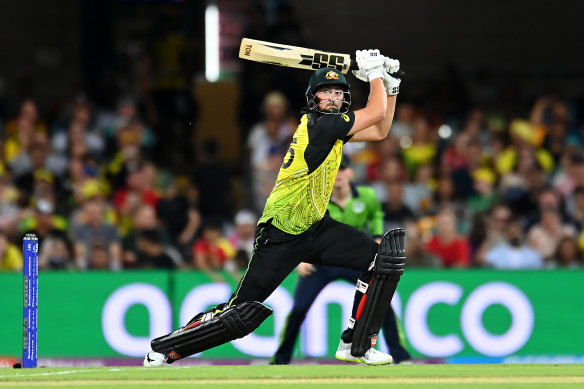 Tim David suffered from a hamstring complaint. Credit:Getty
Sent in to bat, Finch and David Warner were clearly wary of the new ball swinging around, as it had for the Irish in their defeat of England at the MCG.
A power play worth just 38 for a single wicket down was one of Australia's slowest, but Finch and Mitch Marsh lifted the tempo with a trio of sixes and some of the captain's best-timed shots in several weeks.
Even so, Marsh's departure left Australia with only 78 after 10 overs, and Maxwell's brief stay (including consecutive lbw shouts by the leg spinner Gareth Delany), left Stoinis with another assignment to supercharge a faltering innings.
Seventeen balls went by between boundaries before Stoinis sized up Delany in the 14th, an over worth 16 that signalled Australia's switch to all out attack.
McCarthy saved one Stoinis six with a tremendous catch and flick back from over the boundary rope, getting severely winded in the process, but Australia's acceleration was pronounced – Finch and Stoinis added 70 in six overs together.
But any further launching was rather curtailed by some excellent Ireland death bowling: only seven runs came from the 18th and 19th overs, Stoinis going without a boundary from the final 12 deliveries he faced.
Most Viewed in Sport
From our partners
Source: Read Full Article