Save articles for later
Add articles to your saved list and come back to them any time.
The Melbourne Cup is always about choices. Finding a horse that will thrive in the most idiosyncratic of races. Deciding how to prepare them. Selecting the best rider. Knowing when it is time to be patient and when to dash for the line.
At the top of the famed Flemington straight, Mark Zahra knew he'd made the right choice.
Mark Zahra rides Without a Fight to victory.Credit: Joe Armao
He'd spent much of the race on the rails, following the great Damien Oliver, who was following James McDonald sitting high in the stirrups of Gold Trip, the Cup winner Zahra had given up for the one he was on.
Zahra knew that Without A Fight – a misnomer if ever the sport of racing had one – had barely broken a sweat on this steamy Cup Day. All he needed was some clear track to run into and the race would be his. "Once I got that gap I thought there is not a horse that can beat me from here."
There wasn't.
Soulcombe and Sheraz, both under star trainer Chris Waller, finished in second and third but as the field surged towards the line, they were never in the race. By the time they crossed the finish, Zahra had his fist raised to the crowd in triumph and his wife Elyse was sitting on the grass of the mounting yard, tears in her eyes, wondering why anyone had ever doubted her husband's judgement.
"He just picked the right horse again," she said. "He did it. Everyone should just trust him.
"Holy crap. It was so stressful."
The right choices.
Mark Zahra, having won consecutive Melbourne Cups on different horses, has done something no jockey has managed since Harry White doubled up in different colours 44 years ago.
Without A Fight, an Irish gelding that father and son team Anthony and Sam Freedman have been training for the past year with the possibility of this day in the back of their minds, becomes only the second horse this century to complete the Caulfield and Melbourne Cup double.
It is their first Melbourne Cup win. They can add it to the five Anthony's brother Lee won as a trainer and the three that Sam's great-great-grandfather Bill McLachlan won as a jockey. Sam was trackside. After the race, he spoke to his dad, who was at his Mornington Peninsula home watching the race with a mate. "That was pretty good today," Anthony Freedman told his son.
Zahra won on Gold Trip last year and was offered the ride on the same horse in this Cup by Ciaron Maher and David Eustace, a prodigious training team every jockey likes to keep happy. At the same time, Sam and Anthony Freedman wanted Zahra to stay on Without a Fight, the horse he'd ridden to victory in the Caulfield Cup.
Why was he in such high demand? As Sam explained it, Zahra is sparse with his words, patient in the saddle and on the big race days, nearly always gets it right. "We've always said, in the big races we'd rather no one but Mark," he said.
This wasn't always so. There was a time, about 10 years ago, that Zahra didn't make the right choices. He saw racing as a job rather than a career ambition; a chance to ride a few winners and earn a bit of travelling money.
He said that changed for him when he met Elyse. He decided that if he was going to be one of the best, he needed to start doing things right. He is a tall man for a jockey and started choosing rides where he could make weight without wrecking his body. He decided to ride less often and make those rides count for more.
When it came to choosing between Gold Trip and Without a Fight, Zahra had only one criterion. Gold Trip would always be a part of his life, but wouldn't be swayed by sentiment.
"I don't just ride this horse because I love it," he said. "This is my business and I have to make a decision based on what horse I think can win."
On the Saturday evening of the Caulfield Cup, he watched a replay of his winning ride. Then he made his choice. His sister Clare received confirmation on the family's WhatsApp chat group and immediately felt sick. "He went for years without being able to get a ride. Now he had to choose between two!"
The right choices.
For 163 years, the Melbourne Cup has been a brutal race. Two miles and for the most fancied horses, heavy weights, on a track that can bake hard in the November sun. Three horses – Gold Trip, Oliver's final Cup mount Alenquer and Right You Are, one of only two Australian-bred runners – pulled up lame.
Yet this year, like the last year and 2021, there were no catastrophic breakdowns on track, nor any calamitous scenes in the stalls, where in previous years, too many highly priced horses have died. For the Victorian Racing Club and Racing Victoria, the absence of fatalities, combined with a crowd of 84,492 people at Flemington, will bring relief and encouragement that the extra vet checks introduced after the death of Anthony Van Dyck are doing their job.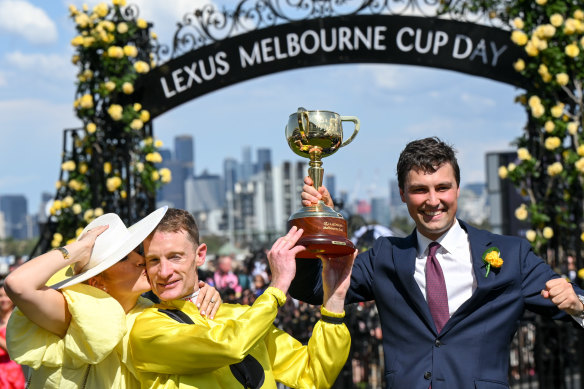 Mark Zahra gets a kiss from wife Elyse after winning the Melbourne Cup as he lifts the trophy with trainer Sam Freedman.Credit: Eddie Jim
The right choices.
It took His Highness Sheikh Mohammed bin Rashid Al Maktoum, with all the riches of Dubai's ruling family and his world-beating Godolphin stable of horses, 30 years to win the Melbourne Cup. It has taken Sheikh Mohammed Obaid Al Maktoum, a member of the same family, just one go.
The right choices and a bit of luck.
The night before this Melbourne Cup, Mark Zahra slept in the guest bedroom. He hadn't argued with Elyse – he just prefers the bed in the spare room to the one they share.
While her husband slept, Elyse stared at the night, hoping it wouldn't rain. There were thunderstorms forecast to sweep over Flemington some time Tuesday and a Mark and Elyse both knew a heavy track at race time would suit Gold Trip and not Without A Fight.
"I don't pray but I went to bed and I was like, 'Please don't rain, please don't rain, please don't rain'," she said.
Melbourne weather is beyond the control of even billionaire sheikhs. This Cup Day, the skies threatened but never unloaded. "I told you so," Zahra shouted as he galloped into history. "I knew I picked the right horse!"
Get the day's breaking news, entertainment ideas and a long read to enjoy. Sign up to receive our Evening Edition newsletter.
Most Viewed in Sport
From our partners
Source: Read Full Article