For our free coronavirus pandemic coverage, learn more here.
Nick Kyrgios has called for the Australian Open to be cancelled next year while also offering some surprising support to world No. 1 Novak Djokovic over his controversial vaccination stance.
The Australian used his No Boundaries podcast to declare his home grand slam should be put on the scrapheap following two years punctuated by COVID-19 lockdowns in Melbourne.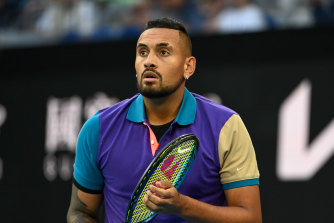 Nick Kyrgios says the Australian Open should no ahead as planned.Credit:Eddie Jim
"I don't think the Aus Open should go ahead, just for the people in Melbourne – you've got to send a message," Kyrgios said.
"How long did [Melbourne] do in lockdown? 275 days or something?"
Kyrgios also described mandatory vaccination for tennis players as "morally wrong," having spent much of the last 18 months hammering Djokovic for his actions during the pandemic, including the ill-fated Adria Tour, where several players, including the world No. 1, contracted the coronavirus.
Djokovic has refused to reveal whether he is vaccinated against COVID-19, describing it as "a private matter," and is yet to confirm whether he will travel to Australia to try and win his fourth straight Australian Open. He has previously expressed vaccine hesitancy.
Djokovic's Adria Tour saw several players test positive last season.Credit:AP
"[Melbourne-born Brooklyn Nets NBA star] Kyrie [Irving], Novak … These guys have given so much, sacrificed so much. They are global athletes who millions of people look up to," Kyrgios said.
"I just think it is so morally wrong to force someone to be vaccinated.
"I'm double vaccinated, but I just don't think it's right to force anyone [to be vaccinated] and say 'you can't come and play here because you're not vaccinated'."
The Australian Open wasn't the only grand slam in Kyrgios' sights.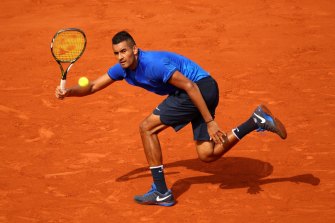 Kyrgios is no fan of the Paris clay and has not contested the French Open since 2017.Credit:Clive Brunskill/Getty Images
He has skipped the last four French Opens, and called for the only clay-court major to be scrapped from the tennis calendar altogether.
"The Australian is my favourite slam with the home crowd, the pressure is so different," Kyrgios said.
"Everyone expects so much of you, I can't do anything without the media being there – it's brutal.
"The French would be terminated from the calendar completely, it's the worst f*****g slam.
"Wimbledon is great, the prestige, the white jackets, even if you don't like tennis you know what Wimbledon is."
Kyrgios also expressed sympathy for NBA superstar Ben Simmons, who remains in a bitter stand-off with the Philadelphia 76ers.
"I've had some dark days. Someone like Simmons, everything he is going through, he is well known and has a lot of attention," Kyrgios said.
"He's on (US) $30 million-plus a year, and he's been hard done by, by that city. The fans booed him. It's not an easy feeling to forget and just come back and play the next game."
Meanwhile, Djokovic began his quest for a sixth title at the season-ending ATP Finals with a 7-6(4), 6-2 victory over Norway's Casper Ruud in their round-robin encounter in Turin on Monday (Tuesday AEDT).
Djokovic suffered a fall and lost his opening service game but recovered to find his rhythm against Ruud, who is making his debut at the event following five tournament wins this season.
"It was strange. I played a good forehand and came into the net and had a comfortable overhead. I slipped, tripped, dropped my racquet and lost my serve," Djokovic said.
"The conditions here are tough. If you lose your serve, it's difficult to get it back. But I managed to stay in. I'm pleased with the way I handled the match."
Ruud's powerful forehand helped him keep pace with Djokovic for much of the first set, but he was outplayed in the tiebreak as the 20-time major winner forced his 22-year-old opponent into a string of errors to take the opener.
It was plain sailing in the second set for Djokovic, who broke in the first game and dominated the longer rallies as Ruud struggled on serve before eventually going down in an hour and 31 minutes.
Djokovic was later presented with the year-end world No.1 trophy for a record seventh time, bettering the mark set by 14-time grand slam champion Pete Sampras.
"I was four or five when I saw Sampras play at Wimbledon for the first time. I asked for a racquet and fell in love with tennis. To know that I hold this record now, after Pete, it's incredible," said the 34-year-old.
Greek world No.4 Stefanos Tsitsipas plays Russia's Andrey Rublev in Monday's other Green Group clash.
with Reuters
Sports news, results and expert commentary. Sign up for our Sport newsletter.
Most Viewed in Sport
From our partners
Source: Read Full Article