Wimbledon's organisers have confirmed that COVID-19 vaccination will not be a condition of entry for players at this year's grasscourt major, allowing Novak Djokovic the chance to defend his title in London.
The All England Lawn Tennis & Croquet Club has also defended the controversial move to ban Russian and Belarusian players this year due to the war caused by Russia's invasion of Ukraine, pointing out that it was a hard-reached decision.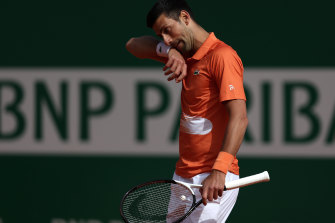 Novak Djokovic lost on his return to home clay in Monaco on April 12, 2022.Credit:Getty Images
Wimbledon chair Ian Hewitt described the decision as "intensely tough and agonising".
He confirmed that granting entry to otherwise banned players who had made written declarations denouncing Russia and President Vladimir Putin was considered, but ultimately rejected.
"Even if we were to permit entry through written declaration there would still be the serious risk of participation and success of players being used to support the propaganda machine of the Russian regime," Hewitt said.
"And we know they do have a history of using sport to advance their cause, and that is a serious matter for us, and we could not accept Wimbledon being part of."
There has been conjecture that the men's and women's tours, the ATP and WTA, could withdraw rankings points from Wimbledon, effectively rendering the major as an exhibition event, even though lucrative prize money would still be on offer.
"We can well understand that opinions differ, and we're communicating regularly with the WTA and the ATP. We think they understand what a challenging position we're in," Hewitt said.
Organisers also confirmed that Russian media representatives, along with players, would be barred in London.
Hewitt said British government guidance did not allow players to compete at the tournament based on their rankings and there were two available options – declining entries, or allowing entries but only with the specific written declarations.
"We believe we have made the most responsible decision possible in the circumstances," Hewitt said.
"And that within the framework of the governance position, there's no viable alternative to the decision we have taken in this truly exceptional and tragic situation."
The decision, the first time tennis players have been banned based on their nationality since the aftermath of World War II, affects a wide range of leading players, including Russia's men's world No.2 Daniil Medvedev and Belarusian women's star Aryna Sabalenka.
"We believe this is an extreme and exceptional situation that takes us far beyond the interests of tennis alone," said Hewitt.
"We understand and deeply regret the impact this decision will have on every individual affected – and so many innocent people are suffering as a result of this terrible war."
World No.1 Djokovic famously missed the opening major of 2022, January's Australian Open, after a prolonged visa saga in Australia that overshadowed the start of the tournament. Djokovic, who had been granted a controversial exemption to enter Australia, was eventually deported at the 11th hour.
Rafael Nadal won the Australian Open in Djokovic's absence, pushing him up to 21 majors and ahead of Djokovic and Roger Federer (both with 20 major titles won). Nadal, 35, will play in next week's Madrid Open after recovering from a rib injury that sidelined him for a month.
"Despite arriving with minimum preparation and [knowing] that it will be difficult, I am very excited to play and to play in front of a home crowd, even with few chances [to win]," Nadal wrote in Spanish on Twitter. "I will try to do it the best I can. See you in Madrid."
Djokovic, 34, has only played sparingly on the tour this year after being prevented from entering the United States, where he was unable to play in Miami and at Indian Wells.
Wimbledon's organisers, in a media briefing on Tuesday, confirmed that government regulations did not stipulate vaccination against COVID-19.
"As you will be aware, the requirements set out by government to enter the UK do not include mandatory vaccination and therefore, whilst of course it is encouraged, it will not be a condition of entry to compete at the championships this year," said chief executive Sally Bolton.
Djokovic confirmed his unvaccinated status in an interview with the BBC in February, and said he was not against vaccination but was willing to skip grand slam tournaments if he was forced to take the jab against COVID-19.
Djokovic said he was ready to sacrifice his shot at the milestone over the "freedom of choice" but he was keeping an open mind about taking the jab in the future.
"I was never against vaccination," he said, adding that he took vaccines as a child. "But I've always supported the freedom to choose what you put in your body."
News, results and expert analysis from the weekend of sport sent every Monday. Sign up for our Sport newsletter.
Most Viewed in Sport
From our partners
Source: Read Full Article