Leading Australian Open contender Aryna Sabalenka has opened up about how her serving woes left her in despair before she found a solution with a biomechanist.
Now, however, the Belarusian star is surging with confidence and stands out as the player from the bottom half likely to reach the women's final after Caroline Garcia exited Melbourne Park on Monday.
The world No.5 defeated Swiss Belinda Bencic, the Belarusian fighting to claim the first set before triumphing 7-5, 6-2 in one hour and 27 minutes.
Explaining her state of exasperation with her oft-discussed serving woes, the three-time major semi-finalist needed an expletive to explain her frustration.
Asked if she had worked with biomechanics specialists on any other of her strokes, Sabalenka said she hadn't needed to.
"I'm super happy that it's happened to me," she said.
"I was, like, in that moment open for whatever.
"I was just like, 'please, someone help me to fix this f*****g serve'. I'm sorry for swearing, but this is how it was."
Sabalenka is brimming with confidence after getting to the final eight for the first time in Melbourne. Her tournament win in Adelaide this month came after she reached the final two at the WTA Finals in November.
"I want [to] believe [it's a new beginning]," she said.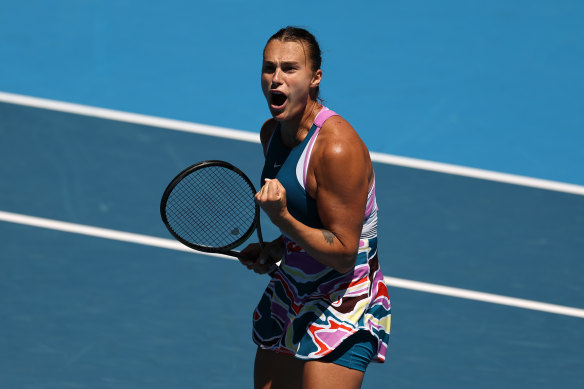 Victorious: Aryna Sabalenka is through to the quarter-finals.Credit:Getty Images
"The way I'm working right now, the way I'm on the court right now, this is the new beginning, and
this is the next step.
"So I really want to believe that it's going to really help me."
Sabalenka will be strongly favoured to defeat Croatia's Donna Vekic in Wednesday's quarter-final.
"I'm super happy with the win today," Sabalenka said on court.
The aggressive Sabalenka stepped up in the decisive stage of the first set, breaking Bencic when leading 6-5 to gain the ascendancy.
She was happy to share with the fans her confidence about her improved composure.
"It [has taken] … me a little while to understand that negative emotions don't help me on court," she said.
"I'm just super happy with 'my inside' during the game today."
MORE TO COME
Watch the Australian Open, live on Channel Nine, 9Gem and 9Now.
For daily updates of all the tennis action during the Australian Open, sign up for our Sport newsletter here.
Most Viewed in Sport
From our partners
Source: Read Full Article