Save articles for later
Add articles to your saved list and come back to them any time.
Australian Open officials are supremely optimistic that two of tennis' biggest drawcards, Nick Kyrgios and Rafael Nadal, will be fit for the first major of 2024 despite barely playing this year.
Kyrgios, 28, and Nadal, 37, both had surgery this year and their rankings have ballooned out due to time off the circuit.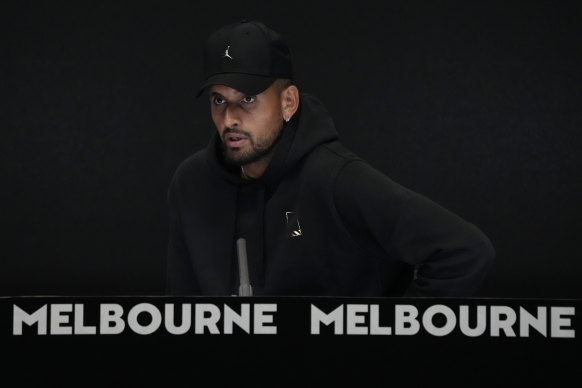 Nick Kyrgios has played only one match on tour in 2023.Credit: AP
In Kyrgios' case, Australian Open boss Craig Tiley said he "fully expect[s] him to be here and ready to play" despite the knee injury thathas been career-threatening in the case of some athletes.
The Canberran world No.470 withdrew on the eve of last January's Open in a doomsday scenario for organisers. Not long after he booked in for knee surgery to have the small tear in his left lateral meniscus repaired but has played just one match on the ATP Tour this year, in Germany in June.
"The one great thing about Nick is that he's very transparent and very open about how he's feeling and what he thinks," said Tiley.
"I personally believe in the communication that he's very motivated to come back and play in January.
"He loves playing here … he knows everyone wants him to play. It's just a matter of his health. He's had a significant injury.
"He's … in the process of still getting over that … [but] I fully expect him to be here and ready to play."
Similarly, officials are confident world No.240 Nadal will be fit in Melbourne in January amid conjecture that the Spaniard's time at the top was coming to an end with a potential farewell at the Paris Olympics.
A winner of 22 grand slam titles including a heroic charge to the 2022 Australian Open title, Nadal has not featured on the circuit since a second-round exit at Melbourne Park nine months ago.
Former world No.1 Rafael Nadal is in line for a January return at the Australian Open.Credit: Getty Images
Nadal aggravated his hip flexor in the Australian Open defeat. He had surgery on a hip muscle in June and was expected to be sidelined for about five months.
But Tiley confirmed that the Spanish legend was planning to play in Melbourne.
"I called him," Tiley said about his recent communication with the legendary Spaniard.
"We stay in touch. We stay in touch with [all] the teams … if you follow [him]on social, and watch him closely, there's shots of him hitting … you always get your hopes up because you want people like Rafa to be here.
"He is in particular someone who loves Australia, loves playing here. There's obviously a bit of time between now and January. If he stays healthy that's important, but so far, the signs have been really good."
Nadal had not flagged that January's event would be his farewell to Australia, Tiley confirmed.
"If he does make the announcement that it's his last, which I don't think he will … then definitely we'll have a big celebration.
"He's not going to come to the event unless he thinks he can win it. That I know about Rafa. He's not going to show up just to play."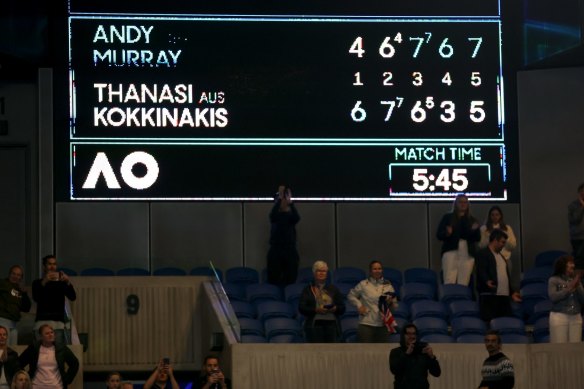 The scoreboard shows the match time of five hours and 45 minutes after Andy Murray's five-set win over Thanasi Kokkinakis at this year's Australian Open.Credit: Getty Images
Next year's major is also poised to feature the return to the elite game after maternity leave for players including former champions Naomi Osaka and Angelique Kerber.
Organisers, however, can't guarantee that a scheduling overhaul will mean late-night finishes are a thing of the past.
As part of the move to turn January's tournament into a 15-day event – starting on a Sunday instead of the following day – day sessions on Rod Laver Arena and Margaret Court Arena will start at 12pm. There will be only two matches scheduled for the day sessions on those courts, drastically reducing the chance of night sessions being delayed.
This year's Australian Open, in which Novak Djokovic won the men's singles title for a 10th time, had an extraordinarily late finish to the second-round clash between Andy Murray and Australian Thanasi Kokkinakis. It finished at 4.05am, the third-latest recorded finish in the history of professional tennis.
While Tennis Australia says the reduction of matches for day sessions on Rod Laver Arena and Margaret Court Arena – three matches down to two – was partly made based on feedback from patrons who said they didn't have enough time to enjoy the entire Melbourne Park precinct, tournament officials welcomed the scheduling flexibility.
First round men's and women's singles matches will be spread across the first three days of the tournament.
"The decision we made on going a day earlier gave us a better opportunity to spread the first round. That's where the pressure comes," said Tiley.
"One thing we cannot control is how long players take to play a match. Some take much longer than others. We've given ourselves a much better chance not to have late finishes.
"The key is to not start the night session late. By having an extra day [of the tournament] … that will certainly help it, but I can't guarantee [there won't be late finishes]."
News, results and expert analysis from the weekend of sport sent every Monday. Sign up for our Sport newsletter.
Most Viewed in Sport
From our partners
Source: Read Full Article