Thanasi Kokkinakis' most challenging opponent on Tuesday night was Melbourne's fickle weather rather than enigmatic Italian Fabio Fognini.
One of the more bizarre days in recent Australian Open history ended with an extensive backlog of matches – some well advanced and others yet to start – that will need to be completed on Wednesday.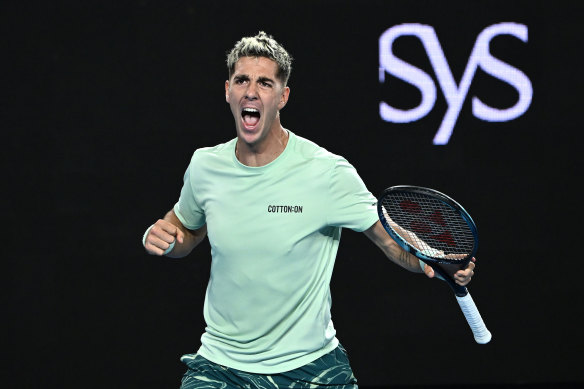 Thanasi Kokkinakis celebrates.Credit:Getty
Matches on Melbourne Park's outside courts were put on hold as temperatures soared in the afternoon, but it was a different story by night, when rain and gusts of wind combined to ravage the day's schedule.
Fognini offered little resistance to Kokkinakis in the periods either side of five rain interruptions, the first at 7.45pm and the last with the clock barely ticking past 11.30pm.
Kokkinakis is as few as five points from reaching the second round at Melbourne Park for a fourth time, leading his experienced rival 6-1, 6-2, 4-2 and having restricted Fognini to 15-40 on serve.
Fognini's listless display to date included spraying groundstrokes and double-faulting on break points, whereas the Australian world No.159 boasts 13 aces among 26 winners.
Kokkinakis is unlikely to require much time to secure victory on Wednesday but must topple former world No.1 Andy Murray – fresh from a vintage five-set victory over Matteo Berrettini – to achieve a career-best result at the Open.
The Fognini match could hardly have contrasted more with Kokkinakis' exhausted performance in the first round last year, not even 48 hours after lifting his maiden ATP Tour title in Adelaide.
He lost his semi-final at the same tournament this time around, which afforded him more time, and he warned he was in better form than 12 months ago.
Murray will make Kokkinakis work in a way Fognini showed little interest in doing and should provide a litmus test for just how far the Melbourne-based South Australian has come.
Kokkinakis led 40-30 on serve when they first left Kia Arena and finally won the one point he needed to hold serve more than two hours later. In between, there were two more delays just as the players started warming up.
Kokkinakis initiated another brief interruption – concerned with how "slippery" the court could get – as rain fell again shortly after he secured a break in the third set.
Two more aces swiftly put the Australian 3-1 up, but more rain two games later saw organisers pull the pin on the outside courts.
It was a mixed day for Kokkinakis' compatriots, with 22nd seed Alex de Minaur and wildcard Kim Birrell the other winners, while Jordan Thompson, Chris O'Connell and Jaimee Fourlis.
Max Purcell and Aleks Vukic will have to finish their matches on Wednesday.
Purcell trails Finland's Emil Ruusuvuori 4-6, 6-3, 6-4, 6-6, while Vukic is down 6-4, 1-6, 4-2 to fellow qualifier Brandon Holt, of the United States.
'Thanks, Venus': Australian wildcard rallies from verge of defeat to second round
Kim Birrell "cried like a baby" when she found out about her unexpected Australian Open wildcard, then tried to see whether she could find a way to thank American legend Venus Williams.
Birrell was the odd one out when Tennis Australia selectors picked the wildcard recipients, until 42-year-old Williams withdrew with injury to give the Queenslander her chance.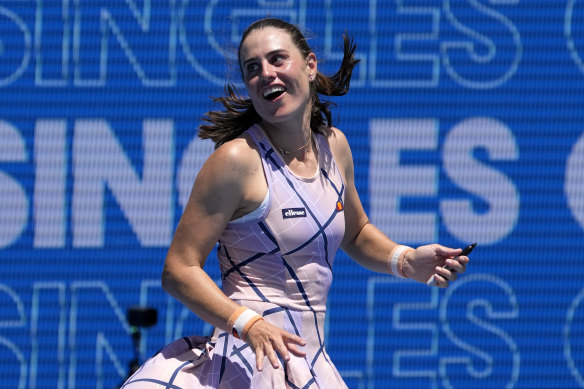 Kim Birrell celebrates her win.Credit:AP
The 24-year-old made the most of it, rallying from the verge of defeat to upset the 31st seed and 2022 quarter-finalist Kaia Kanepi, 3-6, 7-6(7-4), 6-1 across 2.5 hours in sweltering conditions that got the better of the Estonian.
Kanepi served unsuccessfully for the match at 5-4 in the second set, having freshly broken Birrell's serve, but won only two of the last 10 games.
It was a huge moment for 167th-ranked Birrell, who contemplated quitting the sport as she struggled with a serious right elbow injury that required multiple surgeries and stalled her promising career.
"I had just got off the court practising … and my brother, mum and dad were all there with me when I got told [about my wildcard]," Birrell said.
"That was a really special moment because they've been through it all with me – the highs, the lows. I'm glad I got to share it with them.
"I've worked my absolute butt off just to get back on the court with rehab. There were a few moments where I didn't think it was going to happen.
"No matter how resilient you are, rehab is really tough when you've been doing it for a year-and-a-half. There were times when I wanted to give up, but I'm really glad I didn't. I'm just so happy."
Birrell joins fellow Queensland wildcard Olivia Gadecki in the second round, and it is her first win at her home grand slam since beating Paula Badosa and Donna Vekic to make the round of 32 in 2019.
That was supposed to be her launching pad to the top 100 and beyond, but instead she endured a horror patch before returning to the tour with a vengeance last year to slash her ranking almost 600 places.
This latest victory provisionally places her at No.149 in the live WTA rankings – which would be a career high – and means she can delay putting her communications degree from Griffith University to use.
It also shines a positive light on Australian women's tennis, which lost last year's Australian Open champion Ash Barty to retirement and is missing injured pair Ajla Tomljanovic and Daria Saville this fortnight.
The country's representatives in this year's women's event were all wildcards, with Talia Gibson, Jaimee Fourlis and Storm Hunter losing their first-round matches.
But Birrell hopes her and Gadecki's wins can be the impetus for more success this year.
"We all genuinely want to see each other do well. The support I received last year coming back from injury, then before my match and since my match finished, it makes me appreciate the group I've come up with," Birrell said.
"We're all so close. It was pretty tough for quite a few of the girls who did really long years during COVID. I think that maybe last year a few have been feeling the effects of that, but we've all had the chance to be home now for a good amount of time during pre-season.
"We're all well-rested and ready to go for, hopefully, a big 2023. I think it's going to be a good year. Hopefully, a few of us break into the top 100, and I think all of us will – I think everyone is going to follow."
Birrell next faces Czech teenager Linda Fuhrvitova, who eliminated Victoria's Fourlis, 6-0, 6-4.
For daily updates of all the tennis action during the Australian Open, sign up for our Sport newsletter here.
Most Viewed in Sport
From our partners
Source: Read Full Article