Rafael Nadal's first match in the defence of his Australian Open title was nothing to email home about. A tweet or and Instagram post would have been enough.
Its most redeeming quality for Nadal was his least requirement: he won, beating rising but hobbled Englishman Jack Draper 7-5, 2-6, 6-4, 6-1.
The bottom line is that it took Nadal nearly four hours, and even then he fell a break of serve behind the helplessly flat-footed Draper in the fourth set before young Englishman became a fall guy as Nadal won the last six games. Draper somehow flailed his way to a break point before losing the final game.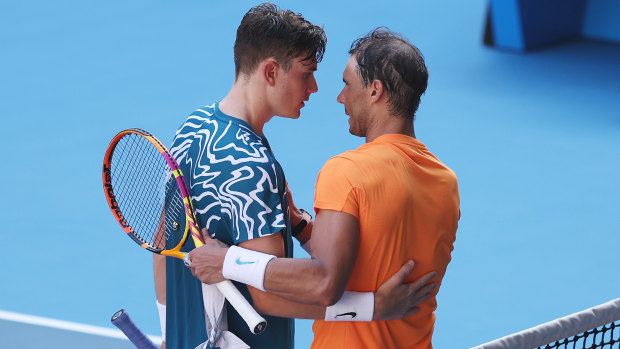 Jack Draper and Rafael Nadal embrace at the net.Credit:Getty Images
"It doesn't matter the way, the most important thing today is the victory," Nadal said. "We were not perfect, but to win against Jack I needed to do things well, and I think I did."
After a lean start to the year, Nadal said that the winning feeling was as important its fact. "Victory helps. I can't lie about that," he said. "When you win matches, you are more relaxed more confident."
As relieved as Nadal will be the tournament promoters. To lose the two biggest drawcards on day one might have meant Craig Tiley's resignation letter on the desk on Tuesday morning.
Another way to look at it was that it was macabrely compelling. Nadal was the uncharacteristic and ahistorical resistible force. Draper at the match's fulcrum was the barely moving obstacle. Grand slam tennis was hard enough, he said later. "When you start cramping, it becomes almost impossible," he added.
Nadal entered the match with next to no form, having lost six of his seven matches this year. For long stretches, that is how it looked.
Jack Draper shows his frustration in his clash with Rafael Nadal.Credit:Getty Images
Draper came with impressive form, but with a history of chronic cramps that returned to straight-jacket him when he was ascendant in the third set. He was treated at nearly every break for the rest of the match. But while physios rubbed Draper's legs, the crowd rubbed their eyes.
Unforced errors outnumbered winners on both sides of the net all match long. Nadal's patent world-beating forehand was just another shot. At a crucial pass in the fourth set, he framed a return so completely that the ball stopped in front of him. Being Nadal, he played an astonishing volley next point to recover a break of serve.
Most of the match was played to the backdrop of an anxious hush and then sympathetic silence. It's not rude to say that most had come to see Nadal win. At 21, and a leftie, too, Draper would have been one of them until very recently.
Prospectively, this was a must-watch. Nadal is an automatic attraction, his billing here carrying the gloss of the romance of last year's triumph.
In 2021, Draper won the first set of his major championship debut in 2021, against Novak Djokovic at Wimbledon, no less. Injuries thwarted his progress, but last year he broke out, rocketing from outside the top 250 twelve months ago to No 38 entering this tournament. Along the way, he took down top tenners Stefanos Tsitsipas and Felix Auger-Aliassime.
He looked fresh-faced because he is a fresh face. Nadal has played twice as many matches at the Australian Open alone as Draper has played anywhere in total. But he is 21 and Nadal is 36 and so they were flagships passing in daylight. When Draper's name was listed against Nadal's at the draw, a murmur went around the room.
Only in moments did the match-up live up to its hype. Nadal looked in control in the first set, but did not lead it until the last point. His courtcraft was as eye-catching as ever, but Draper was scarcely overawed. The young Englishman played all over Nadal in the second set. At times, Nadal looked as he rarely has these last two decades, slow.
"I felt at the beginning of the third set, my tennis was right up there," Draper said. "I almost felt as if I was in control of the match at that point. If I'd carried on that way, who knows?"
In the third, injury intervened fatefully for Draper. The real Nadal would have been the last man Draper needed to square up in those circumstances. He would have run his opponent into the ground. This Nadal facsimile eventually did, but it was not clinical.
Minutiae added to the general disorientation. Rain briefly disrupted the match twice, then later floodlights that shone into Nadal's eyes while the sun shone overhead. In the first set, a ballkid inadvertently sent the racquet Nadal was using away for re-stringing. In the second, Nadal once walked to the wrong court to serve, a mystifying misstep for such a rhythmic player.
Draper, hopefully, will conquer his cramps problem one day, but will Nadal recover his old self? That's the burning question now.
Long before the internet, former Australian fast bowler Rodney Hogg once asked his wife to wipe a videotape of a particularly forgettable moment in a Test match so that his then infant son would never see it.
This wasn't quite in that league. Nadal has an infant son now and doubtlessly his ever charming father will always make him proud, and in any case this match will be buried under the weight of 22 major titles – and in his mind at least, still counting.
Watch the Australian Open live and free on the Nine Network – Channel 9, 9Gem, and 9NOW.
For daily updates of all the tennis action during the Australian Open, sign up for our Sport newsletter here.
Most Viewed in Sport
From our partners
Source: Read Full Article