The social event of the Open calendar – the Sunday night Crown IMG Tennis Party, attracting champions of the sport and A-listers for more than 20 years – is no more.
The loose arrangement between the hotel-casino and high-profile sports management outfit International Management Group would bring about 15 tournament players from the IMG stable to Crown each year at a discounted rate, while Crown would subsidise the lavish event.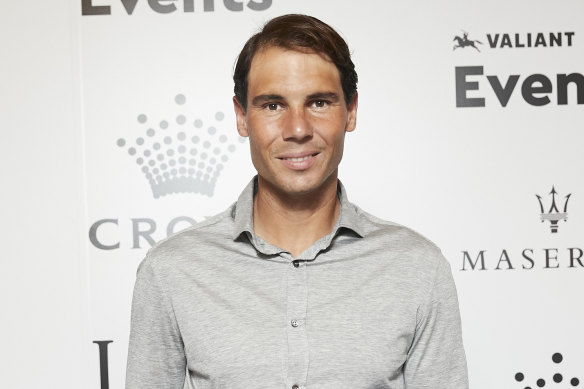 Rafael Nadal at the Crown IMG bash back in 2020.Credit:Carky Ravenhall
In return, players would participate in Crown-arranged meet and greets and, of course, show their famous faces at the fancy party.
Some of the big names of the sport to have attended in recent years include Rafael Nadal, Daniil Medvedev, Caroline Wozniacki and Stan Wawrinka.
But, for reasons that are unclear, the arrangement between Crown and IMG has been discontinued, with no accommodation deal to replace it.
We called IMG to see what was behind the parting of the ways. It didn't call us back.
However, Open Season was able to confirm with Crown that the party partnership was over, although Crown wouldn't say why. It did say it would continue to work with IMG across its hotel operation.
NICK'S SHOUT
After the heartache of having to withdraw from your home slam due to injury, tennis stars could be forgiven for either seeking solitude in their hotel room or hitting a night spot around town.
For Nick Kyrgios, well, it's not really a choice. On Monday night, the Australian star was spotted at Bar Ampere in Russell Street. Instead of fleeing from some Fleet Street types, he chose to shout them a round of drinks.
EASY, TIGER
For Tuesday's "barracker of the day" award, we can't go past the woman at the clash between fifth seed Aryna Sabalenka – nicknamed "Tiger" – and Tereza Martincova of the Czech Republic at Rod Laver Arena.
The Sabalenka fan was so enthusiastic that she had to be hushed several times by her fellow spectators as she cheered on her idol in a manner you might hear at an under-sevens game.
"Play your game, Tiger," the woman shouted in her broad Aussie accent. "This one's yours." We even got a "Love you, Tiger."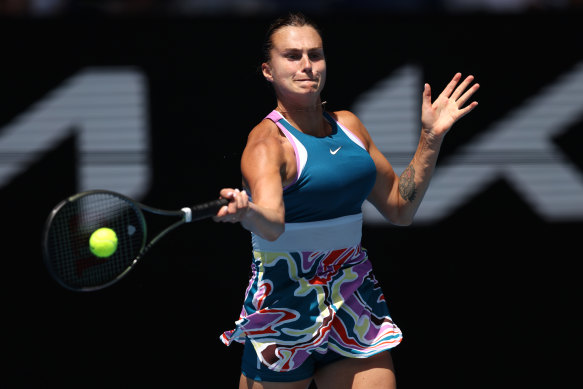 Aryna Sabalenka plays a forehand against Tereza Martincova.Credit:Getty Images
Martincova didn't seem to appreciate the barracking, at one point shooting a dagger towards Tiger Lady's section of the stand, but as Sabalenka tightened her grip on the second set, the uber-fan bellowed out: "Love you. You're a legend!"
A thumping cross-court winner from the world No. 5 brought from the stands a mighty bellow: "The power of the tiger!"
After winning 6-1 6-4, Sabalenka acknowledged her not-so-secret weapon with a gracious thumbs-up.
UP IN COURT
Australia's most Insta-famous former bikie boss, Toby Mitchell, has had his ups and downs these past 12 months. He was chucked out of the notorious Mongols outlaw gang in April, and then weeks later managed to overturn a jail sentence he'd copped for an assault in Echuca the previous year.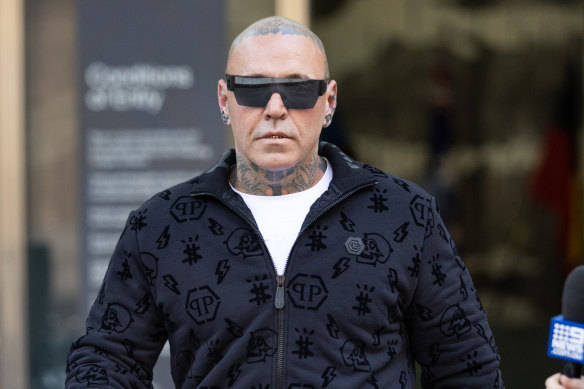 Toby Mitchell outside court in April. Credit:Jason South
In June, he was warned to lie low to avoid becoming a victim of a deadly bikie feud, but things were looking up again in November when a judge praised Mitchell for his "encouraging progress" in court-ordered programs for mental illness, alcohol abuse and anger management imposed over the Echuca unpleasantness.
So we're heartened to see Mitchell's interest in the tennis hasn't waned – they say he was a handy player in his youth – and there he was, in a pricey sun-shaded seat close to the Rod Laver Arena action on Monday afternoon to catch Rafael Nadal's win over gutsy English challenger Jack Draper.
Some of the (law-abiding) famous faces spotted in the crowd on Tuesday included Australian cricket legends Mark Taylor and Ian Chappell, as guests of Nine, owner of The Age, and Melbourne footy club great Garry Lyon.
BALLS IN THE AIR
We're not sure if Virgin Australia boss Jayne Hrdlicka counts as a celebrity sighting at the Open – she is the chair and board president of Tennis Australia, after all. But you've got to give her credit for her multitasking.
Despite the airline she runs preparing to float on the stock market, a task that would have most CEOs locked away with their spreadsheets and consultants, Hrdlicka is managing to maintain a decent Australian Open profile. We suppose you could call that covering a lot of court.
For daily updates of all the tennis action during the Australian Open, sign up for our Sport newsletter here.
Most Viewed in Sport
From our partners
Source: Read Full Article