The last time the Socceroos did something totally unexpected with the goalkeeping gloves, it worked out pretty well.
When Andrew Redmayne started warming up against Peru five months ago, many fans thought coach Graham Arnold had lost his mind. Turned out it was a masterstroke. The secret plan hatched by Arnold and his goalkeeping assistant John Crawley – to use Redmayne's "Grey Wiggle" antics to get inside the head of the Peruvians during the shootout that clinched their spot in Qatar – will go down as one of the gutsiest calls in Australian sport.
And so it should. They got it spot on – but they also got it wrong with Mitch Langerak's omission on Tuesday from an otherwise genuinely exciting 26-man World Cup squad. Or at the very least, they could have handled it much better, especially since man management is supposed to be one of Arnold's strengths.
Langerak, 34, retired from international football last year because of Japan's strict COVID-19 travel restrictions and the impact his absence would have had on his young family. Fair enough. Stuck behind Maty Ryan in an almost Warne-Macgill type situation for much of his career, Langerak has played for the Socceroos only eight times, and was genuinely happy to cheer them on from afar.
But then Arnold convinced him to come out of retirement, and from there he has been subjected to a kind of footballing cruelty, with the World Cup – intentionally or not – dangled in front of him like a carrot.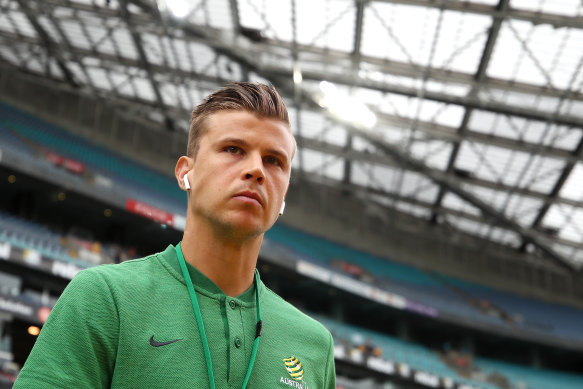 Mitch Langerak was left out of Australia's 26-man squad.Credit:Getty
He wasn't used in Australia's friendlies against New Zealand in September, and most fans assumed he was rated so highly the Socceroos didn't need to see him in action. Langerak has spent the last few years in Japan winning awards and breaking his own records for clean sheets – to the point where many think he should be starting over Ryan, who is no longer a regular at FC Copenhagen.
It turns out the call to leave him out was largely made by Crawley, who has longstanding ties to Redmayne and Danny Vukovic, the other goalkeepers named, and that Langerak was brought back in case one of them was injured in the lead-up to Qatar.
"I'm not an expert in goalkeeping," Arnold said.
He sure seemed like one in June, when there was glory to bask in.
It's not fair on Langerak, who, with all respect to Redmayne and Vukovic, has been in much better form for far longer – and if it was only third or fourth-choice emergency options they were looking for, that should have been made clear to him months ago.
Former Socceroo Tommy Oar led the criticism of Langerak's omission on social media, but Arnold can't be accused of favouritism when it comes to Trent Sainsbury, his son-in-law – one of several experienced players who were overlooked for talented youth.
Indeed, Arnold made several brave selections, and deserves credit for refreshing the Socceroos ranks the way he has. His squad, give or take a couple of minor quibbles, is pretty much bang on.
But Langerak should have either been in it, which he clearly deserved to be on merit, or left in peace. The way he has been treated is a poor reflection of those in charge.
Watch every match of the UEFA Champions League, UEFA Europa League and UEFA Europa Conference League on Stan Sport.
Sports news, results and expert commentary. Sign up for our Sport newsletter.
Most Viewed in Sport
From our partners
Source: Read Full Article