Jordan Henderson gives his backing to the Saudi Arabian 2034 World Cup bid

Sign up to Miguel Delaney's Reading the Game newsletter sent straight to your inbox for free
Sign up to Miguel's Delaney's free weekly newsletter
Thanks for signing up to the
Football email
You may have seen the video of Jordan Henderson promoting Saudi Arabia's bid to host the 2034 World Cup. It is a moving watch. There's his giant face plastered across the screen, while wearing the famous green and black colours of Al Ettifaq FC. "Very excited about the announcement," Henderson says in his excited voice. "Go Saudi Arabia 2034."
It is important to note that his World Cup promotional work is voluntary. We know this because he said so in an interview with The Athletic. So when we see raw emotion like this on social media, we know we are getting real Henderson, authentic Henderson, out there backing the bid. Not a paid ambassador, just a boy who fell in love with a gulf state.
Henderson is having one his all-time great seasons: four assists in eight games as captain of Steven Gerrard's Ettifaq outfit; still in the England squad despite no discernible superior attributes to James Ward-Prowse; all while getting the chance to grow the Saudi Pro League, one of his big motivations for moving there.
He is not the only one excited. Gerrard described the prospect of a Saudi World Cup as "potentially one of the best shows the world's seen". Al-Ittihad striker Karim Benzema was stunned, tweeting: "Wow! Amazing news." Al-Ahli winger Riyadh Mahrez was relieved the world will finally get to see the country's "passion and love of the game".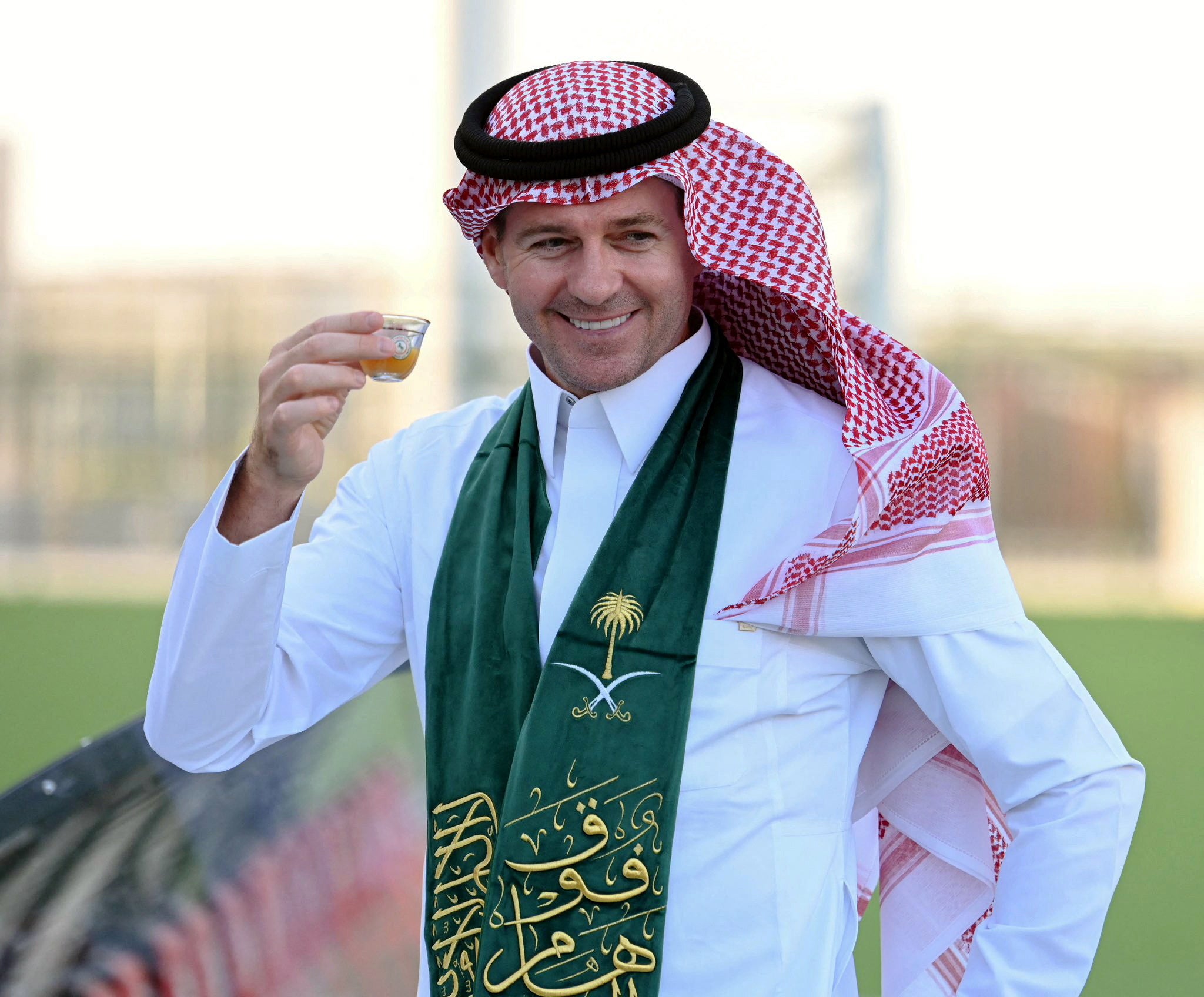 Steven Gerrard celebrating Saudi National Day
If it sounds like they think the bid is already won, that's because it might be. To catch up on a whirlwind week at Fifa HQ, it was announced on Wednesday that six countries across three continents would host the 2030 World Cup. That satisfied the confederations of Europe, Africa and South America. And barely an hour later, Saudi Arabia publicly launched its bid for 2034.
Things have fallen into place quite nicely. Fifa's rules on rotating the World Cup around the globe mean there are only two possible federations left to stage the 2034 World Cup: Oceania and Asia. That doesn't leave a lot of competition. What's more, Fifa gave any rivals to the Saudi bid a 25-day deadline for submission. Australia has hinted at joining the race, but a cynic might conclude it would be the tortoise chasing a wealthy and well-prepared hare already hopping towards the finish line.
The World Cup is a logical end point to something much bigger. Sport is a mirror to the world order, and Saudi's emergence in football is both a consequence and a signal of a gravitational shift. As Rory McIlroy put it recently, upon accepting the increasing influence of Saudi Arabia on the game of golf: "You see everything else happening in the world, you see big private equity companies in America taking their money, the biggest companies in the world … if this is what's happening, then the way I've framed it is that the world has decided for me."
There is an inevitability to all this. Even so, given the rapid emergence of an oppressive dictatorship in the world of football, it might have been nice for even just one press conference with Fifa's dear leader, Gianni Infantino, to scrutinise this flurry of announcements that appear to pave the way for Saudi 2034. This, remember, is an organisation whose 'corruption' section on Wikipedia is longer than this article.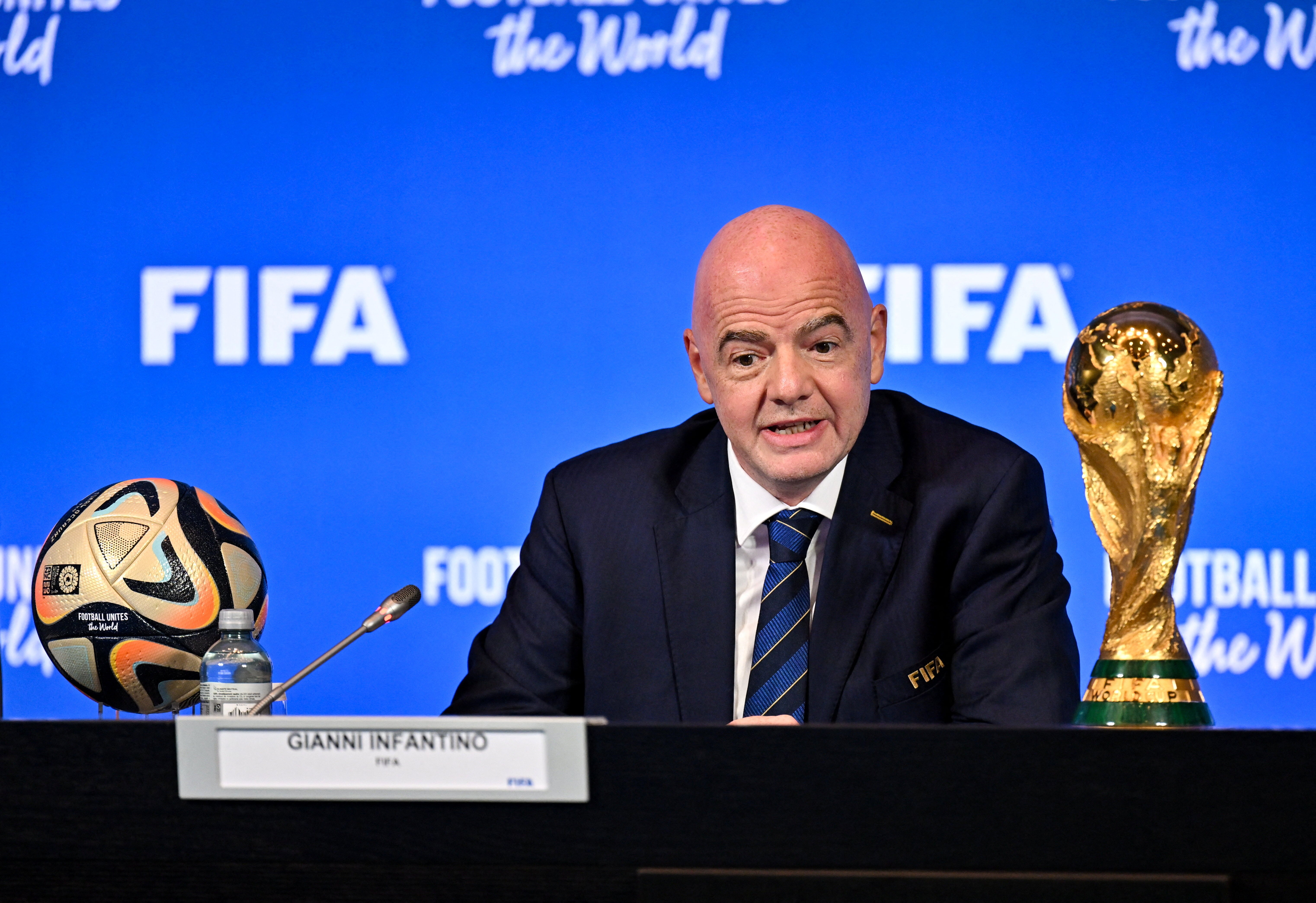 Gianni Infantino addresses a Fifa Council meeting in Zurich
Infantino has himself taken on the distinct air of a dictator in recent years. He was sworn in for another term as Fifa president in March after winning an election unopposed, annointed to obedient applause at a ceremony in Rwanda. Fifa presidents are supposed to serve a maximum of three terms, but Infantino recently "clarified" that his first three years in the job didn't count as he was only filling in for the deposed Sepp Blatter. It seems likely he will serve until the bitter end in 2031, capping a 15-year stint as the most powerful man in football.
Infantino and Saudi Crown Prince Mohammed bin Salman have a friendship of sorts and have been pictured at various matches together, most notably in Qatar last year. The 2034 World Cup might be the first tournament after his reign ends, a parting gift to Bin Salman, like a prime minister handing out one last peerage to an old ally.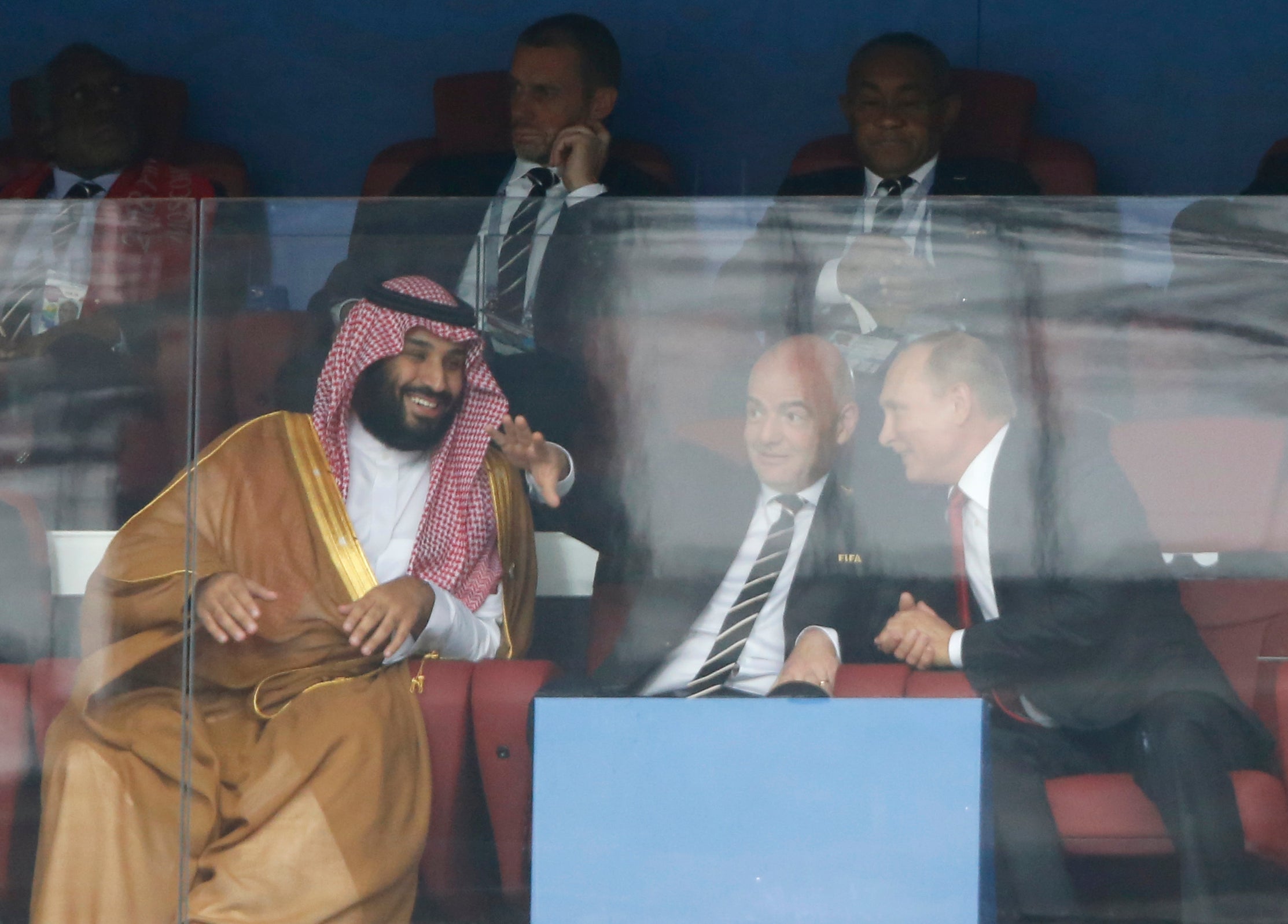 Bin Salman, Infantino and Putin at the 2018 World Cup
The road to 2034 will no doubt be smoothed by Saudi's many levers of soft power. It will host the Fifa Club World Cup in December, and will continue to invest heavily in the Saudi Pro League. Lionel Messi remains an ambassador and Cristiano Ronaldo is its marquee player. The league is set to go after more big, bright stars closer to their prime, with Liverpool's Mohamed Salah a high priority.
All that will lay the groundwork for the ultimate goal, hosting the World Cup, a platform like no other to project Saudi Arabia's global standing. So as Henderson put his enthusiastic support behind the message, emitting slight hostage energy, perhaps one day he might reflect that he was just a tool.
Source: Read Full Article