Save articles for later
Add articles to your saved list and come back to them any time.
Mackenzie Arnold says she has been feeling unwell during the World Cup – which is somewhat ironic, because she reckons it's her gut that has helped make her a national hero.
Penalty shootouts are a game of chance, a test of nerves. But they can be influenced, to some degree, by preparation. Goalkeeping experts do as much research as they can on the opposition's main penalty takers, combing through footage of old games to figure out who prefers to go which way, and whether there are any tendencies or patterns that can help inform a player like Arnold in a situation like … that one, on Saturday night.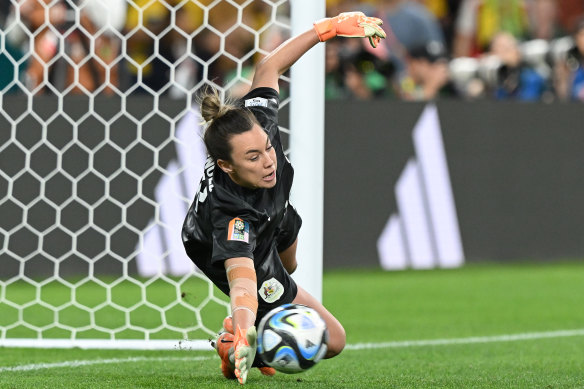 Mackenzie Arnold saves the fifth penalty from Eve Perisset in the penalty shoot out.Credit:
Ask a coach how much work goes into preparing for a shootout, and as Tony Gustavsson claimed post-match, they'll say it's a lot.
Ask Arnold, though, and you'll get a different answer.
"Not a lot to be honest with you. Probably less than you think," she said.
Ultimately, it still comes down to a binary choice: should a goalkeeper do what the data says, and dive a particular way, or do what they feel in the moment is the right decision, and dive the other way?
"I think I do have an instinct, and I tend to just trust my gut," she said.
"We do have a little bit of research, obviously, that goes on behind the scenes, and communication with coaches as well. I think I just tend to stay a little bit calm, but I wouldn't say I read it too well – it's gut instinct that I just go with."
Arnold had a huge game, long before shootouts even looked like a possibility. Time and again, she repelled France's best attempts on goal. She was always strong in the air and unflustered with the ball at her feet.
Arnold: "I will remember this night for the rest of my life".Credit:
She described the match as a rollercoaster, but the shootout itself was its own little amusement park of madness. Arnold, 29, was at the centre of it, making three saves – including one on Kenza Dali that didn't actually count, because the VAR found she had come off her line.
So she simply went back and did it again.
"It's a little bit of a mind game, to be honest, whether she's going to go the same way or change it up," Arnold said. "I backed myself and thankfully I got the save again."
There was an awful lot going on for Arnold. First of all, this was her first shootout experience since IFAB's law changes on July 1 that were designed to stop goalkeepers – like 'Grey Wiggle' Socceroo Andrew Redmayne – from dancing around on her line. That's never been Arnold's style, but a small tweak to her technique was still required.
Then there was her own missed spot kick. At 3-3, straight after she denied Eve Perriset, Arnold stepped up and had the opportunity to win it for Australia – but her effort clattered off the post.
"Unfortunately I sliced it a little bit but the girls kept me in it," she said.
"The girls are singing my praises, but I'm seriously so proud of each and every one of them – especially after I missed the penalty as well, and seeing them rally around me like they did and to keep me in the game. I'm so thankful."
And then there was the illness Arnold said she had been quietly battling since Australia's round of 16 win over Denmark. She was glassy-eyed when she spoke with reporters in the mixed zone at Suncorp Stadium.
"This has actually been since the Denmark game," she said.
"I haven't been too well in the last couple of weeks. I'm still getting over that, hence the eyes. This isn't tears yet."
When Arnold eventually has a quiet moment to reflect on her role in one of the most famous nights in Australian sporting history, those tears will surely flow.
"I will remember this night for the rest of my life," she said.
"I definitely haven't processed it. That is the craziest game I've ever played, considering what was on the line. It's going to take a long time to really realise what has happened and what I've done and what the team has done. I'm just super proud to be Australian right now."
Arnold's teammates always knew she had a performance like that in her.
"I just got goosebumps," vice-captain Steph Catley said when asked about Arnold's game.
"I'm so happy for her. She's worked so hard, she's come into her own, she's been brave, she backed herself. She's done what we've been waiting for her to do. We've all known she's capable and she's just gone ahead and taken ownership and done it herself.
"You can see it in the games and the game play and big saves she makes – but we all know how good she is at penalties. That's always been her thing. When we went into this, I was like, 'We're good. Mac's going to save probably the lot of them.'
"I'm just so proud of how far she's come. She's incredible. She did something so special tonight."
Sports news, results and expert commentary. Sign up for our Sport newsletter.
Most Viewed in Sport
From our partners
Source: Read Full Article