Gunmen threatened football superstar Lionel Messi in a written message left on Thursday after they opened fire at a supermarket owned by his in-laws in Argentina, police said.
Nobody was injured in the early morning attack, and it was unclear why assailants would target Messi or the Unico supermarket in the country's third-largest city of Rosario, owned by the family of his wife Antonela Roccuzzo.
Rosario Mayor Pablo Javkin lashed out at federal authorities for what he called their failure to curb a surge in drug-related violence in the city, which is located about 300 kilometres north-west of the capital Buenos Aires.
Police said two men on a motorcycle fired at least a dozen shots into a Unico branch, leaving a message on cardboard that read: "Messi, we're waiting for you. Javkin is also a drug trafficker, so he won't take care of you."
Messi, who has not commented, is revered in Argentina and considered by many the greatest football player of all time. He led the national team to its first World Cup victory in 36 years in Qatar in December.
Javkin, a centre-left politician in opposition to the ruling Peronist coalition, appeared to throw suspicion of complicity for the attack on both criminal gangs and federal security officials.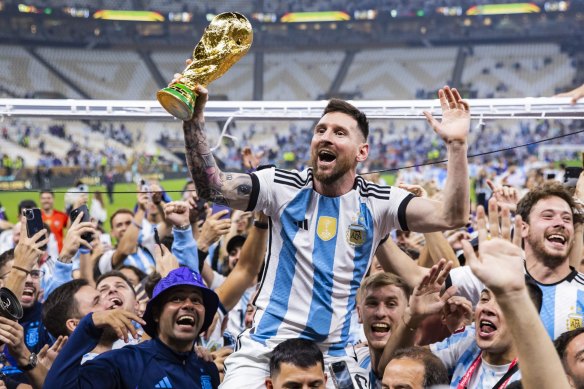 Lionel Messi after winning the World Cup in Qatar in December.Credit:Getty Images
"I doubt everyone, even those who are supposed to protect us," Javkin said in an interview with a local radio station.
In Rosario, prosecutor Federico Rebola said authorities were reviewing security camera footage and the investigation was "preliminary". It was the first time Messi's in-laws had received this kind of threat, he added.
Celia Arena, justice minister for the province of Santa Fe, where Rosario is located, said the attack amounted to "terrorism" by a "mafia" group meant to intimidate the broader population.
"The aim is to deliberately cause terror in the population and discourage those of us who are fighting against criminal violence, knowing that it will be an event of global significance," Arena wrote on social media.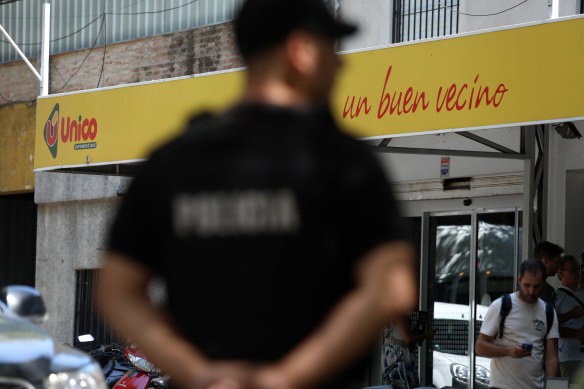 The supermarket in Rosario that was attacked by gunmen on Thursday.Credit:Getty Images
Messi plays for Paris Saint-Germain and spends much of his time overseas, although he often visits Rosario where he has a home in the suburb of Funes. The French club posted a photo on social media of Messi training on Thursday morning.
Javkin said he had recently had "very strong discussions" with members of the federal security forces over the past couple of weeks demanding that they crack down on the city's crime.
"Where are the ones who need to take care of us?" Javkin said. "It's clear that those who have the weapons and have the possibility of investigating the criminals aren't doing it, and it's very easy for any gang to carry out something like this."
Messi, 35, is renegotiating his contract with PSG. His deal ends this year and there is speculation he could decide to end his playing career at local Rosario club Newell's.
Messi, who this week won FIFA's best men's player award, could travel to Argentina this month to join the national squad for two friendly matches. One takes place on March 23 against Panama in Buenos Aires. The other will be played five days later against Curacao in the northern city of Santiago del Estero.
The Argentina government's Security Minister Anibal Fernandez said drug-related violence was not a recent phenomenon in the city, and that Thursday's attack was typical of what has happened there, "for the last 20 years".
He said the incident was an example of how drug traffickers "have won" in Rosario, but now "we have to reverse that".
Opposition politicians blamed President Alberto Fernandez's administration for the continuing violence in Rosario. His predecessor, Mauricio Macri, characterised the events as a warning that the country cannot "co-exist" with drug traffickers.
AP
Sports news, results and expert commentary. Sign up for our Sport newsletter.
Most Viewed in Sport
From our partners
Source: Read Full Article