Is Tony Gustavsson cooking with gas?
This 4-4-2 formation the Matildas have mostly run with at the Cup of Nations has produced some of the team's most assured football during Gustavsson's reign as coach, and a seven-match winning streak – their best run since 2017. In particular, Sam Kerr and Caitlin Foord's combination up front has been excellent, with Foord scoring seven goals during Australia's seven-match winning streak. Kerr contributed only three, so the team seems less dependent on her individual brilliance than in the past.
Gustavsson is also happy with the chemistry of his central midfield pairing of Katrina Gorry and Kyra Cooney-Cross, while Hayley Raso and Cortnee Vine seem to be the first-choice wingers. There's quality in every position there and unsurprisingly, those players have been key to the Matildas' upswing in form, as has the impact of players like Alex Chidiac off the bench.
It might not be the correct approach for every game Australia plays but as far as Plan As go, this is working nicely – especially when you factor in a fit and firing Ellie Carpenter to come back into the team.
Is there room for Mary Fowler in Australia's starting team?
The precocious 20-year-old is nailed on to go to her second World Cup, no matter what – which at her age is a remarkable feat, and a reflection of her quality and how important she is to the future of the Matildas.
But there have been a few too many times recently where she has looked lost at this level or has struggled to make an imprint on certain matches. She has also struggled for game time at Manchester City – and those issues may have cost her spot in the team.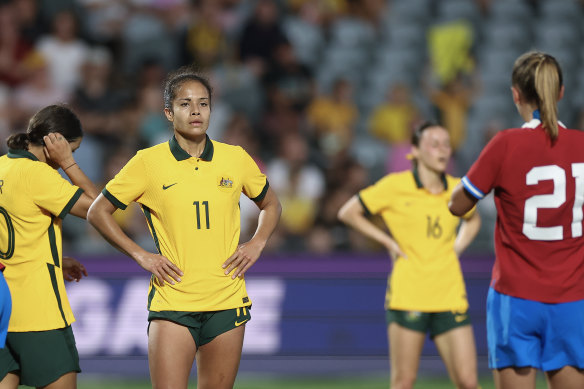 Mary Fowler had only limited involved in the Cup of Nations.Credit:Getty
Gustavsson has tried to use Fowler as a sort of shadow striker or a No.10 playing off Kerr, but now that Kerr and Foord are the favoured front two, she may have to be content with a role off the bench. As a natural forward, that may be the cleanest way of getting the best out of her until she develops further, instead of shoehorning her into the midfield.
Is the No.1 jersey Mackenzie Arnold's to lose?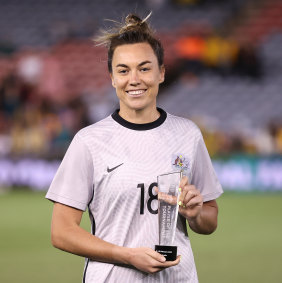 Mackenzie Arnold was named player of the tournament.Credit:Getty
No other goalkeeper got a look-in at the Cup of Nations, with the West Ham United shot-stopper starting in all three of Australia's games, making some important saves in each of them, and importantly, being responsible for no howlers. She was even named player of the tournament, but the real prize she is after is a starting spot at the World Cup – and all the cards are falling in her favour. Lydia Williams has struggled for game time at club level over the last two years, making just two appearances in total during stints with Arsenal, PSG and now Brighton, while Teagan Micah, who was the first-choice goalkeeper for Australia at the Olympics and a while after that, has lost her stranglehold on the gloves. This position might be unsettled no longer.
Could Clare Hunt be a World Cup starter?
The Western Sydney Wanderers defender was undoubtedly the find of the tournament. This was her first Matildas camp – although Gustavsson would have selected her earlier bar for an ill-timed injury – but she looked every bit an experienced international, to the point when both Gustavsson and Clare Polkinghorne, who knows a bit about what it takes to be a good centre-back, said they had never seen a more confident debut performance.
Alanna Kennedy did not feature in the Cup of Nations, sitting on the bench for all three games while presumably nursing an injury of some sort, which opened the door for the 23-year-old, who was brought on at half-time of their opener against Czechia and played every minute onwards. Gustavsson has been desperate to build depth in this position, and every World Cup team squad needs a bolter – Hunt will probably not only fill that quota for the Matildas but could even be starting in defence.
How will the A-Leaguers keep themselves ticking over?
The A-League Women grand final is in April, the World Cup starts on July 20 – so Clare Hunt and Cortnee Vine, for example, will go almost three months without regular football before the tournament begins. Gustavsson doesn't quite know how to square this circle. "What do we do with the players that finished the league earlier? How can we make sure we cover that gap? What can we do for them as a national team staff? What can clubs do for them? What can they do themselves? We have already started that process, to look into different alternatives," he said. "I can't tell you now, what that looks like, but we are looking into [it]."
Before then, of course, is a blockbuster friendly clash with England in London, which will tell us a lot more about where the Matildas – and the players competing for spots in the team – really stand.
Watch every match of the UEFA Champions League, UEFA Europa League and UEFA Europa Conference League on Stan Sport.
Most Viewed in Sport
From our partners
Source: Read Full Article