Save articles for later
Add articles to your saved list and come back to them any time.
Will Sam Kerr start?
That's the question everyone's asking, but the real question is: can she play 120 minutes of football if required?
From there, it becomes pretty simple. If the answer is yes, then she starts. Of course she starts; she's the best striker in the world, and it's unfathomable to think Australia plays better without her.
If the answer is no – and it is safe to assume that it is, given what's happened with her calf over the last couple of weeks – then it's better for both her and the team for Kerr to come off the bench.
Will fatigue play a factor?
Tony Gustavsson has rolled out nine of the same starting XI players in all four of Australia's matches to date. At some point, they are going to feel extremely tired. Hopefully, that will not be now, but it's the risk he has run by sticking to his preferred line-up and not mixing things up more with his subs when he has had the chance.
This is where his 'triple S-M team' – the Matildas' sports science and sports medicine boffins – will earn their keep. If their world-leading expertise can ensure that Australia's top players are fresh enough to keep backing up, game after game, his decisions will be vindicated. If they run out of gas towards the end of the quarter-final, particularly if it goes to extra time, that's where France could break it open.
Only about half of Tony Gustavsson's 23-player squad has started a match this World Cup, meaning he will have some tired legs on his hands.Credit: Reuters
One other fatigue-related factor to keep in mind: the Matildas had 24 hours more time to recover and prepare for this match than France, who beat Morocco on Tuesday night. In a sport decided by such fine margins, it's worth keeping in mind. (For comparison's sake, by the way – Herve Renard has used only seven players in France's four outings).
How will the Matildas deal with France's attack?
France are clicking at exactly the right time and a big part of that increasing success throughout the tournament is because their forward line is humming. Record scorer Eugenie Le Sommer scored her 91st and 92nd goals in the round of 16 against Morocco while Kadidiatou Diani is on fire with four goals for the tournament. But it isn't just this pair. Kenza Dali has engineered so much of the team's success from the midfield while veteran centre-back Wendie Renard is an absolute aerial weapon from set pieces.
Kadidiatou Diani on the ball against Caitlin Foord in last month's friendly with France.Credit: Getty
The main thrust of what Gustavsson wanted to improve on the performance against Denmark was around positioning and defending shape, and that will be critical to pushing back against a French outfit with far more threats than Denmark posed.
How Australia deal with France's attack also partly depends on which individuals have been given the task, and whether the aforementioned fatigue factor could prompt Gustavsson to make a defensive personnel change. Alanna Kennedy, for instance, has started in five consecutive matches despite having played no competitive football for months through injury before that point. However, Kennedy is also in form, so he could well leave his magnets as they are.
How would Australia fare in a penalty shootout?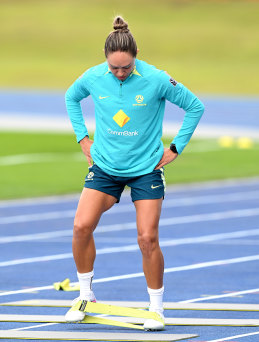 Kyah Simon has done a lot of stretching and not a lot of training this tournament.Credit: Getty
At major tournaments their results are mixed. Four years ago in France, the Matildas lost the round-of-16 shoot-out against Norway 4-1. Kerr missed the first spot-kick and Emily Gielnik the second, and Steph Catley's conversion was too little, too late. Kerr and Catley – the team's nominated penalty takers in that order – can be expected to step up, while Kennedy, Clare Polkinghorne and Emily van Egmond all have experience.
At the 2018 Asian Cup, Australia made it to the final via a shootout against Thailand in which Mackenzie Arnold – the current No.1 – made three saves to offset misses by van Egmond and Lisa De Vanna. Catley, Kerr and Elise Kellond-Knight all converted. Earlier still, at the 2016 Olympics, it took 16 penalties before Brazil knocked Australia out in the quarter-finals. Katrina Gorry and Kennedy both missed theirs but Brazil's goalkeeper kept coming off her line and getting away with it.
The Matildas have not yet been involved in a penalty shootout under Gustavsson and he has been understandably secretive regarding details. Based on his own comments, though, Kyah Simon could well be a nominated taker. Which brings us to …
… will Kyah Simon be used?
According to Gustavsson, Simon's selection – despite not being fully recovered from an ACL injury – hinged solely on what she could offer the team as a "game changer" off the bench in the knockout stages of the tournament. Well, we are in the knockouts and still yet to catch sight of the veteran forward, who has been seen with a ball just once at training in front of media and has not been spotted running.
Quiet progress may be happening behind closed doors away from prying eyes – and Gustavsson does enjoy playing mind games with the opposition. But if the Matildas finish their campaign and Simon plays no part on the field, the question must be asked (again): why include her at all, apart from offering her services as the camp's unofficial DJ? Well, see above section on penalties.
"Kyah is definitely a big-moment player, and as we do get further into these knockout stages you do need those players," midfielder Tameka Yallop said. "I know Kyah's been working really hard and getting herself ready for those moments."
Sports news, results and expert commentary. Sign up for our Sport newsletter.
Most Viewed in Sport
From our partners
Source: Read Full Article