St Kilda captain Jack Steele says teammate Paddy Ryder's clash with Hawk Will Day on Sunday is a reminder that opting to bump can lead to trouble, with the league determined to minimise concussion cases.
Ryder made contact with Day's head with his right shoulder in the second quarter of the Saints' 69-point win at the MCG.
Day was substituted out of the game at half-time with concussion, and the league's protocols mean he cannot play for at least 12 days and will miss the traditional Easter Monday blockbuster against Geelong.
Jack Steele. Credit:Getty Images
Match review officer Michael Christian is assessing the incident today, with the Saints fearing Ryder will be offered a suspension.
Ryder was immediately apologetic after the hit, as Hawks players harassed him for choosing to bump, but the AFL has made it clear that if a bump leads to a head knock, particularly a concussion, the offending player will face consequences.
Steele said on Monday the Ryder incident was a reminder to all players.
"At the end of the day, I suppose, it's the player's choice whether they bump or not. You just can't get a knock to the head. So, Paddy went for the bump, was a bit unlucky, but, like I said before, we'll just see what the MRO comes back with," he said.
Ryder had only returned to the line up against Richmond last weekend, having battled Achilles issues.
"Something we love from Paddy, obviously his tap work, but his follow-up as a ruckman as well is so crucial and being a physical player in the contest is something that he is really good at and makes us walk taller," Steele said.
"It's good to see him doing what he is doing, but we will just have to wait and see what the MRO comes back with. It's your choice to bump, I suppose. That's what the AFL is going with, which is fair enough, you have got to protect the head."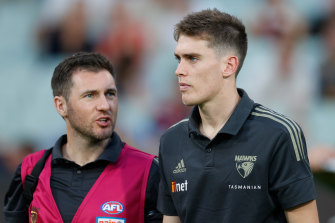 Will Day looks on after being subbed on Sunday. Credit:Getty Images
Hawks coach Sam Mitchell said on Sunday that Day wasn't well.
"Will is a bit battered, a bit sore and sorry for himself. Something similar happened to him last year so it's not ideal. He entered the concussion protocols and we will wait and leave it with the medical team," he said.
The Saints are likely to recall mature-aged recruit Jack Hayes should Ryder be sidelined.
Concussion is a hot-button issue in the AFL, with two ongoing court cases involving former Tigers Ty Zantuck and Shane Tuck exploring how severe head knocks impacted their careers and lives, while a class action involving former players, player agent Peter Jess and lawyer Greg Griffin, has long been mooted.
That the AFL has commissioned an independent review of the work and advice provided to it by Associate Professor Paul McCrory, a key contributor to the league's concussion and return-to-play protocols, has intensified the concussion debate.
The league opted to act on McCrory after it became aware of allegations of scientific plagiarism directed against the Associate Professor and an enforceable undertaking he provided to the Medical Board of Australia designed to restrict elements of his work.
Jess, a long-time concussion campaigner who has organised independent analysis of many players suffering from the fall-out of head knocks, with some fearing stage-three chronic traumatic encephalopathy, said on Monday it was time for a major review.
"The current investigation by the AFL will not address the issues presented to the current combined cohort of current and past players," he said.
"It is now time for a complete reset of the financial landscape of the AFL."
Most Viewed in Sport
From our partners
Source: Read Full Article