Brandon Smith is 26 years old, with a premiership ring, 13 Tests for New Zealand, and a Roosters deal worth around $2.5 million.
And Trent Robinson is about to make him a man.
Smith is loving life in Bondi and the red, white and blue after making arguably the most high-profile move of all 2023 recruits given his shift between heavyweights Melbourne and the Roosters.
He played a significant role in the publicity around his sea change, telling a YTKR podcast he was keen to win a Roosters title while still on the Storm's books in late-2021, just a few months after Melbourne had stood by him through his white powder scandal.
Roosters powerbrokers had already taken note and now, Smith is taking action.
"When I was talking to Robbo before signing, he pretty much told me; 'we are going to turn you into a man over here'," Smith said ahead of next Sunday's season-opener against the Dolphins.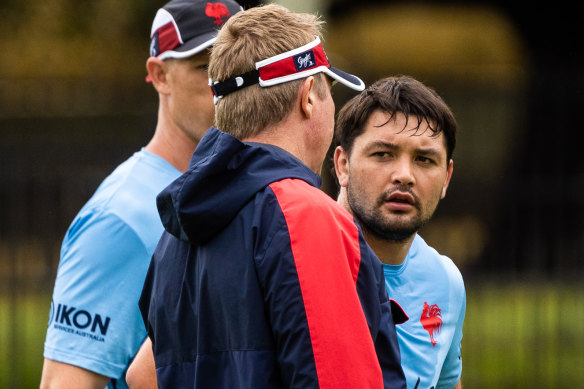 Brandon Smith is loving life under Trent Robinson at the Roosters.Credit:Roosters Digital
"You would have seen throughout my career that there's been a little bit of childish behaviour. Stuff that probably shouldn't be done by a person that's a role model to kids.
"For him to say that, it felt good. He said that I'm already a footy player. Melbourne made sure they taught me how to be a footy player, but I guess now Robbo wants me to be able to look after myself in front of the media and kids and my family so I can make them proud.
"If you're living well off the field then it usually shows on the field. Becoming that Roosters player is going to be a journey, but I'm all up for it."
In the very next sentence, one of the game's great characters puts things in perspective.
"We won't lose the Cheese," he grins. "That'd be me losing myself."
Which means Robinson can expect to be treated to the same pranks as Craig Bellamy. Eventually.
Over the years Smith terrorised one of the best coaches the NRL has seen – filling his bag luggage with rocks, wrestling the 64-year-old to the ground and stealing his grandson's lollipop.
"Robbo's a bit scarier in that aspect," Smith laughed.
"I haven't quite swindled my way into the capabilities of doing that. But it's good to have a coach who doesn't scream his tits off at you after a loss."
Brandon Smith with former Storm teammates after a trial earlier this month.Credit:Getty
Pressed on the differences between the two most successful coaches of the past decade, Smith inadvertently pointed to the challenges that lie ahead of both coaches, himself and two powerhouse clubs in a state of transition.
The Roosters boast $5 million worth of ballplayers given Victor Radley and Joey Manu offer creative options outside the regular playmaking spine any other club would kill for.
As first man to touch the ball on each play, Smith's role in the tricolours' attack is critical. Melbourne and Bellamy, meanwhile, are shaping up to a season without almost 800 games worth of experience given Smith, the Bromwich brothers and Felise Kaufusi have all moved on.
"They're great coaches. Trent is probably more into the finer details, whereas Craig is about getting it done with effort," Smith said.
"Trent is way more meticulous and level-headed. He's a really smart guy. Everyone already has that experience of Trent, so to fully experience it now is awesome.
"When something is meticulous, it's quite hard to learn and master. There is still a long way to go for me in regards to learning all those principles at the Roosters. We're going to have to do it throughout the year."
Sports news, results and expert commentary. Sign up for our Sport newsletter.
Most Viewed in Sport
From our partners
Source: Read Full Article