Save articles for later
Add articles to your saved list and come back to them any time.
After a "whirlwind" 2022, during which he revived his international career after an opportunistic text message, Bernard Foley is hoping his big-game experience can land him in Eddie Jones' good books and, ultimately, at a third Rugby World Cup.
Foley, the Wallabies veteran who steered Australia to a World Cup final in 2015, met Jones last week in Tokyo. The pair chatted briefly earlier this year, shortly after Jones' sudden announcement as Wallabies coach, but never had a genuine interaction.
As Quade Cooper, Ben Donaldson, Carter Gordon and Noah Lolesio get bandied around as possible playmaking options, Foley is the Wallabies No.10 candidate flying under the radar.
In Japan, plying his trade for a successful Kubota Spears side that has won 14 of 16 matches this season, Foley dialled into last week's Wallabies camp remotely as Jones outlined his vision for a "hit-and-run" World Cup mission.
Foley is the leading points scorer in this year's Japan Rugby League One and was Australia's first-choice No.10 on last year's spring tour.
"It's always difficult when you're not there," Foley said from Japan. "It was just a really good introduction for what the expectations are and, as a team, where we've got to lift and be better in this compressed lead-in to the World Cup.
"It's definitely going to be a squad mentality. He's [Jones] going to need experience and youth for this World Cup. It's pretty exciting that there are so many people putting their hands up and wanting to be involved. Then it's just nailing your role and running the team if you're in that position."
Bernard Foley surges into the clear against Ireland in Dublin in November.Credit: Getty
For all the debate that will rage over the next four months as the World Cup approaches, it is the coveted Wallabies No.10 position that will get most attention.
Jones has provided only cursory mentions of Foley during limited media opportunities since his appointment, but don't be surprised to see the 33-year-old called upon in France.
When Cooper went down with a knee injury in Argentina last year, Foley texted a Wallabies official to let him know he was available and could do a job if needed.
Five weeks later, Foley steered Australia to the brink of what would have been a memorable victory against the All Blacks in Melbourne, save for a late controversial refereeing decision by Mathieu Raynal.
A thumping 40-14 loss to the All Blacks followed in Auckland, but it was on the spring tour where Foley emerged as the glue for Australia's attack. After a win over Scotland, the Wallabies came within a point of beating France and three points of defeating Ireland – the world's No.1 and No.2 international sides – with Foley at the helm.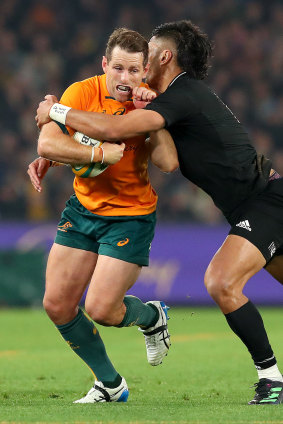 Bernard Foley and the Wallabies pushed the All Blacks to the limit in Melbourne in 2022 … before it all went wrong.Credit: Getty
"It was a whirlwind and something I really enjoyed and appreciated," Foley said. "I savoured being back in that environment. I was back in the Test arena being tested and challenged.
"We were very close. We didn't get the results and that's why there has been changes … but I think there is a lot of potential and excitement ahead."
Foley says he was surprised by Dave Rennie's axing in January.
"There was a lot of, not shock, just the unknown," Foley said. "They've made the call. It's disappointing for Dave to find out that way but, for now, we have to make the appointment work."
World Cup experience could work in Foley's favour when Jones settles on his first-choice five-eighth.
Foley was instrumental in helping Australia make the World Cup final in 2015, which ended in disappointment against a red-hot New Zealand. Four years later, Foley's only involvement at the 2019 tournament was a 44-minute cameo against Wales in a 29-25 defeat in the pool stages.
Bernard Foley was among the Wallabies' best as they surprised to reach the World Cup final in 2015.Credit: Getty
A player with a calm head who knows his game inside out, Foley hopes his experience will count for something when it matters most.
"I've been very lucky to go to two World Cups and [they were] two very different experiences," he said. "Hopefully that holds a bit of weight if you get a third.
"In Test rugby, it's small margins. It's coming down to being consistent. At a World Cup, you've got to win pretty much seven matches in a row. That's where I would say guys who are more assured and experienced with guys around them are going to perform better.
"You need familiar voices and the people around you. I don't think it comes down to the one player who makes the difference … [it is] just having a level head, being steady in those positions.
"I learnt a lot [after 2019]. There were things I'd do differently. It wasn't from a lack of effort or trying. It was probably caring too much and trying to force it.
"The expectation [for the upcoming year] is you know what a journey it is and how intense it will be; you know the demand to win a World Cup. You have to perform and be world class. For me, my focus has been on playing consistent club footy. That's a great way to get you ready for what's going to come for the rest of the year."
Watch all the action from the Super Rugby Pacific with every match streaming ad-free, live and on demand on Stan Sport.
Sports news, results and expert commentary. Sign up for our Sport newsletter.
Most Viewed in Sport
From our partners
Source: Read Full Article