There is a theme behind Roosters premiership campaigns, and the warrior mentality, which is driving this one, has been two years in the making.
It has come to the fore during an eight-game winning streak, a run that needs to continue against arch-rivals South Sydney to keep their season alive. However, the seeds had been planted much earlier.
Australian boxer George Kambosos, proud of his Spartan heritage, addressed the team at the start of the year about "the warrior code".
"It's about the warrior mentality," Kambosos said at the time. "Obviously [coach] Trent Robinson was pushing that with the boys. When you've got that mindset, it's about doing anything required to get the job done."
The mantra was put to the test during the pre-season. Football clubs often embark on boot camps, and in their strength and conditioning coach Kevin Toonen, the Roosters had a man who had devoted 18 years of his life to the Australian army. But rather than the traditional military-style endurance tests, Toonen and the coaching staff devised an intense 36-hour wrestle camp that was more football-specific.
"I'm a big believer that I'm not training these guys for combat, I'm training them for football," Toonen told the Sun-Herald earlier this year.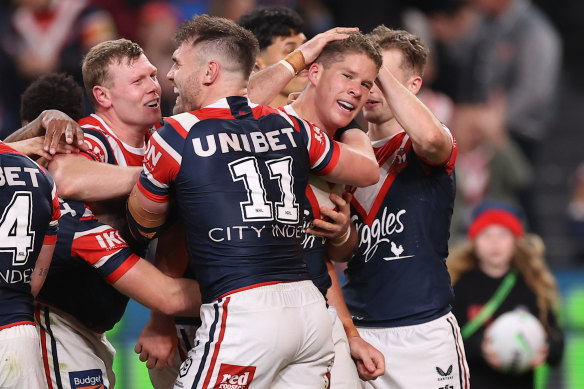 The Roosters have embraced the warrior mentality.Credit:Getty
"I want to make it relatable for them. They can do that by looking back on what they went through – 36 hours of pain – then think about how easy training is going to be and draw back on those things during the season, during a match, during a hard training session.
"We focused on the wrestle and made it very physical. We took sleep away and added unknowns, so they didn't know what was happening minute to minute."
It was also an opportunity for the players to connect to their local area. The Roosters' new headquarters is at the new $828 million Allianz Stadium, which was officially christened last Friday with a win against the Rabbitohs.
To ensure they were aware of the club's roots, the players went for a long walk from the SCG to Coogee.
"We talked about the land, about where the club came from, its heritage and history, and why it's important," Toonen said. "Every beach stop we had, at about 2am, we referenced some of our attacking and defensive principles.
"I wanted to bring out some emotion, some stress that we can use via physical activity. And there was the uncomfortableness of not knowing when it was going to end.
"Sand, water, taking away verbal queues – they weren't able to speak for some of it. They could only communicate through hand signals and things like that, something that added a bit of stress.
"When things break down, you pause, you stop, you correct and then move on.
"It always needs to be drawn back to football."
After the Roosters won the 2018 premiership, the mantra for their defence the following season was "climb the mountain". The players, who were handed pins with a Rooster superimposed on a sheer cliff face, scaled their Everest by winning back-to-back titles.
The current 'warrior' theme was first introduced last year and has been adapted for this campaign.
"Trent has always got a theme," Toonen said. "Because we've got a whole lot of different cultures, we wanted to bring out their cultural identity and the warriors attached to that culture.
https://keep-your-pants-on.com/soccer/spurs-mock-arsenal-goalkeeper-aaron-ramsdale-ahead-of-champions-league-return/
"That's been good for us because it lets the boys identify with their own culture, it helps the club understand them more.
"It's interesting learning about that as well because across the globe over thousands of years, principles and morals and values are the same in warriors, they are respected and revered as protectors and good, strong men.
"It's very much the same this year. We want the boys to be as good a man off field as they are on it."
The players were reluctant to talk about the warrior theme when approached about it during their pre-game media commitments during the week.
"We'll keep that pretty in-house, to be honest, until grand final night hopefully," one said.
Stream the NRL premiership 2022 live and free on 9Now.
Sports news, results and expert commentary. Sign up for our Sport newsletter.
Most Viewed in Sport
From our partners
Source: Read Full Article