Save articles for later
Add articles to your saved list and come back to them any time.
Roosters coach Trent Robinson says Joseph Suaalii won't be released from his contract — neither this year nor next — to head to rugby earlier than expected.
It comes as Robinson fired a shot at Rugby Australia chairman Hamish McLennan over his inflammatory comment that the Roosters were trying to offload Suaalii due to salary cap pressure.
A Nine News report earlier this week said the Roosters had made enquiries to rugby officials about whether they had the money to accommodate Suaalii before his contract begins in late 2024.
Robinson said the club wouldn't be releasing the teenager before his contract expires at the end of the 2024 NRL season.
"Those reports haven't come from inside this club," Robinson said on Thursday. "That's been speculation outside. That's not even been a discussion inside this club.
"It applies that little bit of a blowtorch to all of us to say I need to coach him better and he needs to play a bit better."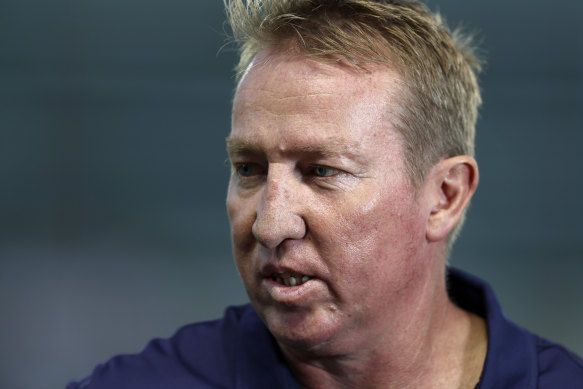 Roosters coach Trent Robinson.Credit: Getty
McLennan poured fuel on the fire a day after the initial reports.
"I'm wondering if there's a salary cap issue at the Roosters?" McLennan said.
"Rugby Australia won't induce Joseph to break his contract, but his agent [Isaac Moses] can deal with that with a good lawyer in about 30 minutes.
"Joey's treatment [from the Roosters] has also been nothing short of horrible."
Joseph Suaalii has not been at his best in recent weeks.Credit: Getty
Robinson said he didn't want to continue the back-and-forth but addressed McLennan's inference that the Roosters had salary cap problems. Robinson was asked if McLennan had taken things too far.
"He's doing that for certain reasons. I can imagine that rugby people aren't excited by the way that has been handled," Robinson said.
"Usually there is a bit more class in the discussion. I don't really want to get into it. I've got my job to do here. I don't have any interest in continuing the discussion to be honest."
McLennan also suggested this week Robinson would be a fine rugby coach.
"I'm focused on what I'm doing here," said Robinson after being quizzed on whether a code switch was something he would consider. "That's creating more talk. I'm a Rooster, this is my home."
Meanwhile, Robinson said he would not stand in the way of Jason Ryles if he wanted to take up a head coaching role next season.
Ryles has been linked with the Dragons and could take over from next season.
Asked if he would stand in Ryles' way, Robinson said: "No, and I never have. That's not going to happen now. As long as there is clarity now and we're doing the best thing for the Roosters.
"We've chatted about his future. It's not something for me to go into. In a way it's got something to do with us but it's got nothing to do with us. I've chatted to him privately and then the rest I don't have any information about."
Stream the NRL Premiership 2023 live and free on 9Now.
Sports news, results and expert commentary. Sign up for our Sport newsletter.
Most Viewed in Sport
From our partners
Source: Read Full Article