Richmond are starting to get the gang back together with the return of champion midfielder Dustin Martin increasing hopes they can be a legitimate contender for the 2022 flag.
Tigers coach Damien Hardwick admitted to becoming emotional in the box when the 30-year-old signalled his return with a goal early in the second half as he gathered 23 disposals in his first game back from personal leave, following the death of his father Shane last year.
"It was a pretty touching moment. I'd say there's a few misty eyes in the coaches box and down below as well. It's just a nice moment to get some reward for his hard work that he's put in on himself," Hardwick said.
Dustin Martin's goal was a touching moment for the club.Credit:Getty Images
Martin, the greatest finals player the game has seen, has played just two of the Tigers' past 13 games and Hardwick can see his game improving as he settles back in.
"He'll get better again next week and that's exciting for us," Hardwick said.
Key forward Tom Lynch described his teammate as a superstar after kicking six goals himself to be best on ground in the club's comfortable 27-point win over Richmond. 
"He was pretty good today wasn't he?" Lynch said. "I'm sure 'Dimma' [Hardwick] was pretty happy putting his magnet on the board this week. He's a superstar, and he is just a superstar person in the end. He brings energy and lifts the whole club."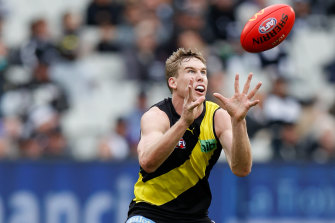 Tom Lynch in action against Collingwood. Credit:Getty Images
The Tigers have won four of their first eight matches, but Lynch said he felt like they had been in each of the matches, with their inconsistency within games proving costly.
Hardwick said he could see signs of improvement as players such as Martin and Kane Lambert, who has been injured, return, with Nick Vlastuin and Dion Prestia due to come back from illness next week.
"We're starting to gel, we're starting to connect," Hardwick said.
The Tigers have not had more than five wins on the board after eight rounds in each of their past three flag-winning years and their injury list is short.
Lynch's performance received praise from Hardwick, with the coach admitting moving Noah Balta back into defence and introducing Maurice Rioli into the team helped their goalscoring power. The Tigers have scored more than 100 points in consecutive weeks.
"He's really dangerous when he gets a long jump, and he has got a lot stronger in and around those contests," Hardwick said.
"I just thought they were a bit more seasoned, Richmond. We're eight rounds in, eight dates in a relationship, if you like, and they're more like married with three kids."
Collingwood coach Craig McRae said he felt Lynch benefitted from the turnovers the Tigers generated and defended his opponent, Darcy Moore, saying the way the Magpies moved the ball out of defence did not help him.
"Darcy will reflect on his game and look at things he could do better … clearly Lynch got on top of him," McRae said.
He said the impact of illness was not as significant it had been leading into the match against the Gold Coast, adding he didn't think his team was brave enough with the ball.
McRae, who is just eight games into his career as senior coach at Collingwood, said that the Tigers' experience was significant.
"I just thought they were a bit more seasoned, Richmond. We're eight rounds in, eight dates in a relationship, if you like, and they're more like married with three kids," McRae said.
"Our group is learning how to play together."
Most Viewed in Sport
From our partners
Source: Read Full Article