Key points
The Wallabies insist they won't be taking Italy lightly this weekend. 
Australia have never lost to Italy in a rugby international since the teams squared off for the first time in 1983. 
Italy's confidence has grown after their one-point win over Wales in this year's Six Nations. 
Florence: As the Wallabies brush up on their Italian and steer clear of too much pizza and pasta, players and coaches have already trotted out the promise heard regularly in Test weeks against weaker opponents.
"No one should take Italy lightly. We obviously don't," said Wallabies scrum coach Petrus du Plessis.
Hours earlier, Tom Wright told reporters the group had discussed at length the importance of not underestimating their opponents, together with the perils of what happens if you do.
"The main messaging is around making sure we respect the opposition," Wright said. "[It] could be perceived as the easiest game of the five games on this tour.
"It's very easy to get up when you're versing France or Ireland. They're the top two teams in the world. But we have to put the same emphasis on playing well and preparing well against Italy."
So, the big question is: can Italy pull off their greatest ever Test victory?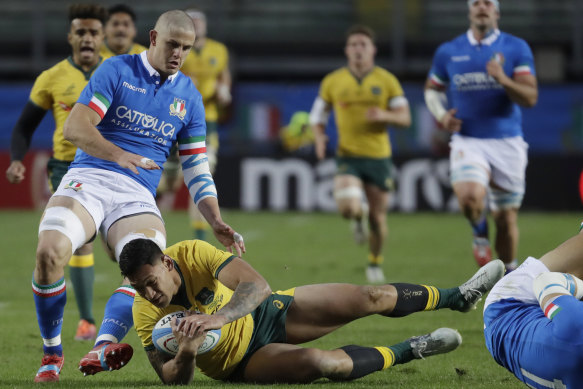 Israel Folau is tackled during Australia's last Test against Italy in 2018. Credit:AP
The Wallabies are coming off bruising encounters against Scotland and France and will face Italy on Saturday (Sunday AEDT) with an unblemished record to protect.
Australia have not lost a Test to Italy from 18 previous matches, stretching back to 1983, boasting a winning margin of 21.4 points.
In the past 15 years, that margin has remained relatively consistent at 18.7 points.
The biggest Wallabies victory was a 55-6 result in 1988, while the closest result occurred in 2012 when a tired Australian team coached by Robbie Deans got over the line by three points.
Wright was informed by a reporter about Australia's perfect record against Italy.
"You just tried to jinx it by saying we've never lost. The reporters are trying to get us … I'm just joking," Wright said. "We saw them shake up Samoa on the weekend and ideally that doesn't happen to us."
That they did, with the Azzurri thumping Samoa 49-17 on Saturday and running in six tries that has forced the Wallabies to do their homework.
Italy are paying $6.20 with the bookies but that means very little, particularly until teams are announced.
Juan Ignacio Brex is lifted high by Toa Halafihi during Italy's one-point win over Wales earlier this year. Credit:Getty
The Wallabies will rest some of their stars for the middle match of a five-game tour against the world's 12th-ranked side, who sit between Japan (10th), Fiji (11th), Georgia (13th) and Samoa (14th) on World Rugby's rankings.
"They're very passionate," Du Plessis said. "Most of their players play in a very high league, in France or the United Rugby Championship (formerly Pro 14).
"They will hurt you if you make loads of mistakes. Against Samoa, every time Samoa made a mistake they would capitalise on it. The scoreline shows that. Outside of the passion, they have got good set-piece and an attacking structure.
"If we can deal with that and turn their attack into areas where we can turn the ball and play on top of them like we did against France, we'll be in a good place."
Australia last played Italy in 2018 and came away from Padova with a reasonably convincing 26-7 win, albeit with a weakened side.
But Italy's confidence has been boosted after their 22-21 win over Wales in this year's Six Nations, which broke a run of 36 straight defeats in the northern hemisphere's version of The Rugby Championship.
A Wallabies loss this weekend would certainly be surprising given the team picked will have enough firepower to cruise to victory. It's something of a lose-lose situation for the visitors, unless they put 50 on Italy.
But one thing we've learned is this Wallabies side are far from predictable.
"Italy are going to be no slouches this weekend, especially at home" Wright said. "It's a new environment for a lot of guys. This might be the first and last time we play Italy for a number of years."
Rest assured, the team will be on from the first whistle, according to the coaches.
"The intensity will be there," Du Plessis said. "It's just a mindset."
Watch all the action from the Wallabies' Spring Tour with every match streaming ad-free, live and on demand on Stan Sport.
Most Viewed in Sport
From our partners
Source: Read Full Article