Save articles for later
Add articles to your saved list and come back to them any time.
Gold Coast midfielder Matt Rowell is at risk – by his rare style of play – of running himself out of the AFL game.
It will not be an opposition coach who brings the downfall of the AFL's undisputed king of contested possessions, winning clearances, and laying tackles. There is no cynical tactic that will end the game's most physical midfielder and one of the game's most-respected competitors.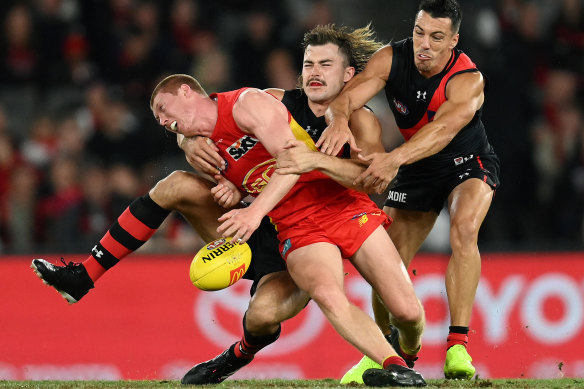 Young Suns star Matt Rowell.Credit: Getty Images
The threat to the fourth-year Sun is in the way he plays the game. Rowell has mastered the toughest aspects of the sport. If he is to survive, he needs to build his game when the heat is off.
Everyone admires Rowell's approach. On Saturday, in the five-point loss to Melbourne, Rowell started against North Smith medallist Christian Petracca at four consecutive stoppages. He won them all.
Most of Rowell's possessions this season – 65 per cent to be precise – are contested. No other player wins the hard ball with a higher percentage. While this is admirable, Rowell simply cannot sustain such a style. It is out of balance with the league's best midfielders. It makes Rowell vulnerable to crashing and burning his way out of the game.
Rowell has made 64 tackles and won 63 clearances in his eight games this year.
His body takes an absolute pounding every single week.
Where is Rowell different from other midfielders? He struggles most with the uncontested side of the game. He has taken just 17 uncontested marks and gathered 62 uncontested possessions this season.
By comparison, Melbourne bull Clayton Oliver wins 47 per cent of his possessions in contested situations – and balances his game on the outside with 39 uncontested marks and 142 uncontested possessions, more than double Rowell's count.
Brownlow medallist Lachie Neale has 53 per cent of his disposals at the Brisbane Lions graded as contested. He has had 102 uncontested touches, 40 more than Rowell.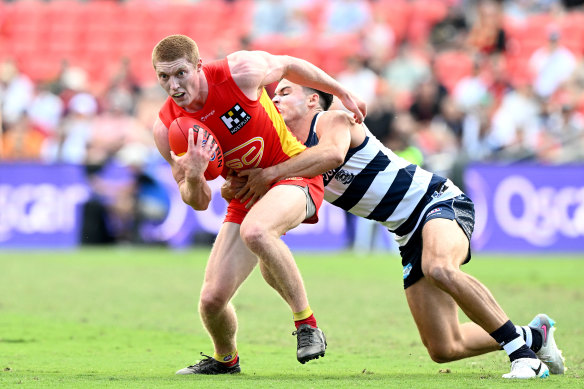 Gold Coast's contest king Matt Rowell.Credit: Getty Images
The greatest midfielders, such as Gary Ablett jnr, Chris Judd, Simon Black, Joel Selwood, and Patrick Dangerfield, ranked as "elite" at winning contested possessions. They also punished the opposition by inflicting damage from a loose-ball get or a handball receive that allowed them to run in open space and deliver the ball inside the 50, or to score themselves.
Rowell rarely gains possession when the opposition is not casting a shadow on him.
He needs help or he will fall. The physical toll from such a brutal style of play will overwhelm him. He must learn to find space for uncontested marks and possessions while also hitting the scoreboard if he is to be an AFL great.
His taxing style of play explains why he fades in the last quarter. On Saturday, when the game was on the line and Rowell needed to impact, he had just four touches to finish the game with 18. He started with seven touches and five clearances when fresh in the first term.
Despite playing solely in the midfield and constantly being around the ball, Rowell has yet to record a 30-disposal game this season. He has done such only once in his 47 AFL matches.
Rowell was the No.1 pick in the 2019 AFL national draft and exploded into the 2020 season, kicking six goals, and earning nine Brownlow Medal votes in his first four games before suffering a season-ending injury. He has kicked just four goals and received four Brownlow votes in his next 43 matches.
In the US' most popular sport – the American football NFL – a vital position is the running back. His primary responsibility is to carry the ball on rushing plays, running with the ball seeking to gain as many yards as possible. However, the average career for a running back is short – between two and three years.
The position requires constant and heavy physical contact, often resulting in a higher risk of injuries. Running backs, searching for valuable yards, sometimes propel their bodies like human missiles into the waiting opposition who are ready and waiting to drive them back the other way.
This tactic often results in sickening injuries. Those who play the position have shorter careers than the more glorified and protected quarterbacks, who could play for decades. As a result, NFL franchises rarely select running backs with early draft picks. Clubs are reluctant to reward them with extravagant contracts.
Rowell is going the way of the running back. He has already suffered long-term knee and shoulder injuries, derailing his first two years.
Ablett jnr was Gold Coast's most outstanding player and influential figure. He would be an ideal mentor for Rowell to guide him on how to win cheap ball.
Rowell will never lose his biggest strength. No one is better at burrowing into a pack and farming the ball out to his teammates. But if he does not fix his biggest weakness he will be gone before his time to the land of the running back.
Keep up to date with the best AFL coverage in the country. Sign up for the Real Footy newsletter.
Most Viewed in Sport
From our partners
Source: Read Full Article