Save articles for later
Add articles to your saved list and come back to them any time.
Given that Collingwood's Jack Ginnivan is probably more renowned for his football smarts and goalkicking prowess than his pace you would think horse owners might steer clear of naming one of their horses after him.
But that would underestimate the thought noted West Australian trainer Jim Taylor puts into naming his horses, with the breeding of Ginnivan making the colt's name a perfect fit.
Collingwood's Jack Ginnivan doesn't get much reward nowadays if taken high.Credit: Getty Images
The three-year-old born on August 18, 2020 is by leading WA stallion Universal Ruler from Taken High, making the Magpie fan favourite an obvious option.
And Ginnivan is showing some speed, too, winning over 1000 metres on debut at Belmont on August 5, just six days before Jack made his return to the senior team to play an influential role in the Magpies' win over Geelong when he came on as sub.
Taylor loves his football, particularly West Coast, and has taken upon a footy theme when it comes to naming Taken High foals, with the half-brother to Ginnivan called On the Full, while a half-sister born just two days ago to be named soon.
"We might take a different tack on Taken High and go for [players] taken high in the draft," Taylor said.
Taylor is not ready to reveal the name he has in mind publicly just yet, but we think Martin Leslie, Richard Lounder, Anthony Banik are unlikely selections.
Taylor has raced horses for West Coast stars Dean Cox, Chris Judd and Michael Brennan in the past and follows their fortunes closely, well aware the club's upset win over the Western Bulldogs was likely to cost them the No.1 pick.
Ginnivan doesn't mind the races, reliving on Channel Seven earlier this year the thrill he felt in October 2019 when he backed Moonlight Maid at 45-1 to win the group 2 Edward Manifold Stakes and then watched it storm home from last to win.
And Taylor says he's heard through the grapevine the Magpies forward is a fan of his namesake, who has been sent for a spell after finishing third on Saturday at Belmont.
Hunting down Hardwick
Milan in Italy is famous for Leonardo da Vinci's mural The Last Supper, but Gold Coast might commission a painting of 'the first dinner' if Damien Hardwick lands a premiership at the Suns.
That meal was between Hardwick and Gold Coast honchos Mark Evans and Bob East and was held at an Italian restaurant in a laneway away from Milan's main drag, with Evans' wife Lynne and Hardwick's partner Alex joining the trio who had met earlier in the day as the triple premiership coach heard their pitch.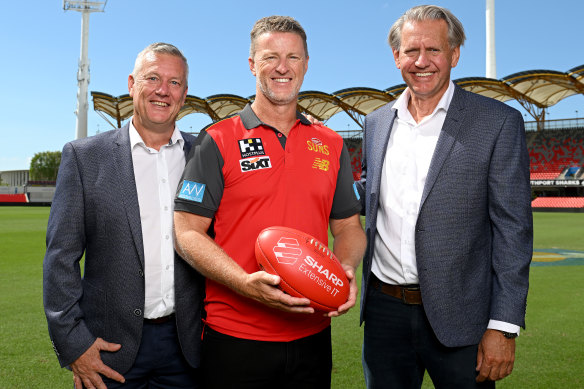 Damien Hardwick with Gold Coast chief executive Mark Evans and chairman Bob East.Credit: Getty Images
Hardwick, who had been in Cinque Terre and was stopping in Milan before heading to Bellagio, near Lake Como, admitted he was convinced he was going to be the Suns' next coach by the entree, although the 51-year-old was seemingly the last person to know that Gold Coast would be his next destination.
Of course, Hardwick would also have been unaware that another football club was chasing him hard when he arrived in Denver around June, shortly after finishing up at Richmond, for a quick stopover to watch the Denver Nuggets in the NBA play-offs.
The Denver Bulldogs, a great advertisement for Australian rules football in America and 14-time national champions, were on his hammer to see if they could get him to training.
The club's marketing director Daniel Kerwin told Snap Shot the club flew into action when they realised Hardwick was in town when a photo emerged on Twitter of Hardwick at a Denver bar they identified as Occidental.
"He caught us by surprise. One of our players, a Tigers' superfan (Geoff "Shaker" Shakespeare, a New York-born Aussie who grew up in Canberra) saw the post, identified the bar, headed over there as quickly as he could, but arrived too late to intercept Dimma," Kerwin said.
Kerwin then jumped on social media to invite Hardwick to training but the coach, who, to be fair, had just resigned from Richmond feeling a tad burnt out, had left town.
Not to worry, the Denver Bulldogs have two fine coaches in Tasmanians Matt Howell and Jack Gleeson and a record that, to be honest, overshadows the Suns.
And it's hard to see them matching the six-year deal the Suns gave Hardwick, even if they had a fair chance of gaining some ambassadorial money to add some tacos and a few Blue Moon beers.
The ARC would have been a tough place to be late on Saturday night.Credit: The Age
On the coach's whiteboard
Before you go, here are …
Five key lines Snap Shot believes may have been used in the AFL Review Centre as the siren sounded to finish the Adelaide v Sydney game on Saturday night.
They said
"We tried to tank that in the last three minutes and it didn't work. I kept on saying, 'Kick it the other way and play an equalised game,' " Adam Simpson to Fox Footy after the Eagles' upset win over the Western Bulldogs.
But they forgot to say
"We tried to tank that in the last three minutes and it didn't work. I kept on saying, 'Kick it the other way and play an equalised game' and they kept yelling 'Daniel Curtin' back at me."
Snap Shot is a weekly column taking a look at the lighter side of football.
Keep up to date with the best AFL coverage in the country. Sign up for the Real Footy newsletter.
Most Viewed in Sport
From our partners
Source: Read Full Article