Bailey Smith entered the AFL as a cleanskin. He has told associates he had never touched illicit drugs until October of last year, in the period following the grand final.
Only Smith can explain what precisely triggered his descent into an "illicit substance" for a period late last year. But if his history as a meticulous preparer makes his indulgence surprising, we should not be shocked that he would be captured on video and in photographs holding the bag, so to speak.
For Smith is among the absolutely most photographed and Instagrammed footballers in the game, with a social media following that dwarfs that of many clubs; his looks, hair and cool charm have seen "Bazlenka" – his social media handle – become a favourite of youth, irrespective of club or code allegiance.
Smith's image on social platforms gives the impression of a hip, slightly edgy and confident footballer with a mullet for the ages. But the reality – as Smith has freely admitted – is that he's a 21-year-old who has struggled with mental health issues, in the form of anxiety.
That Smith has been hoist on – not quite his own – social media petard is embarrassing for both the Bulldogs and the AFL. The former will face questions about their culture – the lot of clubs when players muck up in public (see Melbourne over the past five days), while the AFL will have their welfare-based drug policies critiqued yet again.
Last night, Smith and his camp received the positive news that clothing giant Cotton On, which uses the popular player as a brand ambassador, would retain him.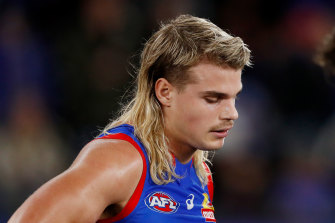 Bailey Smith was forthright in his statement after pictures surfaced on social media.Credit:AFL Photos
It may or may not have influenced Cotton On's call, but it was clear that the damage to player, club and AFL had been mitigated – at least partially – by Smith's own response, which is the strongest and most honest by any recent AFL player who has been caught in a drug imbroglio of his own making.
Smith, importantly, fessed up to his sins and he did this almost immediately, admitting to the "illicit substance", expressing shame and vowing to improve himself. Within several hours of the still photographs of him holding the white powder (the video came later) surfacing, Smith had put out his contrite confession, in concert with the club, killing the video and photographic birds with one stone.
Smith, from what one can gather, was again having a tough time on Saturday. Those around him say that this period of post-season excess was an aberration – a window of poor choices – and that he has since rebalanced his life, stabilised and that this has been reflected in his performances on the field (notwithstanding the headbutting suspension).
https://sportsloveme.com/soccer/chelsea-learn-price-they-must-pay-to-sign-milan-skriniar-after-43m-bid-for-ace-rejected/
The AFL will likely impose a penalty on Smith, which would be added to his two games missed for the headbutt on Zach Tuohy. If you take a line through Brad Crouch, caught in possession of drugs late in 2020 (before he left the Crows for St Kilda), Smith will get a maximum of a two-match suspension.
The penalty, in any case, is usually the damage to one's image/reputation. In Smith's case, this will be the part that hits hardest, having carved out a unique following that presented him with commercial opportunities.
That said, it's not a huge call to connect the enormous following that Smith has generated, a largely organic happening on the internet, and his post-season troubles. How does such adulation impact upon a 21-year-old with anxiety issues? Best to leave that one to the mental health experts.
For the club and the AFL, it was clear that they were caught between two non-negotiables that can conflict – the necessity of taking a moral stance against the offending behaviour and the need to protect a young man with mental health vulnerabilities.
Yet ultimately, as Smith seemed to recognise, the environment and the strange cult of internet celebrity that have engulfed him cannot be used as an excuse.
For as surely as Bailey Smith has his own brand and his own fevered following, he alone owns his image – and his actions.
Keep up to date with the best AFL coverage in the country. Sign up for the Real Footy newsletter.
Most Viewed in Sport
From our partners
Source: Read Full Article