Save articles for later
Add articles to your saved list and come back to them any time.
Reserved MCC tickets for next week's blockbuster qualifying final between Collingwood and Melbourne sold out within an hour on Tuesday.
Tickets for the Thursday night game went on sale at 9am via Ticketek, but by 9.27am the Melbourne Cricket Club posted a tweet informing members that visitor tickets had been sold out.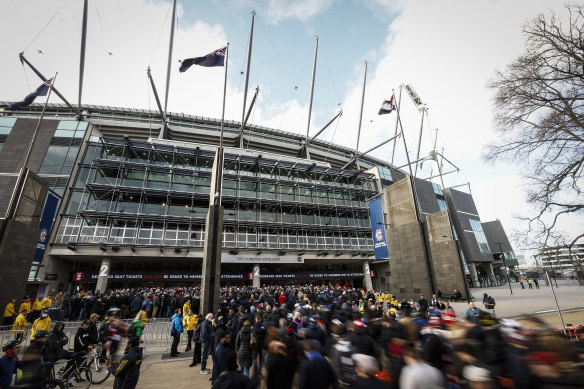 Reserved MCC tickets have already sold out for the Collingwood v Melbourne qualifying final.Credit: Getty Images
"A limited number of reserved seats for full and restricted members remain, however these are expected to be sold quickly," the MCC said.
But by 9.49am, reserved seating for members had also been exhausted for the highly anticipated clash.
Members will still be able to line up for an unreserved seat or standing room in the MCC reserve on the day of the match, by scanning their membership card at gate 2.
Tickets for club members went on sale at 10am, while AFL members would get their chance to access tickets from noon. The general public will get their chance from 3pm.
Last year's qualifying final between Geelong and Collingwood attracted 91,525 people, while the Magpies' semi-final against Fremantle the following week also broke the 90,000 mark.
Ticketek, via their Twitter – now known as X – page posted some tips for fans looking to secure their tickets.
That advice included entering the ticketing lounge at least 15 minutes before tickets go on sale, remaining on the page and not refreshing the browser, and keeping an eye on the timer to ensure the purchase was completed in time.
Tickets for the Brisbane and Port Adelaide qualifying final were also set to go on sale on Tuesday via Ticketmaster, while Ticketek will release tickets for the Carlton-Sydney and St Kilda-GWS Giants elimination finals on Wednesday.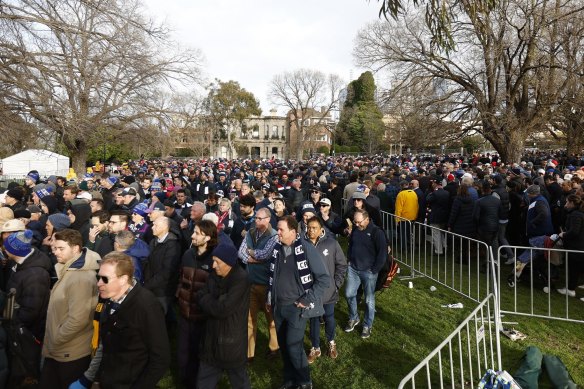 MCC members who are yet to get a ticket for next Thursday night's qualifying final will have to line up for an unreserved seat on game day.Credit: AFL Photos
Meanwhile, footy analyst David King believes the Magpies have missed out on the chance for any sort of home ground advantage next week given the MCG is also the home ground of the Demons.
"There has to be some advantage," King said on SEN Breakfast on Monday.
"If you're going to finish top of the table and play a team that effectively has the same home ground [it is unfair].
"I think there has to be some advantage for Collingwood finishing top of the table. With Melbourne finishing fourth there's no spoil.
"I think when you finish top, when you play at the same venue, it's a neutral advantage in a final series.
"The team that finished higher up the ladder should have 75 per cent of the crowd.
"The crowd should be the advantage, make it 75-25 and no blueing Melbourne because you had your chance for 24 rounds to find yourself in the top position on the table."
St Kilda was denied the chance to host its elimination final at its Marvel Stadium home, but the AFL's new executive general manager of football Laura Kane told SEN that a final would have only been scheduled at the Docklands venue if all four finals in week one were to be hosted in Melbourne.
"The MCG is the home of finals, and we had the opportunity to play three days in a row, and we took it," Kane told SEN's Sportsday.
"We would contemplate Marvel if we had four Victorian games, but we didn't. We've got three games – Thursday, Friday and Saturday – at the MCG which we're really looking forward to."
Keep up to date with the best AFL coverage in the country. Sign up for the Real Footy newsletter.
Most Viewed in Sport
From our partners
Source: Read Full Article