Save articles for later
Add articles to your saved list and come back to them any time.
As unlikely ladder leaders St Kilda prepare to face Carlton in front of a big crowd at Marvel Stadium on Sunday, there will be much discussion surrounding the stories of both coaches. After all, Michael Voss only became Carlton coach after Ross Lyon pulled out of the process. Or, was he promised the job and then asked to go through the process? It depends on who you ask.
But there was a more significant sliding doors moment at Carlton well before Lyon came into the picture.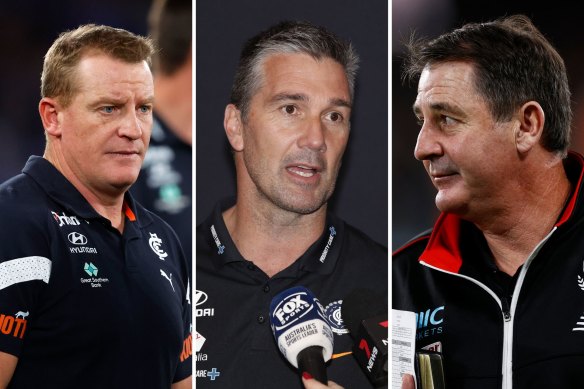 Blues coach Michael Voss, club great Stephen Silvagni and Saints boss Ross Lyon.Credit: Getty
It was October 2017. Former AFL executive Simon Lethlean was sitting in one of several living rooms inside then Blues president Mark LoGiudice's Kew mansion, barely three months after a scandal forced Lethlean out of league headquarters.
The Carlton president and revered businessman was on the lookout for a new chief executive, having just parted ways with Steven Trigg. He wanted Lethlean.
In the following days, Lethlean received a text message from at least one board member, welcoming him to the club. The director, who is no longer on the board and asked not to be identified because of sensitivities around board appointments, confirmed to The Age they had sent the text.
Why Lethlean never made it into the CEO's chair at Ikon Park remains a mystery. Lethlean, now CEO of St Kilda, chose not to comment when contacted this week. Nor did LoGiudice want to discuss the events of 2017 and the decision not to appoint Lethlean, saying it was time to move on.
Instead, Carlton appointed the highly rated Cain Liddle, who was working at Richmond at the time, under the tutelage of Brendon Gale.
The commercially savvy Liddle made an instant impact, signing major sponsors Virgin and Puma to long-term, multimillion-dollar deals to help stabilise Carlton's struggling finances.
However, as was widely reported at the time, Liddle and then list manager Stephen Silvagni, one of Carlton's most decorated figures, endured a frosty relationship, which was exacerbated when then Richmond winger Brandon Ellis toured the club's facilities.
Liddle, who has also been contacted for comment, said at the time he did not go behind Silvagni's back, and that "everyone on list management was very clear of the role I was playing with Brandon".
Carlton later cited the presence of Silvagni's sons on the list as the reason for his departure and, as we reported at the time, "SOS" took a parting swipe at the club's leadership on the way out. 
Silvagni addressed a board meeting in November 2019, and according to two people familiar with the events who spoke anonymously to protect confidentiality, read out a handwritten letter in front of shocked directors. It's a letter both Silvagni and the board still have, but he chose not to comment on its contents when contacted this week.
Only weeks ago, Silvagni was conspicuously absent from the club he helped make successful, choosing not to accept an invitation to the Blues' rooms to celebrate his son Jack's 100th game, which was a monumental day for the Silvagni family. Family members defended the decision on social media. "Can confirm he was really tired and wanted to go home," son Ben tweeted later. Jo Silvagni, who was in the rooms that day, tweeted that Stephen's love and support for his sons was beyond question and the family had chosen to do what suited them.
Silvagni, of course, now works as list manager alongside good friend Lyon at St Kilda. And how Lyon ended up back at the Saints instead of in navy blue remains a point of intrigue.
In April 2021, long-time board member and businessman Luke Sayers took over from LoGiudice as president in what was far from a smooth handover. Sayers did not waste any time in conducting an external review of the football department, which resulted in the axing of coach David Teague. Later the club parted ways with Liddle, too.
With Sayers and his club desperate to land a big name coach, his first call was to Alastair Clarkson. His second was to Lyon. Speaking candidly at the time on Nine's Footy Classified, Lyon indicated the situation at Carlton had clearly changed, and because of that, he withdrew from the process. Enter, Voss, while a year on, Ross is the new (old) boss at the Saints.
Cracking open the Grange, for some
As The Scoop revealed last week, scoring an invitation to the exclusive AFL dinner at Magill winery in Adelaide for the launch of Gather Round was a difficult task. But there was an even harder list to get on once you were inside.
After the cellar door exhausted its stock of Bin 389s and 2017 St Henry's, the Grange was cracked open.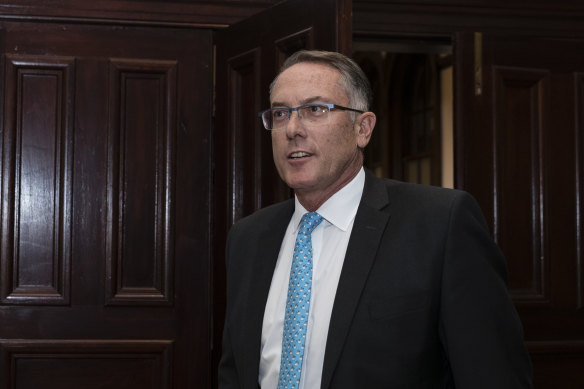 Patrick Delany missed out on the Grange.Credit: Getty Images
However, waitstaff were asked to pour the wine only for some guests.
The Scoop has been told by multiple people in the room that only 20 to 25 of the 300 guests were offered the Grange, and they were mainly AFL commissioners and executives. Foxtel boss Patrick Delany was unlucky enough to be sitting at the first table that wasn't offered a drop, which was unfortunate given his company is basically funding the game. Those who missed out can take solace from the fact it was the 2018 Grange. According to some, it's not the best vintage.
Magpie youngster a bigger deal (in Adelaide) than golf star
Fame is only relative to your environment. Take Sunday night in Adelaide, for example, where people were lining up to take selfies with South Australian-born Collingwood star Beau McCreery, following the Pies' gutsy win over St Kilda.
On the other side of the Chandelier Bar at Adelaide Casino was former world No.1 golfer Brooks Koepka, fresh from his second place finish behind Jon Rahm at the US Masters.
Hidden beneath a white baseball cap, Koepka was in town for Greg Norman's LIV Golf tournament.
While McCreery commanded most of the attention, eagle-eyed Channel Seven football journalist Mitch Cleary recognised Koepka and, we're told, held a camera for Brooks and a fan.
Keep up to date with the best AFL coverage in the country. Sign up for the Real Footy newsletter.
Most Viewed in Sport
From our partners
Source: Read Full Article