Save articles for later
Add articles to your saved list and come back to them any time.
They call him "The Prince" at Essendon. It's an extravagant moniker that spilled into the wider footy industry.
The Bombers' long-serving list boss and recruiter, Adrian Dodoro, is a cult figure, pantomime villain and walking headline like few others, especially in his role, in an era when the AFL's trade period exploded into big business and big clicks for media organisations.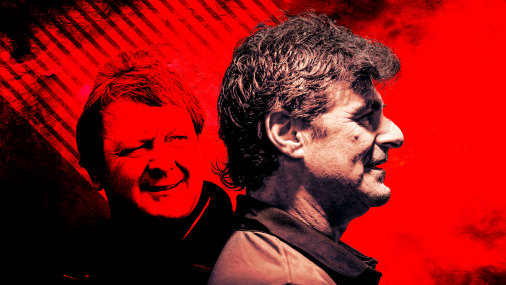 Essendon's outgoing list boss Adrian Dodoro was discovered by Kevin Sheedy 33 years ago.Credit: Stephen Kiprillis
He will step down at the end of next month's national draft, but will remain at the club for an unspecified period to mentor his replacement, ex-Eagle and Sun Matt Rosa.
As for that nickname, there are several theories. Dodoro's impressive bouffant, complete with chest hair popping through his shirt, is among them, along with his larger-than-life personality, swagger and high profile.
His profile comes, at least in part, from being at a well-supported club that negotiated significant tumult across his tenure. Essendon not winning a final in his time as list boss, since 2010, is another factor, fairly or not, for why he is talked about so much. Coaches and football managers fell by the wayside, but The Prince endured.
Various former Bombers staff, who spoke to this masthead on the condition of anonymity to talk more freely, described Dodoro in similar ways. One called him a "political animal" and another a "charming politician". A rival football identity said he was politically outstanding.
Adrian Dodoro in his element during trade period in 2014.Credit: Pat Scala
"He knows where the bodies are buried," one ex-club employee said. "Everyone in the industry plays the game, but he plays it as well as anyone. If playing the game in this industry is an art, then he is van Gogh."
Essendon legend and current board member Kevin Sheedy, who plucked the "excitable Italian" from an administration role at the then-Keilor Council in about 1990 – and is Dodoro's most avid supporter – has a different perspective.
The Bombers life member spent about a decade in the coaches' box with Sheedy, in an unpaid capacity, according to the four-time VFL/AFL premiership coach, before switching to recruiting in 1998.
"I saw his dedication and love for Essendon," Sheedy told this masthead.
"He knew everything I wanted, I trained him up, and he would write all my comments [to pass to the players] … If you can't learn off Mark Williams, Denis Pagan, Neale Daniher, Mark Thompson, Mark Harvey and Robert Shaw, who were all assistants under me and went on to be AFL coaches, then, gee whiz, you're in trouble.
"The club's gone through an enormous amount of turmoil in the past decade, but it's not his fault. It's not him who brought [Stephen] Dank in. It's a brutal industry and it's so difficult to win, so you keep the good people. Adrian is one of those.
"He gets blamed for everything, but he knows what I think. My loyalty is not blind – if I didn't think Adrian Dodoro was any good, then we wouldn't have him at Essendon."
A major aspect of Dodoro's legend is his famously hard-ball approach at the trade table.
Greater Western Sydney counterpart Jason McCartney has gone head-to-head with him many times in the trade period – from Dylan Shiel, to Jye Caldwell and Jake Stringer – going back to his Western Bulldogs days.
McCartney told this masthead in 2020, after a particularly difficult experience trading Caldwell to the Bombers: "The Caldwell one was a millimetre away from not getting done. That's Essendon – target a player, high quality, get him in the door, and then not [be] prepared to stump up the price to actually facilitate the deal."
One senior football source told this masthead they actually admired how far he went to get the best deal possible, while another said for all Dodoro's ruthlessness, he was quick to reach out to peers from opposition teams if they were going through a difficult time.
Everyone who spoke to this masthead said he was good company socially, but they were less enthused about the prospect of doing business with him.
Carlton great Stephen Silvagni, who is now St Kilda's list manager, called Dodoro "the Marlon Brando of the list management teams" in reference to his hard-line, even stubborn, style.
"He walks into a room, and he commands respect. Sometimes, he comes in a bit unshaven," Silvagni told AFL Trade Radio. "In all fairness, the thing about Essendon and every club – sometimes you've got the figurehead to go in there and do the deal, but the deal they're fighting for is backed up by the whole list management team.
"The thing about Adrian, and I really respect him as a person, is he's passionate about the football club … you've got to fight really hard for the football club and that's what he does. You don't take it personally."
Among Dodoro's most memorable draft moments included him lightheartedly placing a bid on one of Silvagni's sons, Jack, in 2015. "I just want to keep the opposition down the road honest, that's all," Dodoro said afterwards. Silvagni snr found the whole thing amusing.
Then there was Dodoro's bid on Hawthorn's Next Generation Academy prospect Irving Mosquito three years later. He pumped his fist, undoubtedly for the cameras, when the Hawks declined to match.
Instances such as those are what one former Essendon staffer was referring to when he said Dodoro loved the "theatre" of football.
Dodoro, who declined to be interviewed for this story, is also a formidable businessman.
He was part of a consortium including Thompson and the Casey Group, directed by former Essendonians president Mark Casey, brother of ex-Richmond president Clinton, who scored an enormous financial windfall – speculated to be worth as much as $32 million – for selling a sheep station they bought for $3.8 million a decade earlier.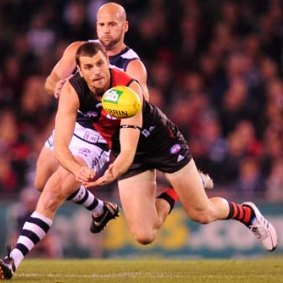 Scott Gumbleton, pick 2 in the 2006 draft, endured seven injury-ravaged years.Credit: Sebastian Costanzo
The Armstrong Creek land was sold to Andrew Welsh, who played 162 matches for the Bombers and is now the club's football director.
Dodoro also owns Port Melbourne eatery Bay 101.
Judging Dodoro's reign is in the eye of the beholder, especially since he was involved in Essendon's recruiting for 12 years before he even took charge of the list.
Long-suffering Essendon fans bemoan two Dodoro draft choices. In the 2006 draft, the Bombers selected key position prospect Scott Gumbleton with pick two, leaving Geelong to take Joel Selwood at seven.
The following year, Essendon used pick six to take David Myers, while Hawthorn selected Cyril Rioli at 11.
Every club would have taken Selwood in hindsight and in a 2020 podcast, Dodoro described Gumbleton (45 games in seven injury-blighted seasons) as "pick two every day of the week".
"He had everything that Nick Riewoldt had at the same age, let's not make any mistake about that," Dodoro said. "That's why he went pick two and that's why he probably broke a lot of our hearts."
He also explained that Rioli had been injured during his draft year and the Bombers needed a big-bodied midfielder, hence the decision to pick Myers.
The common industry quip is that no one other than Dodoro would have lasted as long as he did without their club winning a final, whereas his supporters, such as Sheedy and James Hird, argue the chaos that engulfed the Bombers from the supplements scandal made it almost impossible for Dodoro to succeed.
Hird argues that Dodoro put together a top-four calibre list before the ASADA investigation derailed Essendon, and Sheedy points to previous coaches before Brad Scott not making the most of the talent Dodoro brought in.
The outgoing list boss makes no secret internally of his appetite for unearthing a diamond in the rough, with Sam Draper, Nic Martin, Michael Hibberd, Conor McKenna, Sam Durham and Will Snelling among the success stories. Zach Merrett, Mason Redman and Jordan Ridley were selected outside the first round of the draft.
Dodoro also has a pretty good hit-rate with his first-round selections, although Aaron Francis and Elliott Kavanagh were two misses.
What is inarguable is that when Dodoro finally steps away, AFL trade periods will be duller for his absence.
For daily updates on all the AFL trade period action, sign up for our Real Footy newsletter.
Most Viewed in Sport
From our partners
Source: Read Full Article