Former Carlton goal-kicking coach Sav Rocca says twin towers Harry McKay and Charlie Curnow can become the AFL's best one-two key forward punch and deliver a deep finals run the Blues crave.
McKay, the 2021 Coleman medallist, and Curnow, last year's league-leading goalkicker, were able to grow as a tandem last season after Curnow was finally free of injury.
Curnow, the dynamic centre half-forward, booted 64 goals in 22 games, while full forward McKay added 45 in 19, but premiership pair Tom Hawkins and Jeremy Cameron, Geelong's dominant marking talls, are still widely considered the most potent combination. Richmond's Tom Lynch and Jack Riewoldt also remain a blue-chip pairing, but Rocca says Curnow and McKay have all the tools to fulfil the Blues' finals aspirations.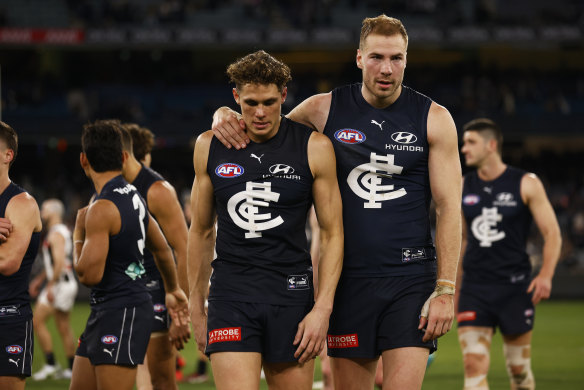 The on-field chemistry between Harry McKay and Charlie Curnow is expected to only get better this season.Credit:Getty Images
"They are right up there. They certainly have what it takes as a forward line to kick goals. They just have to string it all together, stay injury free and get there," Rocca said on Monday.
"They are great players. Curnow last year, McKay the year before, whether they win the Coleman Medal again or not, it's as long as they can have one or the other kicks goals. They become so dangerous, then their smalls come into play. They can certainly lead the team forward."
Curnow said last week he wants to "back up" his form of last year and be a consistent force.
McKay's preference to regularly snap set shots rather than embrace the traditional straight-line run-up and drop punt has sparked debate. His goal tally came with 33 points last year, including a controversial botched set shot snap from 45 metres deep in the last quarter of a loss to St Kilda.
His technique was questioned by some, including former Hawthorn sharpshooter Ben Dixon, while McKay admitted he had erred in not opting for a drop punt.
Rocca said McKay was more comfortable with the snap.
"If he kicks goals doing it, why not? I certainly like the straighter-on approach but if he is more comfortable kicking around the corner, it's whatever gets it done," Rocca said.
"I don't know if it's psychological – it's easier for him to kick a goal that way with his technique. These kids growing up, that's all they would have done – kick around corners. No one really wants to kick a goal from straight in front."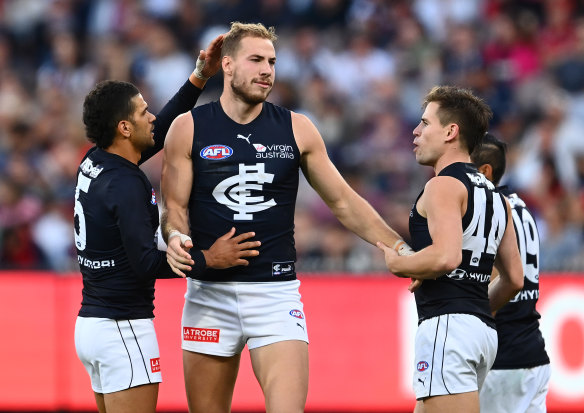 Harry McKay is central to the Blues' plans of ending a decade-long finals droughts.Credit:Getty Images
Despite boasting a spine the envy of many teams, the Blues failed to make the finals last year. Their last September appearance was in 2013, and only then after Essendon had been banned as part of the supplements scandal.
The Blues were in the top eight last season until the final evening of the home-and-away campaign, when a one-point loss to Collingwood left supporters in disbelief.
Rocca, the former Collingwood and North Melbourne full forward and NFL punter, worked closely with many of the forwards still on the Blues' list. He said the round 23 flameout would drive the team.
"They have certainly come a long way. They were coached really well last year. I would want them to take the next step, become a bit more consistent," he said.
"They did really well until rounds 14, 15, 16, then fell off a bit. But with their smarts, knowing that and learning from that, and missing out on the finals, they will really use that to drive forward now. They have got some smart leaders that will lead them. They will certainly take the next step this season."
The Blues won only two of their last eight games, and were hurt by injuries to midfielders Matt Kennedy and George Hewett, and were without star onballer Sam Walsh in the final round.
Walsh is on the mend after back surgery but will miss the opening rounds when the new season begins next month, while playmaking half-back Zac Williams has been ruled out for the entire season, having ruptured his anterior cruciate ligament last week.
Keep up to date with the best AFL coverage in the country. Sign up for the Real Footy newsletter.
Most Viewed in Sport
From our partners
Source: Read Full Article