Cronulla cult hero Toby Rudolf is about to end the last of his superstitions – cutting his famous long locks.
"I used to have to sing Frozen's Let It Go, I know all the words, and it would get my lungs pumping before a game," Rudolf said.
"If I had a negative thought or thought about injuring myself, I had to touch wood somewhere.
"I would eat spaghetti bolognaise with an extreme amount of pepper the night before a game.
"And I always had to go for a swim at 10.30am on game day, which was hard sometimes if it was an early game when playing reserve grade."
"Now I'm about to lose the hair – I'm letting go of my final superstition."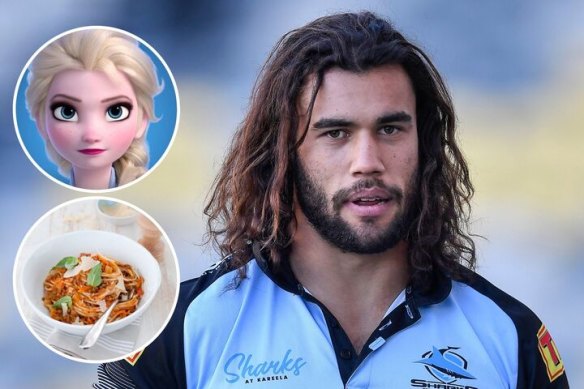 Cronulla cult hero Toby Rudolf and some of his old superstitions.
Rudolf will shave his head to help raise money for the Leukemia Foundation on March 15. He cut his hair at the end of 2016, but could not have played worse in 2017.
"That whole year I played with short hair I was s–t," Rudolf said.
"I moved to Redcliffe the following year, grew my hair back out, won the Duncan Hall Medal [for best player in the Queensland Cup grand final], the Sharks signed me, and I made my NRL debut.
"I've had a lot of luck with the hair. But I'm about to get rid of it all."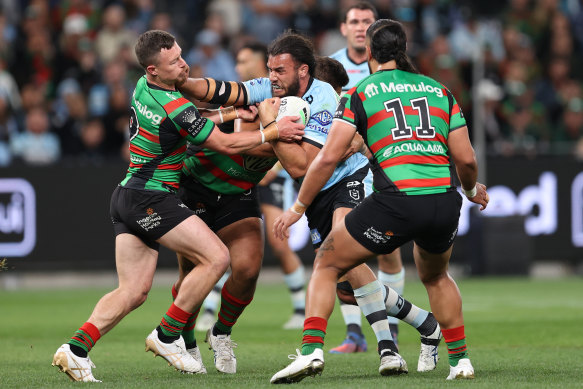 Toby Rudolf plans on ironing out a few of old mates from South Sydney.Credit:Getty Images
Rudolf, 27, cannot wait to get stuck into a few of his old South Sydney teammates in Saturday's opener at PointsBet Stadium.
There are no shortage of players he would love to line up, including good friend Jai Arrow.
"I'm looking forward to taking off Jai's head – and he has a big head, too," Rudolf said.
"I'd love to get at Tom Burgess, Cam Murray, Damien Cook, the list goes on. I'd love to smash Cody Walker. The annoying thing is he's smashed me every time I've played against him. I keep running straight at him. We'll see how we go Saturday."
For all the humour, Rudolf would give anything to help the Sharks win an NRL title. He loves his teammates and coach Craig Fitzgibbon.
"I'm not the smartest of people when it comes to tactics, and I know I just need to run harder and tackle harder and do that for longer," Rudolf said.
"My main goal for this year to be the best teammate I can. I want to be a better friend and person, and everything else will come off the back of that.
"As for Fitzy, the most important thing for me when it comes to a coach is that they are relatable. Fitzy is someone I want to play for. Ask anyone in the game about Craig Fitzgibbon and you won't hear a bad word about him.
"He's similar to myself in a lot of ways with being a coastal kid, someone who grew up with not much in their back pocket, and just a goer.
"All I want to play hard for him and bring him the premiership he deserves."
The Sharks will be without Nicho Hynes, who went on a post-season holiday with Rudolf to the US, but packed his bags and left early because he was unimpressed with America.
Hynes is out with a calf injury, which could also keep him out of next Friday's clash with Parramatta.
News, results and expert analysis from the weekend of sport sent every Monday. Sign up for our Sport newsletter.
Most Viewed in Sport
From our partners
Source: Read Full Article