Key points
New deals for Mitchell and Walker will increase when salary cap goes up
Souths to freeze all other contract negotiations for 2024
Redfern boss Solly feared raid from Dolphins supercoach Bennett 
South Sydney officials know it was a miracle they nailed down Latrell Mitchell and Cody Walker to fresh extensions without a salary cap in place, but have now frozen all other negotiations for 2024.
Mitchell and Walker's deals will include ratchet clauses, which will see their value increase with any rise in the salary cap.
But Souths chief executive Blake Solly said dealings with other players who were off contract at the end of next season, including international prop Tom Burgess, were on ice until there was clarity over the new salary cap.
A frustrated Solly could not believe the game had still failed to negotiate a new collective bargaining agreement, including a new cap figure, just days out from Christmas.
"We were lucky with Cody and Latrell where we could construct a deal that deals with such uncertainty," Solly said.
"But there are lots of other players we'd love to talk to about 2024 and beyond, and we can't because we don't know what the cap looks like.
"Tom Burgess is just one example for us. You want to sit down and map out what the next few years looks like in these players' careers if they want to stay at Souths, but we can't do anything at the moment.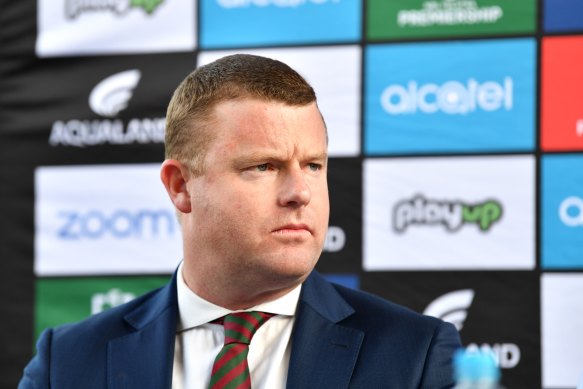 South Sydney boss Blake SollyCredit:Gregg Porteous/NRL Photos
"It's not a case of getting a final cap figure as well. There's the debate about the minimum wage, the long-serving player and development-player allowance, which has made it all incredibly complex.
"We're now two months into the 2023 season – surely it can't be that hard for the ARL Commission to sit down with the players and RLPA and do the deal that should have been done months ago.
"We're none the wiser, and I don't think the gap between the parties is significant – we're talking less than $25m over a five-year period.
"We need to get this deal done so we can move forward with the certainty the industry is craving."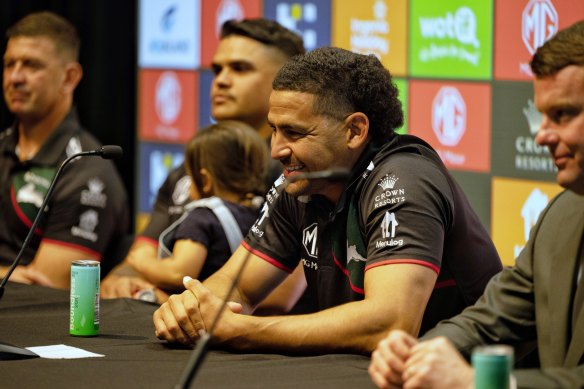 Good times ahead … Cody Walker and Latrell Mitchell at Wednesday's re-signing announcement.Credit:Nick Moir/SMH
Mitchell's four-year extension features no options in the club's or player's favour, nor does Walker's two-year deal.
Having worked alongside Wayne Bennett for three seasons at Souths, Solly said he had been concerned the old supercoach posed a threat to the Rabbitohs' hopes of retaining Mitchell and Walker.
"We were worried about any club out there, particularly Wayne," Solly said. "Wayne is in a difficult and good position where he has a blank salary cap to chase players, which has its challenges but also opportunities.
"Knowing Wayne and how he works, he wants to recruit the best players he can and put a strong 17 on the field.
"We knew he would be keen on the boys but, to their credit, they wanted to stay at Souths and believed in what we were doing."
Most Viewed in Sport
From our partners
Source: Read Full Article