Save articles for later
Add articles to your saved list and come back to them any time.
Khoder Nasser, the agent of Anthony Mundine and Sonny Bill Williams, says racism in rugby league once drove his clients out of the sport – and fears the same fate will befall under-siege South Sydney fullback Latrell Mitchell.
Mitchell's welfare is under the spotlight following the Herald's revelation on Sunday night that his adviser Matt Rose has reached out to NRL boss Andrew Abdo to raise concerns about his wellbeing following a week of turmoil at the Rabbitohs that has largely revolved around him.
The tipping point for Rose was a leaked text message sent to Rabbitohs chairman Nick Pappas from Rod Churchill, the son of South Sydney and rugby league legend Clive Churchill, describing Mitchell as an "imposter" and "cancer" on the club.
Nasser has highlighted an issue in the sport he believes is still prevalent and has been brought back to light recently with the treatment of Mitchell.
"It's a racist game," Nasser told the Herald. "It's so blatant. It's appalling. It drove Anthony and Sonny out of the game. They need to be told because you want things to move forward. You don't want it to be where Anthony Mundine and Sonny were. Anthony Mundine was very vocal and rightfully so.
"He had zero tolerance for any form of racism that he encountered and continues to be like that. No one went through what Anthony Mundine went through, but people have a different way in dealing with these things.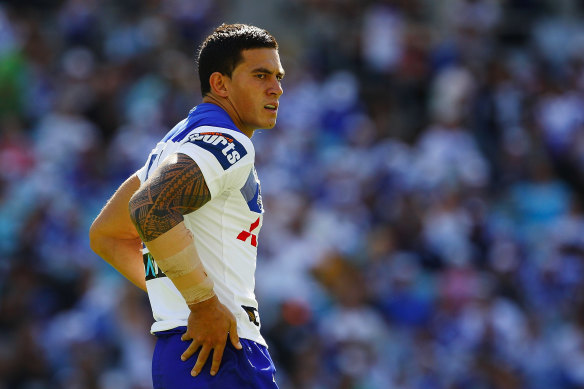 Sonny Bill Williams at the Bulldogs in 2008 before walking out on the sport.Credit: Getty
"Anthony was vocal about it. Latrell seems to be vocal in his silence. We need to know what he's feeling. You can tell that Latrell has been really hurt here. You can't hear him or see him now, but you hear other voices around him.
"It's sad that someone of his profile and his standing in the game is in this situation where he is attacked from pillar to post. I hope it doesn't drive him out of the sport altogether. I've seen it before."
Mitchell has flown the flag for the Indigenous cause since debuting in the NRL as a teenager, using his profile to raise awareness about injustices in society while at the same time showing fans there is a path to greatness for a First Nations athlete.
His stance has been embraced by ARL Commission chairman Peter V'landys, who organised a meeting with leading Indigenous players back in 2019 amid concerns about the treatment of Mitchell when he left the Roosters.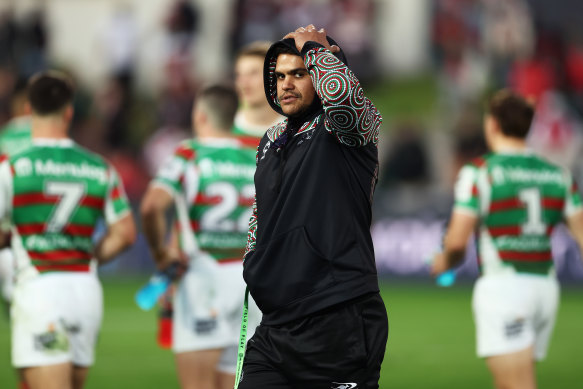 Latrell Mitchell on the field at Netstrata Jubilee Stadium after the Rabbitohs' loss to the Dragons earlier in the year.Credit: Getty
"We've never had that sort of support from the NRL before," Mitchell told the Herald in February 2020. "To have the main guy sit down and have a conversation with us was awesome. We had some relief."
Not all criticism is racially motivated but Nasser took exception to comments made by Churchill in his text message to Pappas, in particular claims that Mitchell "is a complete myth who has the aboriginal [sic] cause paramount and south sydney [sic] second, if at all".
"I don't think there is any fair thinking person who would not agree that the Aboriginal situation in this country is far more important than your football team," Nasser said.
"And I'm sure South Sydney, the important people at the club, are all for this very humane attitude. I commend the individual [Churchill] for realising the inappropriate remarks, especially coming from a line of dignified royalty in rugby league such as the Churchills. The apology has to be taken and accepted by the most important person, which is Latrell. The attack was on him and the Aboriginal community as a whole.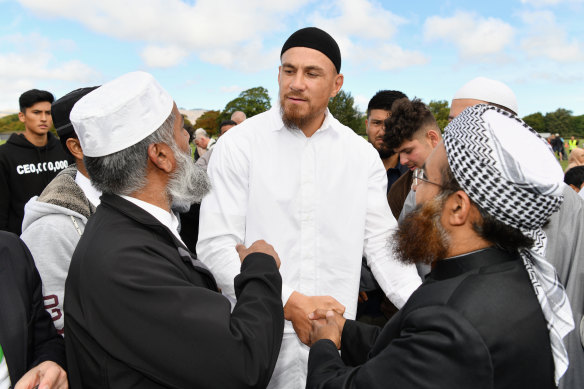 Sonny Bill Williams greets members of the Muslim community in Christchurch after a deadly attack in 2019. Credit: Getty
"If you're in a position of power you need to look after these guys. I truly believe that the systems that we have here in this country are flawed and the only way you're going to make them better is if you call it out. The same goes for rugby league. These things still go on, but you need a special kind of person to take the stand and take on a big battle."
"The game should have a responsibility where it should act to make sure that a player that gives so much to the game is protected. Sonny, like all Indigenous and Pasifika players, loved rugby league and that's the very reason why players from those low socio-economic backgrounds are able to continually be exploited and taken advantage of. Mundine never got picked for Australia. It's absolutely ludicrous. Then they point to character issues when everyone could see it for what it was – racism."
Throughout his time working with Mundine and Williams, Nasser has experienced plenty of criticism.
Williams, in particular, was targeted by disgruntled Canterbury fans who were angry when he walked out on the Bulldogs as a young superstar to play rugby union in France.
Nasser believes Williams' Polynesian background, and his conversion to Islam, influenced the way he was treated by people in and around the game at the time. He experienced it more with Mundine.
"The racial stereotypes that were coming up were crazy. Listen, there's always a way to do away with the past. There has to be a recognition within the sport that these groups – the Aboriginals and the Pacific Islanders – are incredibly oppressed within the game.
"Where are they in the coaching? Where are they at a board level? Where are they in the media? They'll tell you, 'Oh they're not up to it'. Well, train them up to it and mentor them through it. But they're not the prototype you need, so they get cast aside.
"Go to American sport such as the NBA and the NFL as well as soccer in the UK. You would have never seen a black coach or CEO and owners in the '60s and '70s. That's exactly where Australian sport is today. All those countries that moved on in the '70s and '80s.
"There should be a quota system at board level and at coaching level that reflects their contribution to the sport on the field, which between the Polynesian and Indigenous community is about 60 per cent.
"It needs to be implemented to remove the power imbalance. Rugby union in South Africa implemented that a long time ago and won the World Cup last time. You can have a win on a humanitarian level and on a professional level. It doesn't have to be one or the other."
Stream the NRL Premiership 2023 live and free on 9Now.
Sports news, results and expert commentary. Sign up for our Sport newsletter.
Most Viewed in Sport
From our partners
Source: Read Full Article