Save articles for later
Add articles to your saved list and come back to them any time.
When several senior and assistant coaches were asked this week on what it takes to hold off Craig McRae's rampaging men when they come charging in final quarters, they were unanimous that being defensive invited disaster.
Which begs the question, why do so many teams retreat into their shells against the Pies and abandon the strategy which delivered them the lead? The quality of the opposition provides a clue.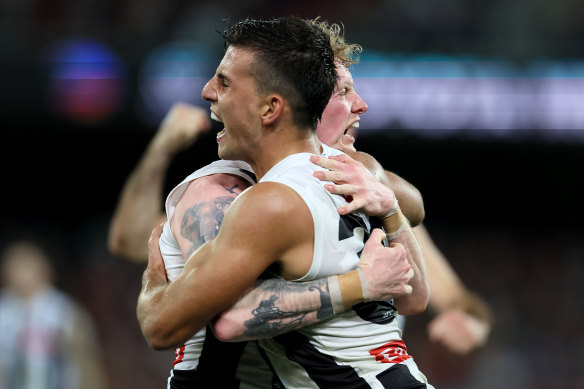 Nick Daicos and John Noble celebrate a goal against the Crows.Credit: AFL Photos
Before we delve into the tactical mechanics, consider the idea that the Pies should not be getting themselves into such desperate situations against inferior opposition. Since round 10 last year, the Pies have trailed at three-quarter-time in 13 games, for 10 wins.
Of those 10 victories, seven are against clubs with minimal recent success: Gold Coast, North Melbourne, Adelaide (twice), Essendon (twice) and Carlton. The exceptions are Melbourne (twice) and Geelong, who were in a funk when they met the Pies in round one.
These sides are often younger and with less experience to cope with the highly stressful situations they find themselves in.
Instructively, the three games they lost were against Sydney (twice, including a preliminary final) and the Brisbane Lions, who both finished top four last year. Their other defeat by a single-digit margin came in the qualifying final to eventual premier Geelong – when, counterintuitively, they lost after leading at the last change. This is not to dismiss the Pies' achievement but to provide context.
Magpies skipper Darcy Moore celebrates another comeback win, against Adelaide.Credit: AFL Photos
When thinking of Collingwood's narrow victories, the great escapes come to mind. From 26 points down against North at three-quarter-time, 20 and 28 against Essendon, 25 against Carlton last year and from 22 behind to the Crows last week.
Their comebacks have become the stuff of folklore. Adding to the legend, Magpies people do not knock back an opportunity to talk up their simulated training, their fitness and never-say-die attitude. Their reputation precedes them. It has seeped into their rivals' psyche.
"It'd be in every team's head at the moment," an assistant coach, who spoke on the condition of anonymity, said. "Every time they play Collingwood they get three or four up at the start of the last quarter they'll be stressing because this game's nowhere near won.
"Everyone's walking on eggshells. You've got to keep playing your way.
"I'm 100 per cent sure Brad Scott and Matthew Nicks would have said that – we want to keep playing our way, keep playing our brand, don't go into your shells. All those kind of things would have come out in the three-quarter-time speech.
"The next part is you have to execute it as [a] playing group. That's probably the hardest thing because you do get a little bit scared."
Ball magnet Tom Mitchell.Credit: AFL Photos
Clearance domination
Though they did not always control stoppages, the common thread each time was the Pies' dominance of the contested ball – the exception being against the Blues, who contributed to their own demise with six behinds to Collingwood's 5.1. Ominously, they are a better clearance side this year after adding Tom Mitchell.
Brisbane coach Chris Fagan, whose Lions are a rare breed in that they have led the Pies twice and won both games, said winning the inside ball is crucial as it gave the team the chance to control possession and the pace of the game.
"If you get a good margin in front obviously you try to take the sting out of the game a bit and not let the game be played as quickly as they would like it to be," Fagan said. "But that relies on you getting your hands on the ball so you can dictate the terms."
The Crows were thumped by 12 in clearances in the final quarter. Five days earlier on Anzac Day, Essendon were -9 for contested possessions as they gave up their lead. Both teams crumbled under heavy fire inside their defensive 50s, and when they had the ball were not in positions to counter-attack.
"I think we went 0-12 in the last quarter so everything you're doing then is from your back 50," Crows coach Matthew Nicks said. "Yes, we lost a little bit of dare, but sometimes that's hard to come out from your back 50 and take the game on from there."
Said Dons coach Brad Scott: "They just attacked us in the last quarter, and we went into our shell and tried to defend."
Going into shells
Adelaide were a case in point. Paralysis gripped them early, afflicting even their very best.
Awarded a free kick at half-back, Jordan Dawson scanned up the field before inside before launching a long kick along the line and turning it over, as you can see below.
A few minutes later, racked with indecision, he scuffed a kick, from which the Pies aggressively switched play.
Though the Crows repelled that charge, the contrast in mindsets is glaring, as the footage below illustrates.
The assistant coach said teams invite trouble by playing defensively. He remembers one final where his club, leading by a handy margin at three-quarter-time, went sideways early in the last term, prompting teammates to think they were playing slow. They nearly lost.
"The coaches I've been around have all said, 'Keep going at the game, you don't want to go safe' because as soon as you go safe you worry about not making a mistake and not worry about scoring," he said.
Such an approach then allows Collingwood, who already have nothing to lose, to attack without consequence, knowing their opposition are not set up to score what could be the game-breaking goal.
"Sometimes a goal either way can gain or break the momentum," the assistant coach said. "If Adelaide or Essendon had got a goal in that period when they're playing their brand, attacking really hard, sometimes that can break a comeback."
Clock watch
Carlton coach Michael Voss, the victim of the Pies' most famous heist, said time is the key factor in determining what defensive levers can be pulled.
His former coach Leigh Matthews developed the theory a team would win if they were more goals in front than minutes left.
"Certainly in the last quarter when you're four goals up, if you use that scenario, you still have to play the game," Voss said.
"You still have to go about it, but there is a point in time when clearly the minutes and the goals needed to kick might mean that you can make some adjustments to make a little bit tougher, but that's probably about it."
Do nothing
Western Bulldogs coach Luke Beveridge, one of few to have led Collingwood at three-quarter-time and survived to tell the tale, said he had no strict philosophy on whether to defend a lead or keep building. While having plans in place were important, he said: "One of the most challenging things about coaching is to know when to do nothing.
"And the scenario that you described depending on what time it is in the game, you're always asking yourself the question, 'Are we going to keep the next goal?' Sometimes you sit on your hands and that's what might happen," Beveridge said.
"It's a bit of a feel thing from a coaching perspective, but it's part of the art, probably part of the science. I haven't got a strict approach to it, but we've definitely got a lever or two we can pull if we want to go either way."
Keep up to date with the best AFL coverage in the country. Sign up for the Real Footy newsletter.
Most Viewed in Sport
From our partners
Source: Read Full Article